"Why did Orpheus turn back?": Asli Erdoğan's Speech at Babel Festival
Delivered in English by Asli Erdoğan
"The City in Crimson Cloak" is a very old book, I wrote it 20 years ago, when I was 30 years old. I was still a young woman, and almost dying. After my return from Rio I became very ill, I was starving to death for a reason no doctor could find out. Later on I was diagnosed with cancer, but I did not know the reason. So confrontation with death and mortality was very real.
And I was fixated on a question: "Why did Orpheus turn back?" This book is my interpretation of Orpheus' myth. It is set in Rio de Janeiro because the first film I saw about Rio was "Orfeo Negro", a very old film.
When I landed in Rio I was a 26 years old woman. The first moment I was there I said: Orpheus is the myth of this city. And Orpheus is almost from my hometown: my family is from Thessaloniki, from my mother's side, but Orpheus is from Rio de Janeiro, I felt.
I wrote this book after my return from Rio, after I had survived Rio, after I also had probably died there. I think this is the city which taught me dying: I could have learnt it in Turkey too but for destiny, or coincidence, or whatever… I learned it in Rio.
This book is actually two books: "The City in Crimson Cloak" is the book my protagonist, Özgür, is writing. It is a novel within the novel. And the part she writes, the beginning, is actually Özgür's writing. In the beginning of the book we actually have very different styles. She is more metaphorical, more prejudiced in some ways, I do the narration.
And as the book proceeds, it is seven chapters, seven doors towards death. It is the last day of Özgür's life. My style and her style start to get more and more similar and the story is shattered, because sometimes I tell half the story and sometimes she does, but sometimes we conflict or sometimes I start repeating Özgür. So the novel and the reality get totally mixed up and Özgür has written of course her own death.
Now I should tell you the meaning of the name Özgür: In Turkish all names have a meaning. My name, Asli, means "the real", "the archetypical", Özgür means "free". When I found her name I was almost finishing writing the book, and I realised one of the themes I was dealing with in the book was freedom versus destiny. "Can you free yourself of your destiny by writing about it?" "Is writing a catharsis?" "Is it a full control over your destiny if you write your own death?"
The last sentence of the book is: "She died exactly the way she wanted", which is of course a very ironical statement. Some things are naturally totally lost in translation because Özgür is such a typical name in Turkish and Özgür is unable to give a name to her written self, so she just decides to call it the capital letter Ö. And Ö in Turkish is the first letter of the word meaning "death", of the word meaning the "subject", that is, the "I", and of the words meaning "the other", and "Eurydice". Ö is a very powerful sound in Turkish. I think German and Swedish have the same sound, but not Italian.
This book is not about Rio. Although it is generally classified as a city novel, it is a very old fashioned kind of novel writing. Yes, I wanted to write an old fashioned novel, with all themes of outer reality and inner reality, freedom and destiny. It is actually a book about writing: "Why do we write?" "Why do we tell our own story?" "What is its relation with mortality?"
Orpheus was a musician, I made Özgür a writer. She is not actually a writer: she just wants to write her captivity in a city named Rio de Janeiro, and she wants to free herself from that passion and hate relation with the city: of course it is a fictional Rio. It's a deadly mirror game between Özgür and Rio and I think they are ideal partners. It had to be Rio to match the inner violence of Özgür.
This initial part of the book is an autobiographical scene. I have seen that dancing woman, but of course Özgür is starving, she is starving herself to death. This starvation is not just for food of course. And what is it for? She doesn't know. She is constantly thirsty, she is constantly hungry, she is constantly afraid, but of what she doesn't know, that is why she is trying to write "The City in Crimson Cloak".
My favourite part of the book is where she describes a man eating his own vomit, a starving man. She reads her own description and she tears it out and she says: "No, I'm only capable of describing my own hunger." And I think this is like Orpheus breaking his lyre.
This is the book where I ask all my questions about literature: "Is it such an altruistic act we are doing?" "How far are we capable of empathy?" "Is my hunger enough to understand your hunger? – but I am limited by my own hunger as well as by my own food, but it is never yours."
After I finished this book I almost went crazy, I couldn't get out of the book for months, and luckily, or not luckily, because I went to prison… This path to prison started in 1998, when I accepted to write a column for an intellectual newspaper, called "Radikal", just to get out of this book, to go into the outer world, to go back to life again. I had come too close to death. And I suddenly had a column – which was a big opportunity for many writers, but initially for me it was just some way to earn some money.
Three years later I got fired of course. In my column I often wrote about victims, any victim: women, prisoners, Kurds, Armenians, soldiers…. Anybody whose story I thought I could write with the language of literature. Some were already dead – "my people, my family", I called them – people killed and tortured who died in hunger strikes, raped girls… I think my best article was on rape.
One day I got a letter from a prison that was sent not only to me, but also to other columnists, about a Kurdish woman, a villager, who was in her early fifties, and was in her terminal stage of ovarian cancer.
In Turkey there was an article, and there still is, stating that prisoners in the terminal stage of their disease, must be released to die home with their family. But in her case, because she was a poor Kurdish woman, this article was not implemented, until we wrote about this case. There were 3 of us: Ahmet Altan, who is now in prison, me and another columnist. Two out of three went to prison. And since we wrote about her, and as Ahmet Altan was a very powerful columnist at that time, she was freed.
And I remember this feeling of victory – which is in fact a very foreign feeling to me. Eight months later, I read about her death in a small newspaper. I remembered my feeling of victory and I said: "Asli, you have written a novel about Orpheus, but you have not understood the myth at all." It is not possible to open the door of the land of the dead or, if you open it, it is only momentary. This is the only infinity that we have, with our words, this momentary opening of the door. And this lesson I think I learned first in Rio, then in Turkey, then in prison, again and again, and this is a lesson I have to forget to keep writing.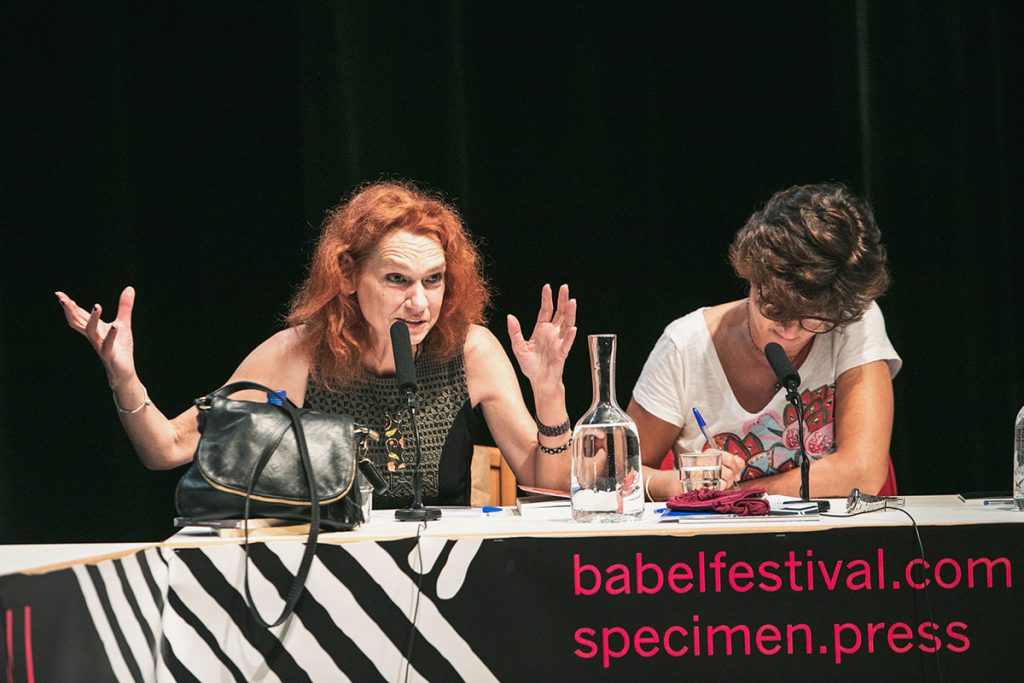 Published February 5, 2019
Speech delivered at Babel Festival, Bellinzona, Sept. 15, 2018
© Babel Festival 2018
«Perché Orfeo si è voltato?»: intervento di Asli Erdoğan al festival Babel
Delivered in English by Asli Erdoğan
Edited by Cristina Barbetta
È un libro molto vecchio quello da cui mi avete sentito leggere"The City in Crimson Cloak", Soft Skull Press, 2007. Versione originale in turco: "Kırmızı Pelerinli Kent", Everest Yayınları, 1998, l'ho scritto vent'anni fa, quando avevo trent'anni e stavo quasi morendo. Al mio ritorno da Rio mi ero ammalata gravemente, deperivo, e nessun medico capiva il perché. Più avanti mi è stato diagnosticato un tumore, ma io non sapevo quale fosse la ragione profonda del mio star male. E dunque il mio confronto con la morte e con il fatto della nostra mortalità era molto reale.
E in testa avevo solo una domanda: «Perché Orfeo si è voltato?». Questo libro è la mia interpretazione del mito di Orfeo: l'ho ambientato a Rio de Janeiro perché il primo film che ho visto su Rio è stato "Orfeo Negro".
Quando sono arrivata a Rio avevo ventisei anni, e fin dal primo momento ho capito che questo era il mito della città. Orfeo è quasi un mio concittadino perché da parte di madre provengo da Salonicco, ma per me Orfeo era di Rio de Janeiro. 
Ho scritto questo libro dopo che sono tornata da Rio, dopo esserne scampata e, probabilmente, esserci anche morta. Questa è la città che mi ha insegnato la morte. Avrei potuto impararla anche in Turchia, la morte, ma per destino o coincidenza o chissà cosa, l'ho imparata a Rio.
Questo libro sono in realtà due libri: "The City in Crimson Cloak" è il libro che sta scrivendo la mia protagonista, Özgür, quindi si tratta di un romanzo dentro il romanzo. La parte che ho appena letto è in realtà una delle parti scritte da Özgür. All'inizio del libro io e lei abbiamo due stili molto diversi tra loro. Il suo è forse più metaforico, e in un certo senso contiene più pregiudizi; da parte mia, io mi limito a raccontare.
Il libro si sviluppa  su sette capitoli, che sono come altrettante porte che conducono alla morte. È l'ultimo giorno di vita di Özgür. Via via che la narrazione procede, il mio stile e il suo stile si fanno sempre più simili e la storia si frantuma, perché ci sono alcuni pezzi in cui sono io a raccontarla, e altri in cui è lei che la racconta, tanto che romanzo e realtà finiscono per mescolarsi e Özgür in verità si trova a scrivere la propria morte.
Ora però devo spiegarvi il significato del nome Özgür. In turco tutti i nomi di persona hanno un significato: il mio nome, Asli, significa: "il reale", o "l'archetipico", quello di Özgür, la protagonista, significa "libero" o "libera". Quando ho trovato il nome del mio personaggio, ero alla fine della stesura del libro, e mi sono resa conto che un tema di cui stavo scrivendo in questo libro era quello della libertà in relazione al destino, che fa sorgere domande come: Ti puoi liberare dal tuo destino scrivendone? Scrivere è una catarsi? Assumi forse il pieno controllo del tuo destino se scrivi della tua morte?
L'ultima frase del libro è: "Morì esattamente nel modo in cui aveva desiderato". Una frase carica di ironia. Naturalmente in traduzione si perde qualche cosa perché Özgür è un nome così tipicamente turco. La protagonista non riesce a dare un nome al suo personaggio scritto e decide di chiamarlo solo Ö. Perché Ö è l'iniziale di Özgür, che significa libero, ma è anche l'iniziale della parola che in turco vuol dire "morte", della parola che sempre in turco significa "l'altro" e "l'altra", e infine della parola che significa "Euridice" e anche "io", il soggetto. Siamo di fronte a una lettera, Ö, che ha un suono molto potente. È un suono che esiste anche nella fonetica del tedesco, dello svedese, non dell'italiano però.
Questo non è un libro su Rio. Anche se spesso è classificato come una city novel, in realtà è un romanzo alla vecchia maniera. Sì, ho voluto scrivere un romanzo alla vecchia maniera, che affrontasse tutti i grandi temi, come la realtà esteriore e quella interiore, la libertà e il destino. In realtà è un libro sullo scrivere che pone domande come: perché scriviamo? Perché raccontiamo storie? Perché raccontiamo le nostre storie? Che rapporto c'è tra scrittura e mortalità?
Orfeo era un musicista, e io ho voluto rendere Özgür una scrittrice. In realtà Özgür non è una scrittrice, vuole solo scrivere della sua prigionia in una città chiamata Rio de Janeiro e vorrebbe liberarsi dal rapporto di odio e di passione che la lega alla città. Ed è una Rio fittizia, ovviamente. È un mortale gioco di specchi tra Özgür e Rio, e penso che lei e la città siano partner ideali. Solo Rio poteva rispecchiare la violenza interiore di Özgür
L'incipit che avete ascoltato poco fa è una scena autobiografica nel senso che quella donna che danza, prossima alla morte, io l'ho vista realmente.
Özgür  sta morendo di fame, ma la sua fame non è solo fame di cibo, naturalmente, e allora di che cosa ha fame?  Lei non lo sa. Ha sempre fame, sete, paura, ma di cosa non lo sa. Questo è il motivo per cui sta cercando di scrivere «The City in Crimson Cloak».
La parte che preferisco è quando lei descrive un uomo che muore di fame e mangia il suo vomito. Quando lei termina questa descrizione la strappa e dice: «No, io posso descrivere solo la mia di fame». E questo secondo me è lo stesso gesto di Orfeo che fa a pezzi la sua lira.
«The City in Crimson Cloak» è il libro in cui pongo tutte le mie domande sulla  letteratura: se sia o meno un atto di altruismo estremo, se e in che misura siamo capaci di empatia nei confronti degli altri, in che misura la nostra fame limita la fame altrui, o la nostra empatia nei confronti degli altri affamati.
Dopo avere ultimato il mio romanzo, sono stata per mesi in uno stato prossimo alla follia. Non riuscivo a uscire dal romanzo, e per fortuna forse, dato che poi sono finita in prigione. Tutto è cominciato nel 1998, quando una testata che si chiamava «Radikal», intellettuale e mainstream, mi ha offerto di scrivere una rubrica. Io ho accettato, per evadere dal libro e per uscire di nuovo nel mondo, per tornare alla vita dopo essere stata vicina alla morte. E così all'improvviso avevo una mia rubrica; cosa che per molti scrittori rappresenta una grande opportunità, ma che all'inizio per me era più che altro un modo di guadagnare dei soldi.
Dopo tre anni mi hanno licenziata, chiaramente. In queste mia rubrica scrivevo spesso di vittime, vittime di ogni genere: donne, carcerati, curdi, armeni, militari… chiunque fosse una vittima e di cui pensassi che potevo scrivere la storia con il linguaggio della letteratura. Molti di loro all'epoca erano già morti – «la mia gente, la mia famiglia», li chiamavo così: gente uccisa e torturata, morta in sciopero della fame, ragazze violentate… Forse la migliore di quelle rubriche parlava proprio dello stupro.
Tutti i responsabili delle rubriche un giorno hanno ricevuto una lettera da un carcere: parlava di una donna curda sui 50 anni, una contadina, malata terminale di tumore ovarico.
Nell'ordinamento turco c'è un articolo che stabilisce che un carcerato con una malattia in stadio terminale debba essere rilasciato per andare a morire a casa propria. Nel caso di questa povera curda, l'articolo di legge non era stato applicato, finché io e altri due opinionisti non ne abbiamo scritto. Uno di noi era Ahmet Altan, che adesso è in carcere da due anni con una condanna all'ergastolo. In due su tre siamo finiti in prigione. Visto che noi ci siamo impegnati a scrivere sul suo caso e che all'epoca Ahmet era un opinionista molto autorevole, la donna curda è stata infine scarcerata.
Ricordo molto bene il senso di vittoria che ho provato quella volta, e, credetemi, è una sensazione che provo di rado. Otto mesi più tardi ho letto su un piccolo giornale che questa donna era morta, e mi è tornato in mente il senso di vittoria che avevo provato. Mi sono detta: "Asli, hai scritto un libro sul mito di Orfeo, ma il mito di Orfeo non l'hai proprio capito".
Non è possibile aprire la porta del regno dei morti o, se ti riesce di aprirla, è solo per pochi attimi. Questo è il solo infinito che abbiamo, noi che lavoriamo con le parole, questi pochi istanti in cui riusciamo a schiudere quella porta.  
Questa è una lezione che ho imparato la prima volta a Rio, poi in Turchia, poi in prigione, più e più volte, ma per continuare a scrivere, questa lezione me la devo dimenticare.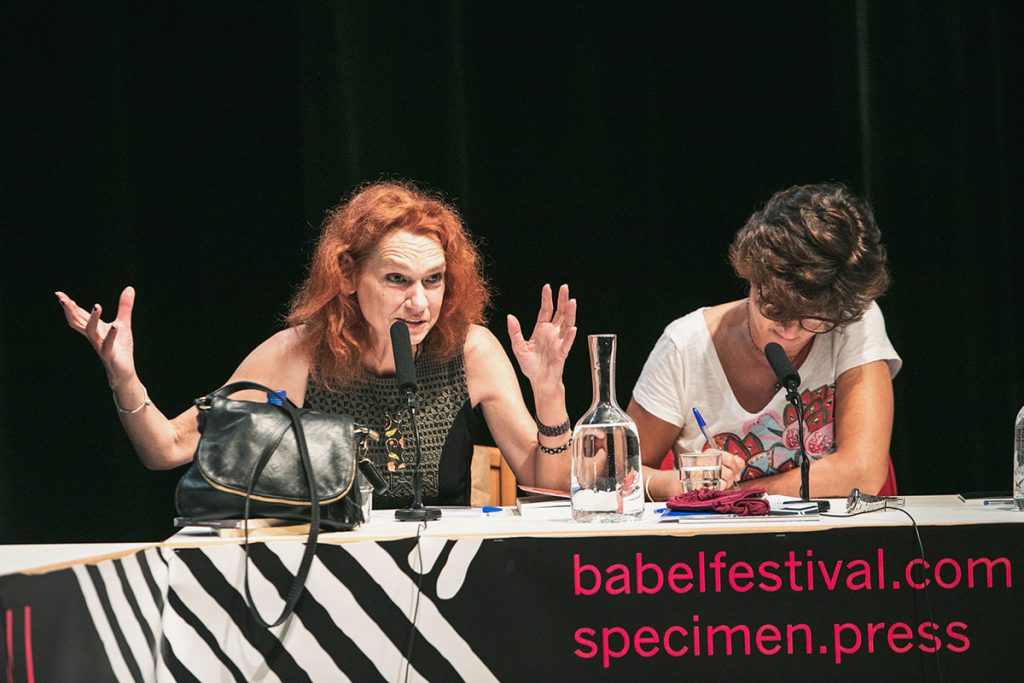 Published February 5, 2019
Speech delivered at Babel Festival, Bellinzona, Sept. 15, 2018
© Babel Festival 2018
Other
Languages
English
Italian
Your
Tools
Close Language
Close Language
Add Bookmark