Den uppstoppade sjöelefanten i Bukarest
Written in Swedish by Fredrik Sjöberg
Under en av mina dagliga promenader till naturhistoriska museet i Bukarest, vars uppstoppade sjöelefant lockade till ständigt nya besök, slog det mig att rumänska elektrikerförbundets julfester måste vara något utöver det vanliga. Den utmattade glädjen; sångerna efter några glas undermåligt rödvin; lyckan att vara bland vänner som verkligen förstår sig på sladdar. Att stadens elsystem hade råkat in i ett stadium av kaos tycktes mig uppenbart redan dag ett, då jag passerade en elstolpe där oräkneliga, till synes planlöst sammankopplade kablar bildade en rent orientalisk härva som vagt påminde mig om ett konstverk av Franziska Furter. Senare förstod jag att ungefär hälften av stadens alla elstolpar så ut på exakt samma sätt. Och så kom det sig att jag började älska Bukarest.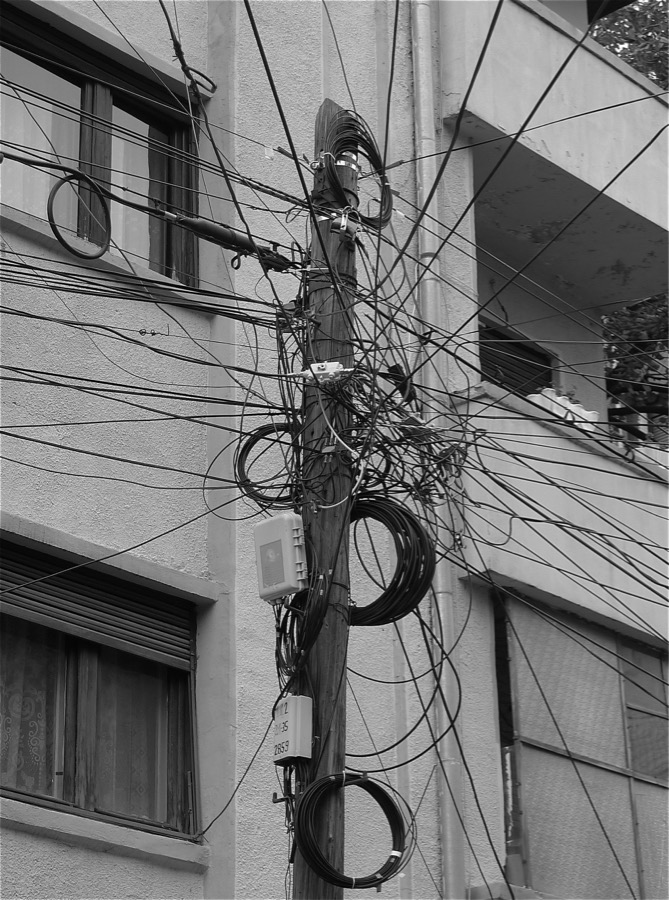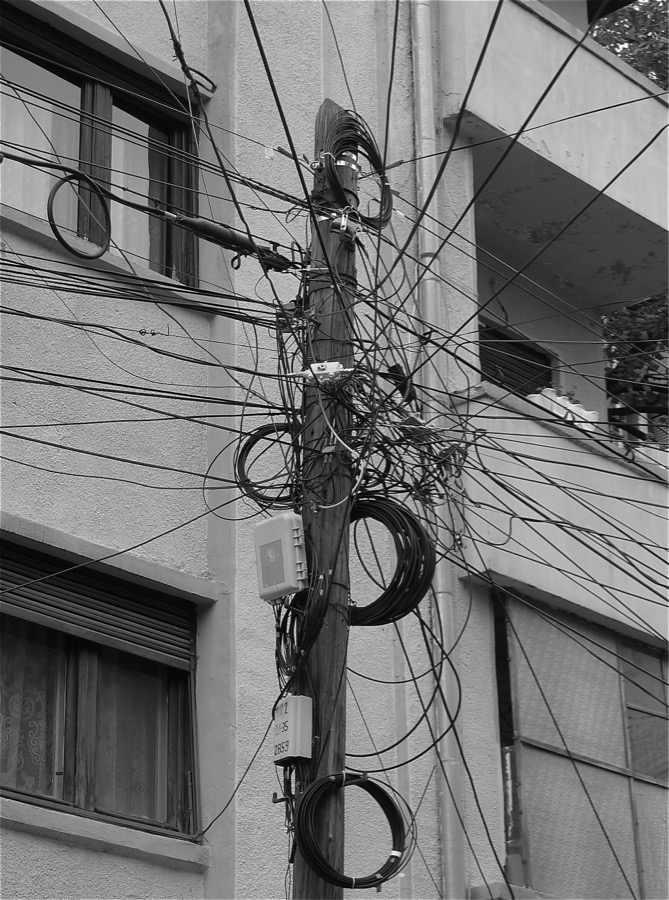 Det var på hösten och himlen var beständig grå; jag hade hittat en moldavisk lunchrestaurang som serverade en svårbeskrivlig men antagligen tillräckligt näringsrik köttsoppa med vitt bröd, och på kvällarna och nätterna var jag i händerna på diverse halvseriösa taxibolag, Taxi Total, Pelicanul Taxi och allt vad de nu hette (alla höll sig med små obekväma bilar i olika gula nyanser), som körde mig mellan rökiga källarförlagsfester, gallerihappenings och krogmiljöer i förfallna palats från kung Carol I:s tid, liksom påhittade av Andrej Tarkovskij. Fråga mig inte vad jag gjorde där. Antagligen var jag bara på väg bort. I alla händelser var stadens unga poesiscen intressant nog. Inte poesin i sig kanske – den begrep jag inte mycket av – men själva miljön, och konsumtionen av konst som en färskvara.
De dråpliga upptågen och läsningarna ur obeständiga antologier var så uppenbart avsedda för stunden. Halstatuerade gayaktivister och yngre hard-core-feminister med kleinblått hår blandade sig alldeles obesvärat med halvgamla civilrättsjurister och litteraturprofessorer i läderkeps, kanske för att de själva visade sig vara nyutexaminerade specialistläkare, Wittgensteindoktorander och annat liknande; de läste sina konstiga dikter i knastriga högtalare och även om det alltid var någon som filmade spektaklet, om så bara med sin mobiltelefon, kan jag inte föreställa mig att någon kommer att se dessa filmer utan en känsla av trött besvikelse. Det väsentliga hände i realtid, också efteråt, på krogarna, vilket påminde mig om en tanke från förr, om konstnärens försök att konservera detta flyktiga tillstånd. Hur svårt det är. Som att beskriva för framtiden religiös extas, eller bra sex. Färskvaran slår nästan alltid konserven.
Den moderna helkonserven uppfanns under Napoleonkrigen, i början av 1800-talet, men den historien kan vi lämna därhän i dag, för det väsentliga var när allt kommer omkring den uppstoppade sjöelefanten på naturhistoriska museet – som är ett utmärkt exempel på att konserven i lyckliga stunder kan mäta sig med livet självt. Nu har jag visserligen aldrig sett någon levande sjöelefant, och jag har ingen önskan att göra det heller, men eftersom de brukar vara återkommande statister i den reklamdrivet sensationslystna äventyrstelevisionen finns goda grunder för misstanken att de ligger som drivved, i brötar, på någon ogästvänlig strand i Södra Ishavet, apatiska köttberg bara, helt utan geist eller annan personlighet. På sin höjd håglösa grymtningar i den iskalla polarvinden, vilket sålunda skiljer dem från paret i museets mer än hundra år gamla diorama. Tro mig, det är någonting annat. Den monstruösa hannen och hans förkrympta hona ställer till en scen som skulle visa sig bära långt.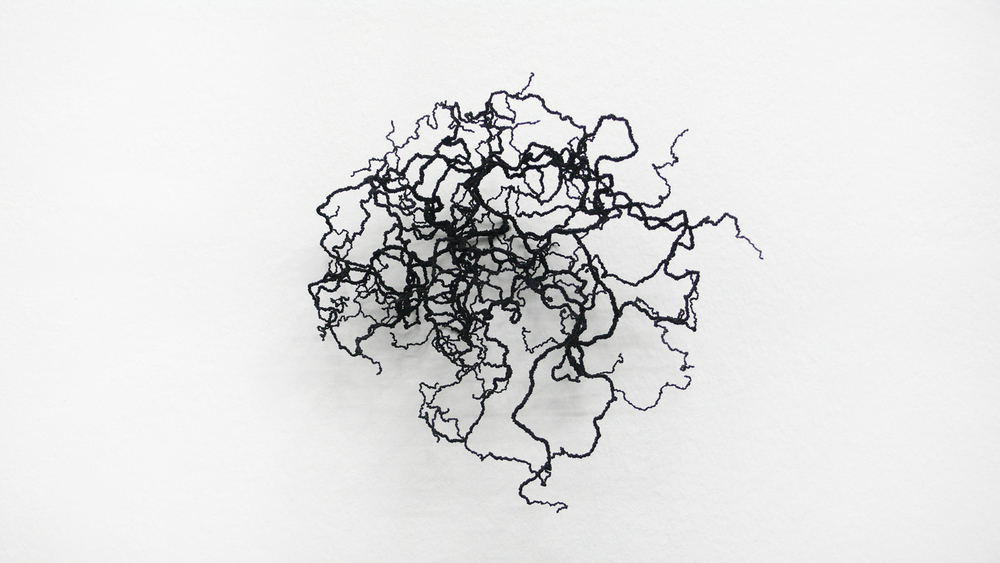 De reflexmässigt chauvinistiska rumänerna påstår att det var museets legendariske chef Grigore Antipa (1867–1944) som uppfann den zoologiska dioramaestetiken, men det kan diskuteras, inte minst med hänvisning till Biologiska museet i Stockholm, invigt redan 1893 i en byggnad som ser ut som en medeltida, norsk stavkyrka, där konservatorn Gustaf Kolthoff skapade just ett sådant sceneri i flera våningar med hjälp av konstnärerna Bruno Liljefors och Gustaf Fjæstad. Detta var naturligtvis inget jag påpekade för de vänliga museiintendenterna i Bukarest, men det kan sägas nu, efteråt, för även om epigoner ibland faktiskt kan vara bättre än sina förebilder, så är just originaliteten ett värde i sig. Om den ger något, vill säga. Exakt vad, spelar ingen roll. Förresten kan det ju vara så att samma idé uppstod på två ställen, ungefär samtidigt, men jag skulle inte tro det. Mina sjöelefanter är skapade 1909.
Ja, mina. Vi fann varandra direkt. Orsaken var enkel. Jag hade aldrig varit i Bukarest, och förberedelserna inför besöket var som vanligt, obefintliga, så jag behövde en fokuseringspunkt, en plats att återvända till och göra bekant som just min. Det blir alltid så. Ge mig två dagar i en främmande stad och jag har skaffat en stamkrog. Parker kan ha en liknande inverkan, liksom lugnande, bara jag får återvända, dag efter dag. Och visst, jag har underkastat mig psykoanalys tillräckligt länge nu för att förstå att jag bara försöker stå ut med min ensamhet, men ändå, och fastän tillfälligheterna styr vad jag råkar intressera mig för så går det alltid att hitta en passande förklaring i efterhand. Den här gången var det berättelserna, som så ofta. Genom att locka med mig gamla och nyvunna vänner till museet, utan att på förhand säga något om den bindgalna sjöelefanten på andra våningen, fick jag efter hand höra en hel rad historier som egentligen inte hade med saken att göra. Eller så hade de det.
Först av alla var den poet i vars hotellsäng på Dacia Boulevard jag brukade vakna framåt förmiddagarna, kort innan frukostmatsalen stängde och packade ihop sina flottiga korvar med okänt innehåll. Det var dag två, vi gick dit hand i hand, och hon blev liksom alldeles vild när vi nådde fram till detta sista, stora diorama, vilket vanligen brukade ta ungefär en timme av det skälet att alla besökare på museet (som numera är uppkallat efter Grigore Antipa) leds förbi en ilsken biljettgumma bakom entréhallens mammutskelett, och därifrån kan man bara gå en trappa ner, till källarvåningen, där utställningen börjar med fiskar, djuphavsmollusker, pelikaner och allt möjligt annat, plus ett äreminne över en av alla normala människor bortglömd grottforskare, komplett med en naturtrogen kopia av en droppstensgrotta. Först därefter hittar man trappan upp till första våningen, där allt fortsätter med schwungfullt uppstoppade djur och fåglar från världens alla hörn, någorlunda logiskt grupperade i välgjorda dioramamiljöer. När man så slutligen kommer till den andra och översta våningen, där sjöelefanterna spelar upp sin scen strax bakom de fossila lämningarna efter en sedan länge utdöd elefant med nedåtriktade betar, då är man ganska mör och därmed mottaglig för fria tankar, eller kanske snarare utmattad nog för att inte orka hålla dem för sig själv.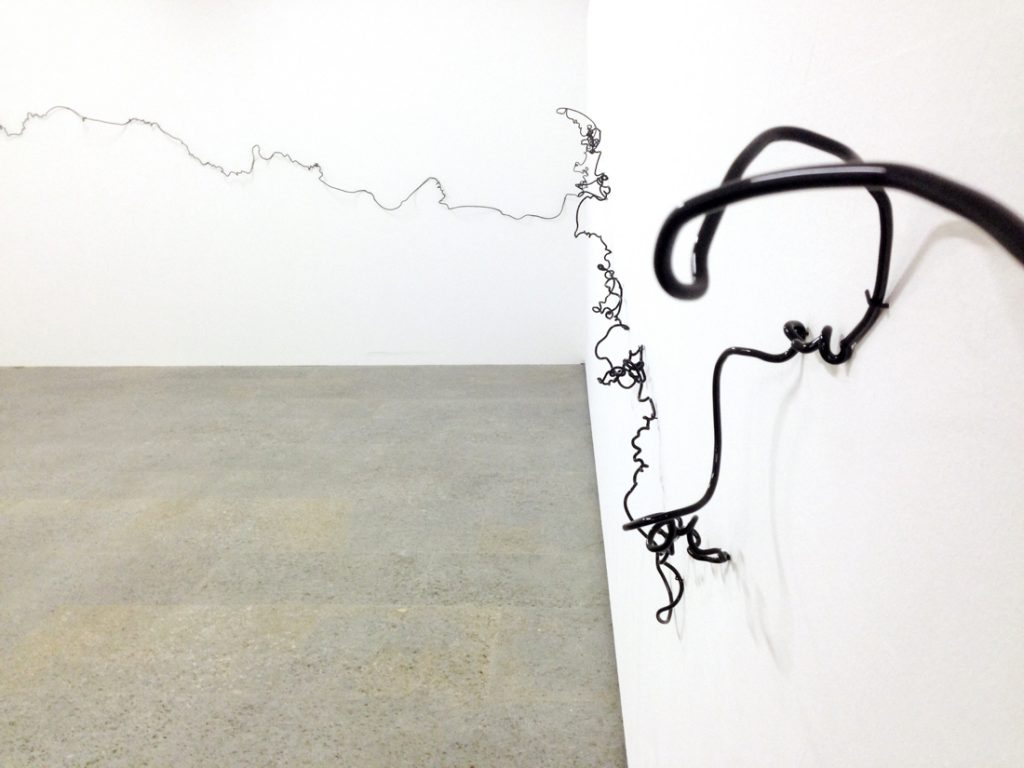 Till historien hör att besökaren först, kort före sjöelefanterna, passerar pygméerna, vilket ofelbart bryter ner den sista resten av rationellt naturvetenskaplig tankeverksamhet. Jodå, de står där i ett eget diorama, en liten familj, liksom aboriginerna i sitt bås, de nordamerikanska indianerna, samojederna och så vidare, inte uppstoppade förstås, utan som vaxdockor, men ändå; en rad av jordens ursprungsbefolkningar framställs här som en länk mellan djuren och de riktiga människorna, det vill säga besökande européer, för på naturhistoriska museet i Bukarest håller man styvt på traditionerna. I Sverige, eller var som helst annars egentligen, hade ingen museichef överlevt många timmar med en sådan pedagogik, men här går det uppenbarligen bra. Olyckligt förstås, inte minst med tanke på att museet huvudsakligen besöks av skolbarn, men låt oss inte klaga på det nu. Det väsentliga är som sagt sjöelefanterna, och min vän poeten.
Hon blev stående framför dem, uppenbart road, och började strax berätta om ett antal män hon känt genom åren. Senare påstod hon att det var sjöelefanthannens blick som utlöste minneskaskaden, och må så vara; jag hade hört en del av de där historierna förr, och lyssnade därför inte så noga (dessutom väsnas rumänska barn lika mycket som andra) men entusiasmen smittade så snart var jag med i leken och innan vi kom fram till det ömkliga drontskelettet, nära utgången, hade jag fått höra en del tankeväckande nyheter i den vanligen trista genre som behandlar tidigare familjeliv av dysfunktionell art. Och inte nog med det. Vi hade även ur minnet återkallat en på sin tid först utskrattad men snart högt respekterad artikel av genusforskaren Hillevi Ganetz, där hon undersökte framställningen av könsroller och sexualitet hos älgar och andra djur i diverse naturfilmer. Skogens konung, och allt det där; speglar att skratta framför, och gråta. Hon blev professor sen.
(Ett par veckor senare, före frukost, sa samma poet att sjöelefanten inte är obeskrivlig, som jag envist hävdade, men att hans klockrent sinnessjuka blick och i ordets egentliga mening stelnade anletsdrag, för att inte tala om honans uppgivna tankar, skulle kräva en hel diktsamling, språkligt experimentell, för att få sin rätta förklaring.)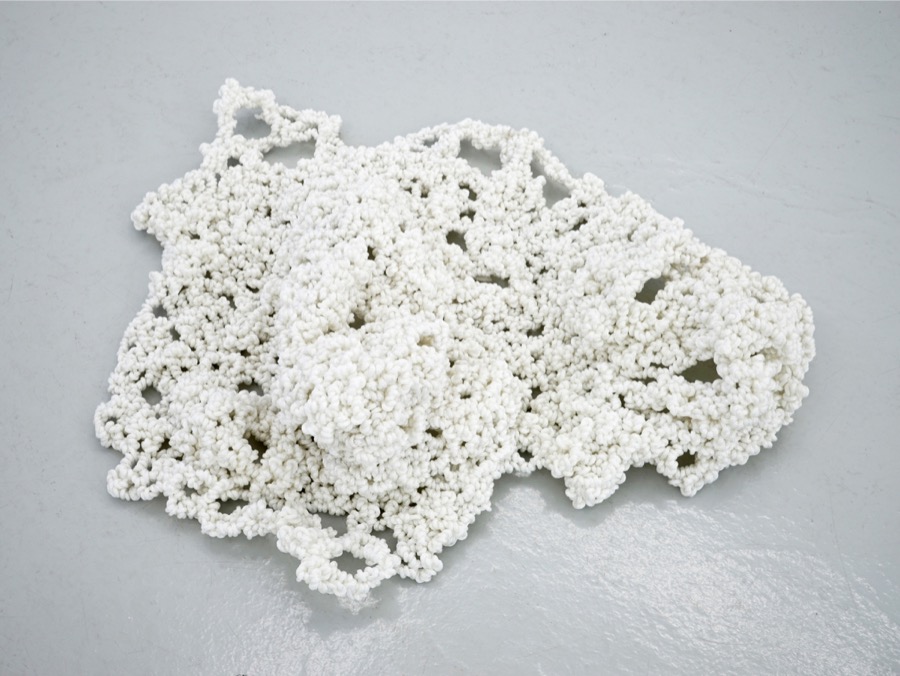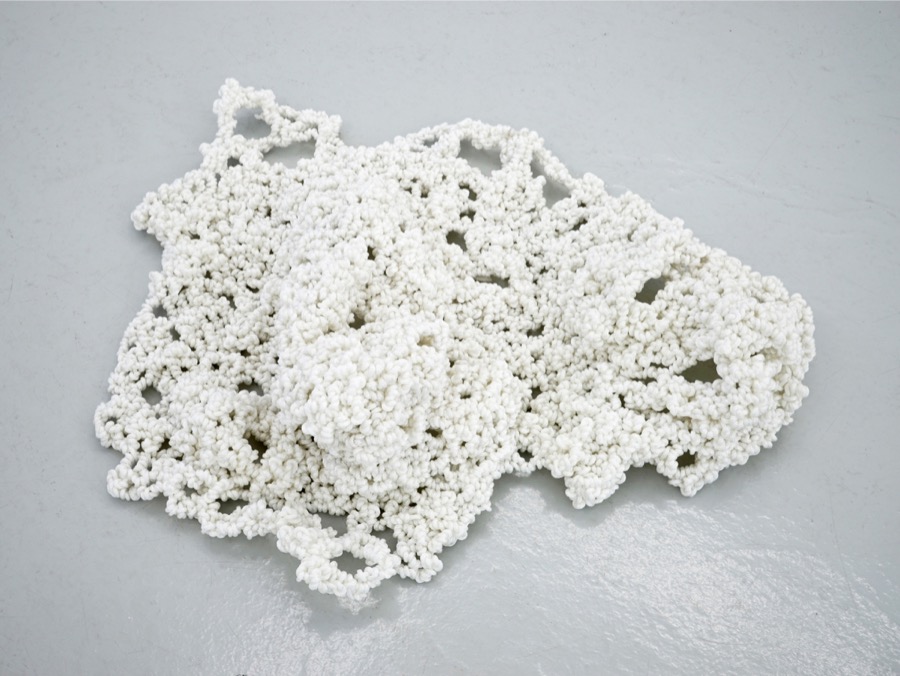 Därmed hade jag funnit mitt stamlokus. Dag efter dag. Det förvånade mig att man faktiskt kan vara född och uppvuxen i Bukarest utan att någonsin ha stiftat bekantskap med sjöelefanten på museet, men så var det, och berättelserna blev därefter. Någon mindes (givetvis får man väl säga) Nicolae Ceausescu och hans fru Elena, avrättade under den rumänska revolutionen i december 1989, ett evenemang som, det fick jag höra nu, inte alls var en revolution utan en statskupp iscensatt av en grupp sluga maktspelare i diktatorns närmaste krets. Det som hände i Timisoara, där allt började, var bara ett spontant folkligt uppror, en protest i all enkelhet mot att myndigheterna ville förflytta en alltför frispråkig präst – han hette Tökes – till ett gudsförgätet pastorat någonstans i obygden, men sedan började resningen leva sitt eget liv, medierna hakade på och när folket gick man ur huse i Bukarest insåg man i maktapparaten att en avrättning med åtföljande löften om demokrati nog vore den bästa lösning på problemet. Därefter förändrades inte särskilt mycket, vilket senare samma dag öppnade för trovärdiga förklaringar till varför stadens elstolpar ser ut som konstverk av Franziska Furter.
Ett par av de yngre, rumänska poeterna fastnade först framför insekterna, ett helt rum i närheten av pygméerna, fullt med fjärilar, skalbaggar och annat i den vägen, prydligt nålade och exponerade enligt konstens alla regler i disciplinerat räta rader som kan påminna om partidagarna i Nürnberg, och eftersom jag hade ett visst rykte om mig att äga vida kunskaper om detta så fick jag besvara en massa frågor om samlandets glädjeämnen och den entomologiska vetenskapens omätliga djup. Jag oroade mig lite för att de skulle bränna sin kreativa energi redan där, men icke; ställda inför sjöelefanten öppnades även deras minnesdepåer.
Alltså fick jag nu höra ett par berättelser om konflikthantering, närmare bestämt misslyckad konflikthantering som åtminstone delvis lät sig begripas ur ett genusperspektiv. Manligt och kvinnligt. Som det där om veganerna. Ja, även i Rumänien har nutidens tankeströmningar slagit rot, och särskilt för ungdomar hade sekelskiftets nyvunna frihet (en chimär eller inte kan kvitta) öppnat för ett radikalare förhållande till mat. Kidsen ville vara veganer, helt enkelt, och det gick alldeles utmärkt ända till den dag då några yngre män bildade en fraktion inom den veganska subkulturen som ansåg att det var okej att äta också djur, dock under förutsättning att de var självdöda. Dessa så kallade kadaverianer hade till en början vissa framgångar i den meningen att också några yngre, i etiskt hänseende ortodoxa kvinnor lockades över till deras falang, vilket som vanligt var en förutsättning för att de skulle orka hålla på.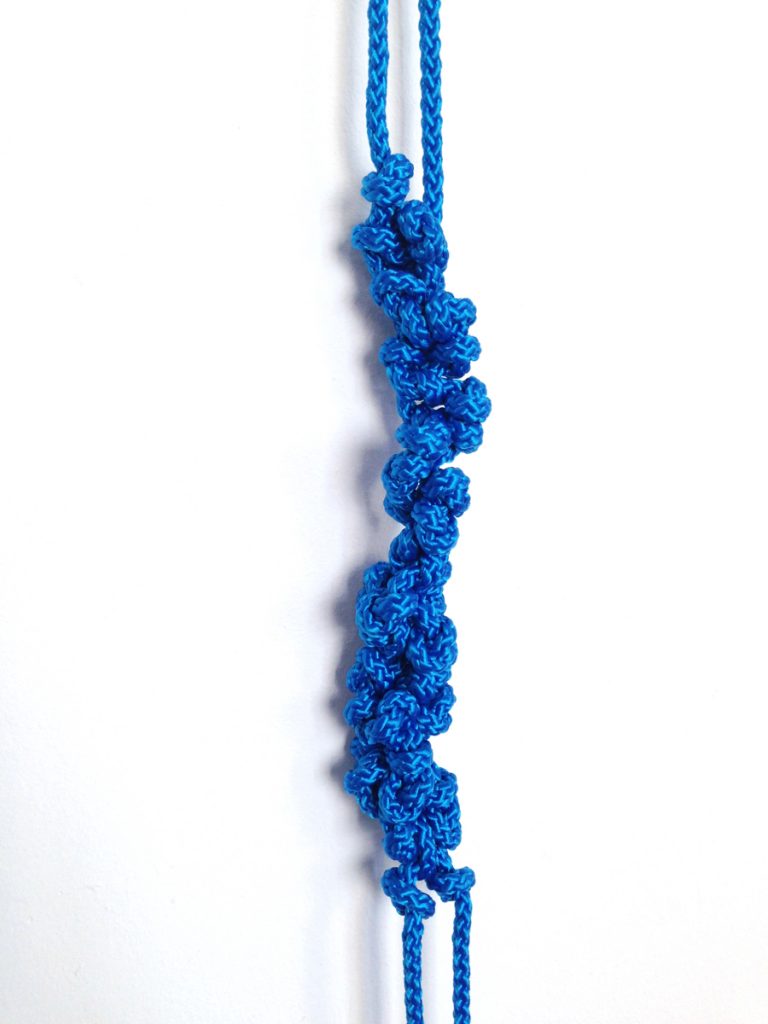 Så långt var allt gott och väl. Veganerna och kadaverianerna levde i någorlunda endräkt, men sedan kom den manliga rivaliteten smygande igen i gestalt av en helt obetalbar idé om att man också borde kunna få äta trafikdödade djur. Grävlingar och annat. Men då tog det stopp. Vägtrafiken ansågs vara principiellt ond, och dödandet sålunda i någon mening avsiktligt, varför denna nya falang endast lockade ett litet fåtal proselyter, alla män, antagligen (tänkte jag) med samma existentiella grundhållning och enkelspåriga driv som den uppstoppade sjöelefanten. Berättelsen påminde starkt om vad jag en gång hörde om fraktionsbildningen bland svampkännarna hemma i Sverige, då Tickornas vänner bröt sig ur Mykologiska föreningen, bara för att senare förödas genom inre stridigheter. Det gick så långt att mannen som var ordförande i Tickornas vänner blev utesluten ur sin egen organisation, varefter han bildade ännu en fraktion som hette Svenska ticksällskapet (han blev senare utesluten där också). Ack, ja.
Och satanisten! Den berättelsen började också framför dioramat med sjöelefanterna, helt utan öppen hänvisning till vad vi hade framför ögonen. En annan subkultur alltså, manligt kodad som hårdrocken alltid har varit, och som i likhet med veganism och intresse för parasitiska svampar är sig tämligen lik över nationsgränserna. Historien handlade egentligen om åldrande; om den obönhörligt allt äldre mannens krampaktiga försök att vidmakthålla sin ungdoms ideal och virila kraft. Han hette Steinherz, fick jag höra, och ingick på 90-talet i ett gäng renläriga hårdrockare med fallenhet för satanism. Inte den rent fanatiska sorten dock, som välter gravstenar och bränner träkyrkor, utan mera mainstream, vi kan kalla det hobbysatanism. Och grejen med honom var således att han blev äldre; han gifte sig med en kvinna med samma trubbiga musiksmak och efter några år fick de barn och flyttade ut på landet. Eller om det var en förort. I alla fall hade de trädgård.
Åren gick och ungdomens glada satanism förbleknade och ersattes med alla dessa vardagliga sysslor han en gång så intensivt hade föraktat. Men han gav sig aldrig, inte helt. Det gick visserligen så långt att han började finna ett visst nöje i fågelsång, och av den anledningen spikade upp ett antal fågelholkar i trädgården, men poängen var att han (halva Bukarest påstods känna till detta rykte) hängde holkarna upp och ned. För att visa vem som bestämmer. Vi skrattade gott åt detta ända ut på gatan, och jag kunde i egenskap av rutinerad biolog berätta att blåmesarna och de svartvita flugsnapparna troligen fann sig väl till rätta ändå.
Förstå mig rätt nu. Allt var en tillfällighet. Om jag stannat längre i Bukarest hade jag kanske åkt iväg till stadens reningsverk för att lyssna efter de berättelser som finns där, eller verkligen på allvar gjort slag i saken och närmat mig elektrikerna. Det råkade bara bli museet och sjöelefanten. Just reningsverk är förresten underbara platser som varmt kan rekommenderas för den som vill förstå en stad (eller sig själv). De som arbetar där är som regel gudabenådade berättare, och anläggningarna i sig kan verka tröstlöst förvirrande men ändå till sist visa sig avkasta något litet, vad som helst, av bestående värde. Berättelser. Fragment. Om elektrikerförbundet ens har julfester vet jag inte, men jag förstod att kaoset har förvärrats av ett centralt beslut (den gamla regimens vänskap med Nordkorea märks ännu) att snabbare än vad som möjligt bygga ut det fiberoptiska nätet. Och jag vet att konsten fungerar på samma sätt. Verket, bild eller text kan kvitta, är först bara förvirrande, men på vägen ut, när man passerar mammutskelettet, ser man lyckliga dagar den detalj varigenom allt kan låsas upp (hand i hand).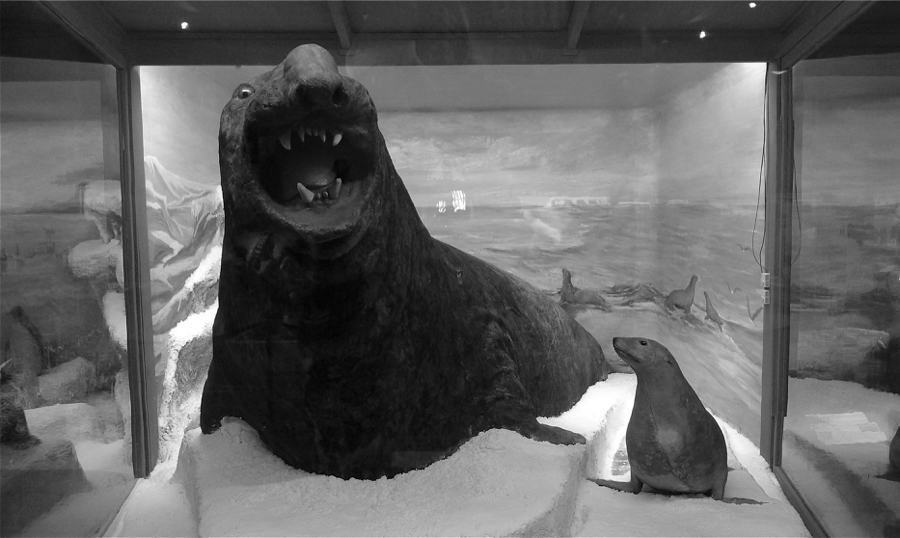 Published May 24, 2019
© Fredrik Sjöberg
The Stuffed Elephant Seal in Bucharest
Written in Swedish by Fredrik Sjöberg
Translated into English by Peter Graves
During one of my daily walks to the museum of natural history in Bucharest – it was the stuffed elephant seal that drew me back time after time – the thought occurred to me that the Christmas parties celebrated by the Romanian electricians' union must be quite special occasions. There would be the weary joy, the singing after a couple of glasses of mediocre red wine, and the pleasure of being among friends who really knew their way around cables. Right from Day One it had been obvious to me that the city electricity system was in a state of chaos. I had walked past a pole on which countless cables were joined in an apparently random tangle of oriental complexity that vaguely reminded me of a work by Franziska Furter. I realized later that a good half of the electricity poles in the city were exactly the same and it was then that I began to fall in love with Bucharest.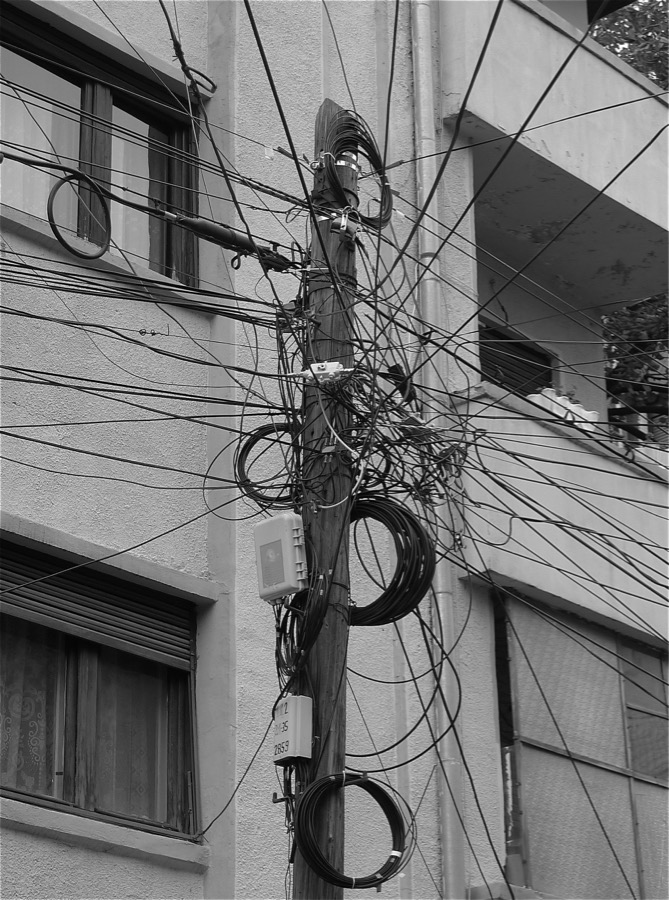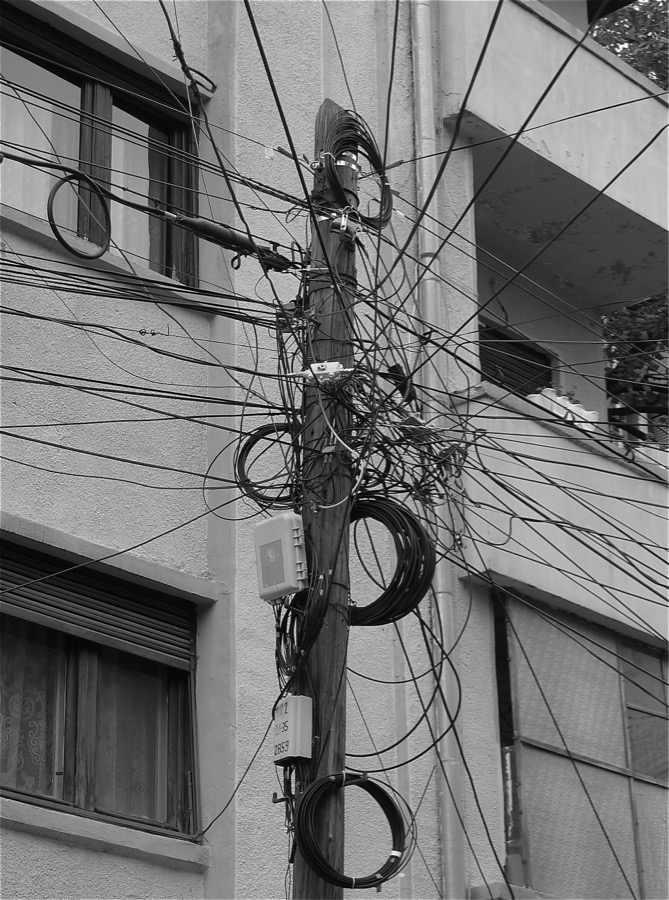 It was autumn and the sky was grey the whole time. I had discovered a Moldavian restaurant where they served white bread along with a meat soup that was difficult to describe though presumably nutritious enough. During the evenings and nights I put myself in the hands of various dubious taxi firms – Taxi Total, Pelicanul Taxi and the like, all of which drove small and uncomfortable cars painted in different shades of yellow. They ferried me around between publishers' parties in smoky cellar bars, happenings in galleries, and bars in run-down palaces from the days of King Carol I, which looked as if they were the products of Andrei Tarkovsky's imagination. Don't ask me what I was doing there, but the young poetry scene in the city was interesting enough. Not the poetry itself, which I couldn't understand much of, but the milieu and the consumption of art as perishable goods, so to speak.
It was obvious that the silly pranks and the readings from short-lived anthologies were meant for the passing moment. Gay activists with tattooed necks and youngish hardcore feminists with Klein blue hair mixed easily with elderly lawyers and professors of literature in leather caps, possibly because the former turned out to be recently qualified medical specialists, or writing doctoral dissertations on Wittgenstein, or something of the sort. They read their strange poems over crackling loudspeakers and even though there was always someone filming the show – usually on nothing more than a mobile phone – I can't imagine that anyone watched these films with anything other than a feeling of weary disappointment. What was important was what happened in real time, and then afterwards in the pub. It all reminded me of a thought I'd had before – a thought about the efforts artists make to preserve the fleeting moment. And how difficult that is. Like describing religious ecstasy, or good sex. Perishable goods are almost always superior to preserves.
The modern technique of canning preserves was invented during the Napoleonic Wars at the start of the nineteenth century, but we can put that to one side for the moment because what really interests us is the stuffed elephant seal in the museum of natural history – a fine example which shows that preservation, at its best, can match life itself. Not that I've ever seen a live elephant seal, nor do I have any desire to do so, but given that they regularly appear as extras in those sensationalising commercial television programmes, there is good reason to suspect that they lie around like log-jams of driftwood on inhospitable Antarctic beaches. Mountains of apathetic flesh and that's about all, utterly lacking in personality and spirit. Their listless grunting in the icy polar wind is the only thing that distinguishes them from the pair in the diorama that has been exhibited in the museum for a century or more. The gigantic bull seal and his diminutive mate feature in a tableau that has proved long-lasting.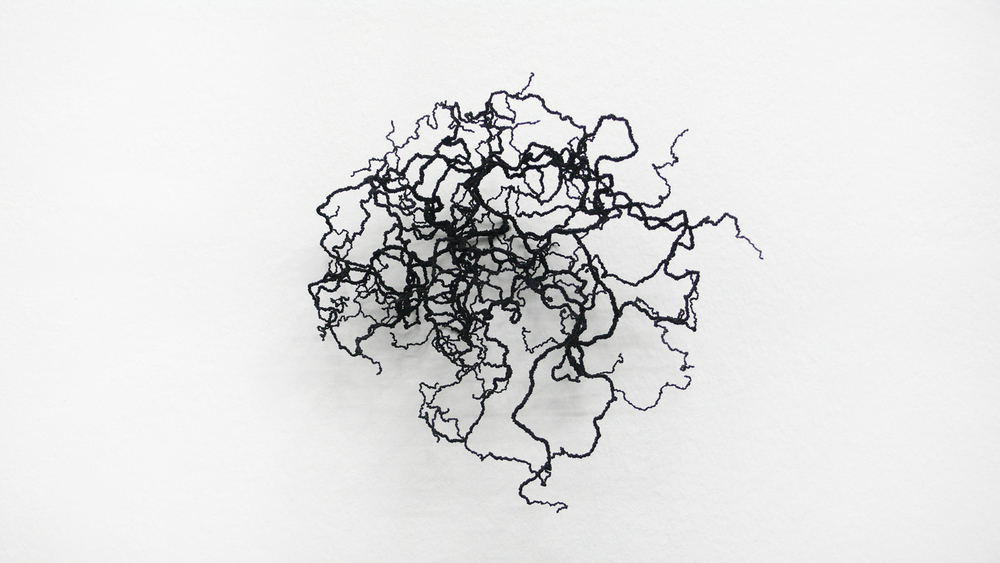 The Romanians, with a touch of instinctive chauvinism, insist that Grigore Antipa (1867-1944), the celebrated director of the museum, was the man who invented the zoological diorama as an aesthetic concept. That's debatable, however, in view of the opening of the Biological Museum in Stockholm in 1893 in a building that resembles a medieval Norwegian stave church. The curator there, Gustaf Kolthoff, with the assistance of the artists Bruno Liljefors and Gustaf Fjæstad, created scenes of this kind extending over several floors. I did not, of course, point this out to the friendly staff of the Bucharest museum, but I'll mention it now because, even though imitators may actually outdo their predecessors, originality does have a value of its own. As long as it has something to offer, that is. It doesn't really matter what that something is. And, of course, it's always possible that the same idea arose in two places at about the same time – though I'm not fully convinced about that. My elephant seals were not created until 1909.
You'll notice I'm calling them mine. We found one another immediately. The reason was simple: I'd never been to Bucharest before and, as usual, my preparations for the visit had been non-existent, so I needed a fixed point, somewhere to return to and mark out as my own. That's what I always do. Give me two days in a strange city and I'll have become a regular at a particular pub. Parks can have the same effect – a sort of calming influence – as long as I can go back day after day. I have been subjecting myself to psychoanalysis quite long enough to recognize that all I'm doing is trying to make my loneliness tolerable. But still. Although it's pure chance that decides what catches my interest, it's not difficult to come up with a suitable explanation in retrospect. This time – as so often – it was the stories. By enticing old and new friends to accompany me to the museum without giving them any advance warning of the crazy elephant seal on the second floor, I gradually got to hear a whole series of stories that actually had nothing at all to do with it. Or perhaps they did.
First to visit was the poet in whose hotel bed on Dacia Boulevard I used to wake just before the breakfast room closed its doors and cleared away those greasy sausages, stuffed with unknown ingredients. On Day Two we walked there hand in hand and she was almost beside herself with excitement when we got to that last great diorama. As usual, it took a good hour to reach it, because all visitors to the museum (now named after Grigore Antipa, by the way) are directed past a fierce ticket lady tucked away behind the skeleton of a mammoth in the entrance hall before being taken, like it or not, down a flight of stairs to the basement level, where the exhibitions start with fish, deep-sea molluscs, pelicans and just about anything else, including an accurate reproduction of a stalactite cave together with a memorial to a speleologist most ordinary people have forgotten. Only then are you allowed to make your way up to the first floor, which is full of lifelike stuffed animals and birds from the four corners of the earth arranged more or less logically in well-constructed dioramas. When you do eventually reach the second floor – which is the top floor – where the elephant seals stage their tableau right behind the fossilized remains of an extinct elephant with downward curving tusks, you've been properly softened up and made receptive to free thoughts. Or maybe you are just too exhausted to keep them to yourself.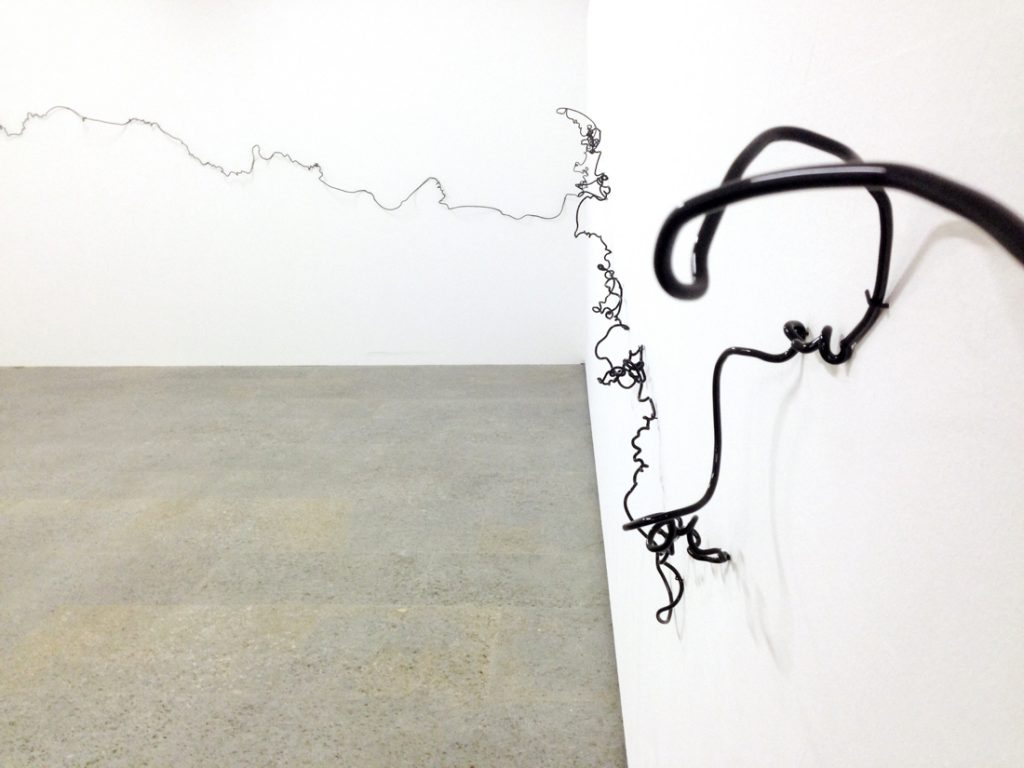 This is where the pygmies come into the picture. Immediately before the elephant seals the visitor has to pass the pygmies, which invariably leads to the breakdown of any last shred of rational natural-scientific thought processes. There they are, a small family in a diorama of their own, just like the Aborigines in their section, the North American Indians, the Samoyeds and so on – wax dolls, of course, not stuffed. But all the same! A series of the native populations of the earth presented here as being the link between animals and real people, by which is meant European visitors to the museum. Tradition still rules in the natural history museum in Bucharest. In Sweden, and pretty well anywhere else in fact, any museum director who subscribed to that kind of educational philosophy wouldn't survive more than a couple of hours, but it's clearly acceptable here. It's rather unfortunate, of course, that the most frequent visitors to the museum are schoolchildren. But let's not complain. Let's get back to the essentials, the elephant seals and my friend the poet.
She came to a halt in front of them, clearly amused, and she immediately began telling me about a number of men she had known over the years. She later claimed it was the bull elephant's gaze that sparked off the cascade of memories, and it may be true. I'd heard some of the stories before and consequently wasn't listening too carefully (also, Romanian children are just as noisy as children elsewhere), but her enthusiasm was infectious and I soon joined in the game. By the time we reached the pitiful skeleton of the dodo near the exit, I had learnt a number of new and thought-provoking items in the melancholy genre that deals with family life of the dysfunctional kind. And it didn't stop there: we went on to recall an article by the gender studies scholar Hillevi Ganetz – an article in which she examined the representation of the sex roles and sexuality of elk and other animals in a number of wildlife films. King of the Forest and that kind of thing.  Mirrors that made us laugh – and weep – when we looked into them. The article was initially ridiculed, but soon won great respect. She later became a professor.
(Before breakfast a few weeks later the same poet said that the elephant seal was not as impossible to describe as I insisted, but that it would take a whole volume of poetry – linguistically experimental poetry, at that – to do full justice to his manifestly mad gaze and literally rigid facial expression, not to mention the resigned and thoughtful look of the female of the species.)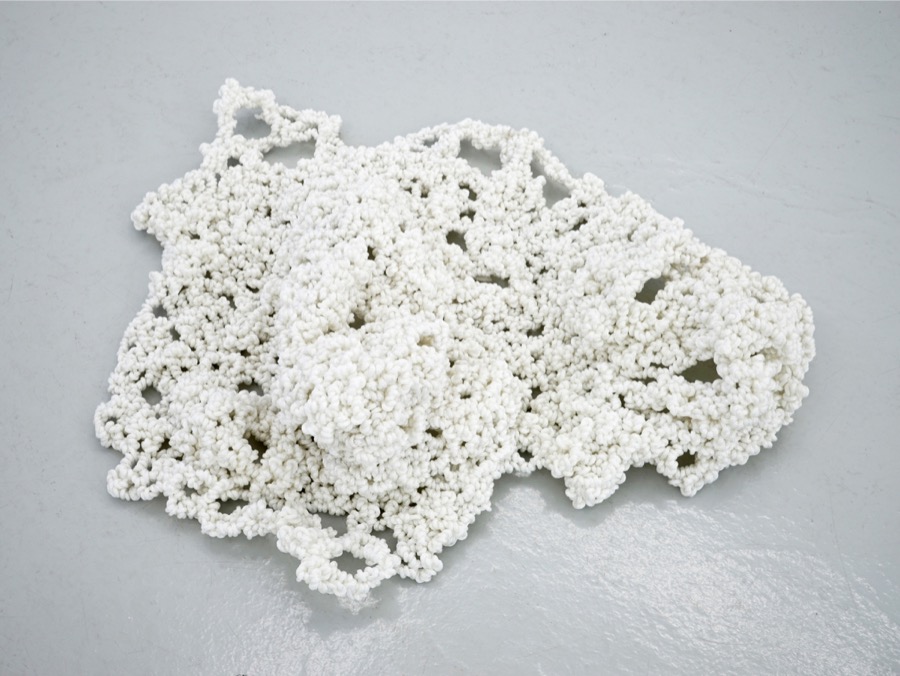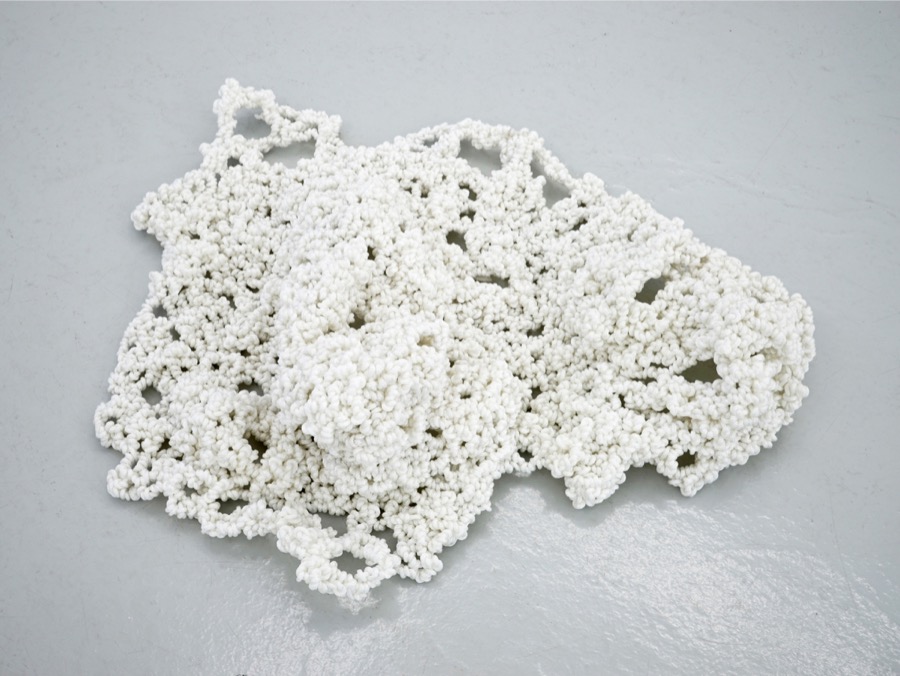 So I had found my regular haunt and I returned to it day after day. I was amazed to discover that it is actually possible to be born and grow up in Bucharest without ever having made the acquaintance of the elephant seal at the museum, but that proved to be the case and some of the stories reflected it. Someone remembered (of course they did) Nicolae Ceausescu and his wife Elena who were executed in December 1989 during the Romanian revolution. It was, as I heard now, anything but a revolution, more of a coup staged by a group of crafty power-brokers in the dictator's immediate circle. What happened in Timisoara where it all began was little more than a spontaneous popular demonstration, a simple protest against a move by the authorities to transfer an extremely outspoken priest (his name was Tökes) to a godforsaken parish in the back of beyond. But then the rising took on a life of its own, the media latched on to it, and once people took to the streets in Bucharest, the power circles recognized that the best solution to the problem would be an execution accompanied by promises of democracy. After that, of course, very little actually changed. All of which, later that day, would provide me with a reliable explanation as to why the electricity poles of the city resemble artworks by Franziska Furter.
A couple of the younger Romanian poets used to stop in front of the insects first. Near the pygmies there was a whole room full of butterflies, beetles and the like which, in accordance with all the rules of the trade, were neatly pinned and exhibited in disciplined rows reminiscent of party rallies at Nuremberg. Since I had something of a reputation for extensive knowledge in this discipline, I found myself having to respond to a host of questions about the joys of collecting and the great significance of the field of entomology. I was slightly concerned that they would suffer creative burn out downstairs, but they did not: once they were standing in front of the elephant seals the doors of their memory banks opened.
Now I heard several stories of conflict resolution or, to be more precise, failed conflict resolution which, to some extent anyway, could be interpreted from a gender perspective. Male and female. Like the one about vegans. Currently fashionable trends have taken root even in Romania and the new freedoms (whether they are a chimera or not is neither here nor there) have opened the way to a more radical attitude to food, particularly among young people. Quite simply, the kids wanted to be vegans, which was absolutely fine until the day came when some of the younger men formed a faction within vegan sub-culture which argued that it was acceptable to eat animals as long as those animals had died a natural death. They called themselves cadaverians and initially achieved some degree of success in the sense that they attracted a number of younger, ethically orthodox female recruits – that, of course, being a precondition of the group's survival.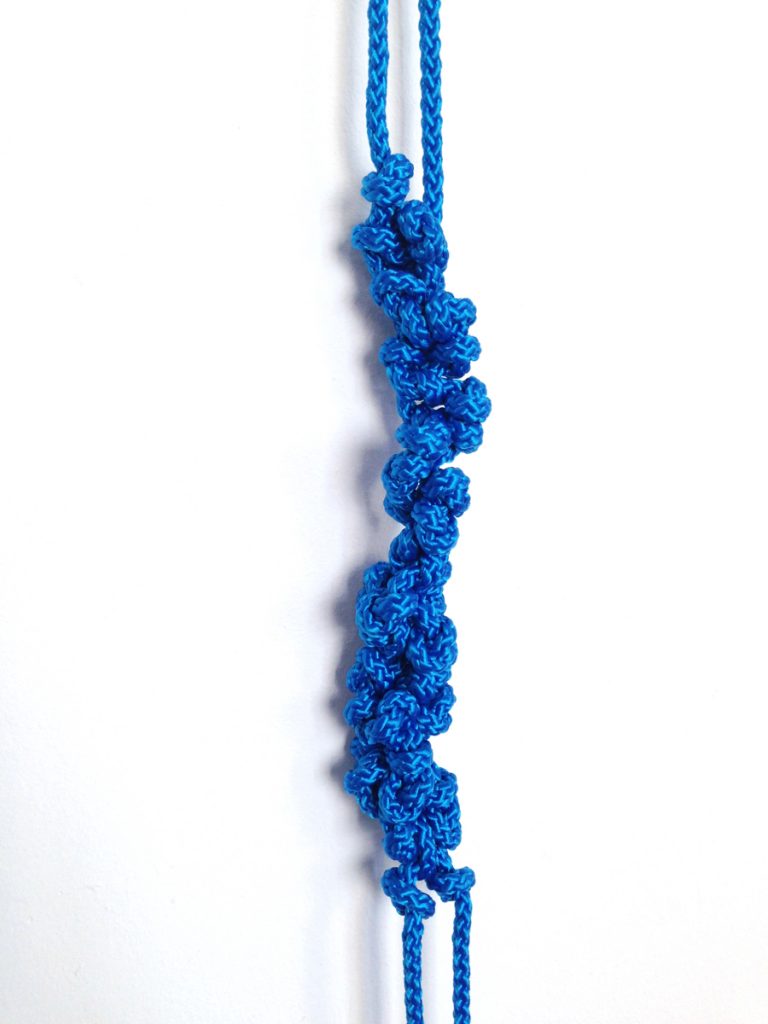 So far so good. The vegans and the cadaverians lived in something like harmony until male rivalry reared its head in the form of the glorious idea that eating roadkill really ought to be permissible. Badgers and the like. But enough was enough. Road traffic was considered to be evil in principle, and killing animals with vehicles was in a certain sense intentional. Consequently this new sect failed to attract more than a few disciples, all of whom were men and probably (I thought, anyway) men with the same basic existential outlook and one-track urge as the stuffed elephant seal. This story reminded me of something I was once told about the formation of factions among mushroom experts back in Sweden: a group, the Friends of Polypores, broke away from the Mycological Association but subsequently succumbed to internal strife. Things reached the point where the chairman of the Friends of Polypores was excluded from his own organization, so he formed yet another faction – the Swedish Polypore Society – from which he was also excluded in due course. Dear oh dear!
And now the Satanist! This story also emerged in front of the diorama of the elephant seals though it lacked any direct connection with what we were looking at. It involves another sub-culture – Hard Rock – which has always been a male code and which, like veganism and an interest in parasitic fungi, takes little account of national boundaries. This story is actually about aging, about a man's desperate efforts to hang on to the ideals and virile force of his youth in the face of the merciless process of aging. He was called Steinherz, or so I was told, and during the nineties he was a member of a gang of orthodox hard rockers with a penchant for Satanism. Not, however, the fanatical sort of satanism that overturns gravestones and burns down wooden churches, but the more mainstream variety. What we might call hobby satanism. The thing was that he grew older, married a woman with the same numbing taste in music as him, had children a year or so later and moved out to the country. Or it might have been the suburbs: the point being that they had a garden.
The years passed and the happy satanism of youth faded and was replaced by all of those everyday activities he had once scorned so vehemently. But he never gave up, not completely. Things even reached the stage where he began to take a certain pleasure in birdsong, so much so that he put up several nest boxes in his garden, but the point was (and half of Bucharest claimed to have heard of this) that he hung the nest boxes upside down. To show the birds who was boss. That kept us laughing all the way down to the street and, as an experienced biologist, I was able to explain that blue tits and black and white flycatchers wouldn't have found that too much bother anyway.
Don't get me wrong now. All this happened by chance. If I'd stayed in Bucharest for longer, I might have gone out to the city sewage works to see what tales were being told out there, or really taken the plunge and approached the electricians. It was chance that plumped for the museum and the elephant seals. Sewage works, though, are wonderful places and I can recommend them to anyone who wants to understand a town (or themselves). The people who work there are usually inspired talkers and, although the plants themselves can seem hopelessly confusing, in the end they do produce something small of lasting value. Stories. Fragments. I don't know whether the electricians' union actually holds Christmas parties, but I do know that the chaos has been made even worse by a central decision to extend the fibre-optic network faster than it's possible to do so. (The friendship between the old regime and North Korea is still quite marked.) And I also know that art functions in the same way. The work – irrespective of whether it's a picture or a text – may be confusing at first, but when you're on your way out, when hand in hand you're passing the skeleton of the mammoth, if you're lucky you will catch a glimpse of the detail that enables you to unlock everything.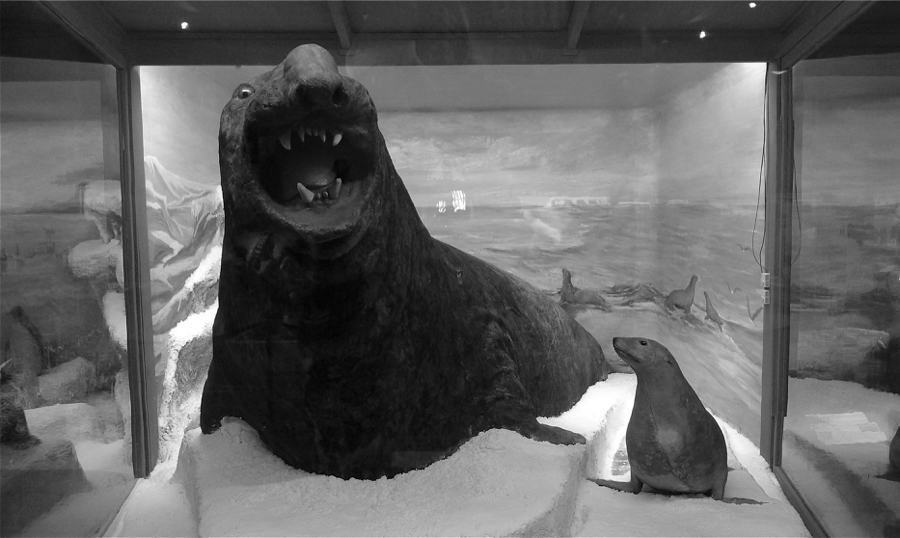 Published May 24, 2019
© Fredrik Sjöberg
© Specimen 2019
Der ausgestopfte See-Elefant in Bukarest
Written in Swedish by Fredrik Sjöberg
Translated into German by Paul Berf
Bei einem meiner täglichen Spaziergänge zum Naturhistorischen Museum in Bukarest, dessen ausgestopfter See-Elefant mich zu immer neuen Besuchen verlockte, kam mir der Gedanke, dass die Weihnachtsfeiern des rumänischen Elektrikerverbands etwas wahrhaft Besonderes sein müssen. Die erschöpfte Freude; die Lieder nach mehreren Gläsern minderwertigen Weins; das Glück, unter Freunden zu weilen, die wirklich etwas von Leitungen verstehen. Dass das Stromnetz der Stadt in ein Stadium des Chaos eingetreten war, erschien mir gleich am ersten Tag offensichtlich, als ich an einem Strommast vorbeiging, an dem unzählige, scheinbar wahllos verbundene Kabel ein nahezu orientalisches Gewirr bildeten, das mich vage an ein Kunstwerk von Franziska Furter erinnerte. Später begriff ich, dass etwa die Hälfte aller Strommasten in der Stadt exakt so aussah. Und so kam es, dass ich anfing, Bukarest zu lieben.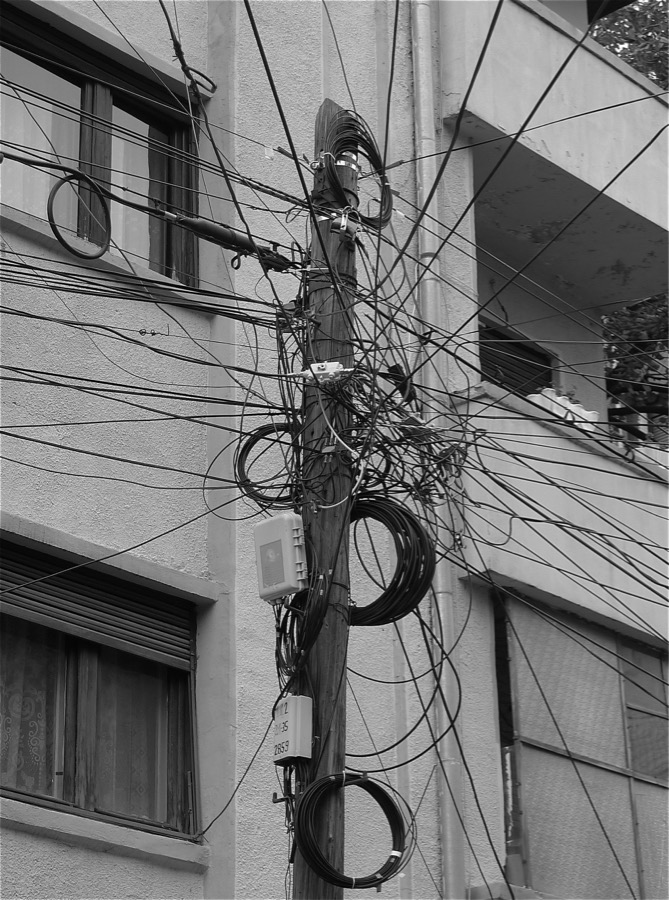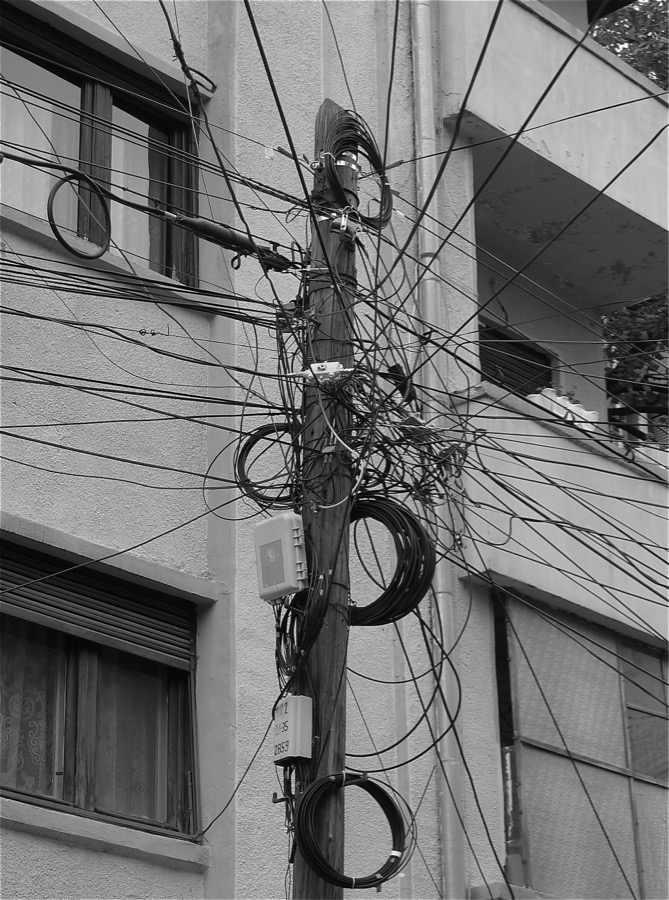 Es war Herbst und der Himmel konstant grau; ich hatte ein moldawisches Mittagstischrestaurant aufgetan, das eine schwer zu beschreibende, aber wahrscheinlich ausreichend nahrhafte Rindfleischsuppe mit Weißbrot servierte, und war abends und nachts in den Händen diverser halb seriöser Taxiunternehmen, Taxi Total, Pelicanul Taxi und wie sie alle hießen (jedes von ihnen nutzte kleine, unbequeme Autos in unterschiedlichen Gelbtönen), die mich zwischen verrauchten Kellerverlagsfesten, Galeriehappenings und Gaststätten in verfallenen Palästen aus der Zeit König Carols I., gleichsam von Andrej Tarkowskij ersonnen, hin und her kutschierten. Fragen Sie mich nicht, was ich dort machte. Wahrscheinlich war ich bloß auf dem Weg fort. Jedenfalls war die junge Lyrikszene der Stadt durchaus interessant. Vielleicht weniger die Gedichte selbst – von ihnen verstand ich nicht viel –, sondern eher das Milieu sowie der Konsum von Kunst als Frischware.
Die witzigen Auftritte und Lesungen aus unbeständigen Anthologien waren so offenkundig für den Moment gedacht. Am Hals tätowierte Schwulen-Aktivisten und jüngere Hard-Core-Feministinnen mit Yves Klein-blauen Haaren, mischten sich völlig ungezwungen mit nicht mehr ganz so jungen Zivilrechtjuristen und Literaturprofessoren mit Ledermütze, vielleicht auch, weil sie selbst sich als frisch examinierte Fachärzte, Wittgensteindoktoranden und anderes in der Art herausstellten; sie lasen ihre seltsamen Gedichte in knisternde Lautsprecher und auch wenn es immer irgendwen gab, der das Spektakel filmte, und sei es auch nur mit seinem Smartphone, kann ich mir nicht vorstellen, dass jemand sich diese Filme ohne ein Gefühl müder Enttäuschung anschauen wird. Das Wesentliche geschah in Echtzeit, auch hinterher, in den Kneipen, was mich an einen Gedanken von früher erinnerte, über den Versuch des Künstlers, diesen flüchtigen Zustand zu konservieren. Wie schwierig das ist. Als wollte man der Zukunft religiöse Ekstase beschreiben, oder guten Sex. Die Frischware schlägt fast immer die Konserve.
Die moderne Vollkonserve wurde während der Napoleonischen Kriege Anfang des 19. Jahrhunderts erfunden, aber diese Geschichte können wir heute getrost außer Acht lassen, denn entscheidend war letztlich der ausgestopfte See-Elefant im Naturhistorischen Museum – der ein ausgezeichnetes Beispiel dafür ist, dass die Konserve sich in glücklichen Momenten mit dem Leben messen kann. Nun habe ich zwar nie einen lebenden See-Elefanten gesehen, und hege auch nicht den Wunsch, es zu tun, aber da sie regelmäßig wiederkehrende Statisten im werbungsbasierten, sensationslüsternen Abenteuerfernsehen sind, liegt der Verdacht nahe, dass sie wie Treibholz herumliegen, zu Haufen angestaut, an irgendeinem ungastlichen Ufer im südlichen Eismeer, apathische Fleischberge bloß, gänzlich ohne Esprit oder andere Persönlichkeit. Wenn es hoch kommt teilnahmsloses Grunzen im eiskalten Polarwind, was sie folglich von dem Paar im mehr als hundert Jahre alten Diorama des Museums unterscheidet. Glauben Sie mir, das ist etwas völlig anderes. Das monströse Männchen und sein verkümmertes Weibchen gaben eine Szene, mit der man, wie sich zeigte, weit kam.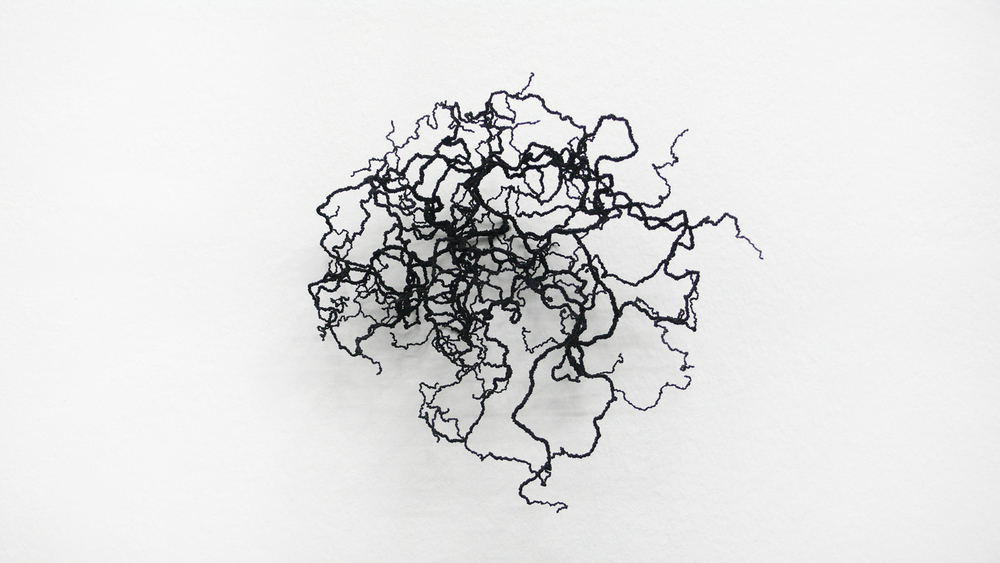 Die reflexartig chauvinistischen Rumänen behaupten, Grigore Antipa (1867-1944), der legendäre Direktor des Museums, habe die zoologische Dioramaästhetik erfunden, doch darüber lässt sich diskutieren, nicht zuletzt mit Hinweis auf das Biologische Museum in Stockholm, das bereits 1893 in einem Gebäude eingeweiht wurde, das aussieht wie eine mittelalterliche norwegische Stabkirche, und in dem der Konservator Gustaf Kolthoff mit Hilfe der Künstler Bruno Liljefors und Gustaf Fjæstad auf mehreren Etagen eine ebensolche Szenerie erschuf. Dies war natürlich nichts, worauf ich die freundlichen Museumsleiter in Bukarest hinwies, aber jetzt, im Nachhinein, lässt es sich schon sagen, denn auch wenn Epigonen manchmal tatsächlich besser sind als ihre Vorbilder, hat gerade die Originalität schon an sich einen Wert. Das heißt, solange dabei etwas herauskommt. Was genau, spielt keine Rolle. Im Übrigen könnte es natürlich sein, dass an zwei Orten und ungefähr zur selben Zeit die gleiche Idee entstand, aber das glaube ich eigentlich nicht. Meine See-Elefanten sind 1909 entstanden.
Ja, meine. Wir fanden einander direkt. Aus einem einfachen Grund. Ich war nie zuvor in Bukarest gewesen, und die Vorbereitungen für den Besuch hatten wie üblich gen Null tendiert, so dass ich einen Fixpunkt benötigte, einen Ort zum Zurückkehren, den ich zudem als meinen persönlichen bekannt machen konnte. So kommt es immer. Man gebe mir zwei Tage in einer fremden Stadt und ich habe mir eine Stammkneipe zugelegt. Parks können eine ähnliche Wirkung entfalten, gleichsam beruhigend, wenn ich nur, Tag für Tag, zu ihnen zurückkehren darf. Und sicher, ich habe mich inzwischen lange genug einer Psychoanalyse unterzogen, um zu begreifen, dass ich lediglich versuche, meine Einsamkeit auszuhalten, aber trotzdem; und obgleich Zufälle steuern, wofür ich mich gerade interessiere, ist es immer möglich, im Nachhinein eine passende Erklärung zu finden. Diesmal lag sie, wie so oft, in den Geschichten. Indem ich alte und neu gewonnene Freunde in das Museum lockte, ohne im Voraus etwas über den wahnwitzigen See-Elefanten im ersten Stockwerk zu sagen, kamen mir mit der Zeit eine ganze Reihe von Geschichten zu Ohren, die im Grunde nichts mit der Sache selbst zu tun hatten. Oder eben doch.
Die erste von allen war die Dichterin, in deren Hotelbett im Dacia Boulevard ich an den Vormittagen aufzuwachen pflegte, kurz bevor der Frühstücksraum schloss und seine fettigen Würste mit unbekanntem Inhalt weggepackt wurden. Es war der zweite Tag, wir gingen Hand in Hand dorthin, und sie wurde irgendwie ganz wild, als wir zu diesem letzten großen Diorama gelangten, was in der Regel etwa eine Stunde dauerte, da sämtliche Besucher des Museums (das heute nach Grigore Antipa benannt ist) an einer wütenden Kartenverkäuferin hinter dem Mammutskelett der Eingangshalle vorbeigeleitet werden, und von dort aus kann man nur eine Treppe nach unten nehmen, ins Untergeschoss, wo die Ausstellung mit Fischen, Tiefseemollusken, Pelikanen und allem möglichen anderen beginnt, ergänzt um ein Denkmal für einen von sämtlichen normalen Menschen vergessenen Höhlenforscher mitsamt der naturgetreuen Kopie einer Tropfsteinhöhle. Erst danach stößt man auf die ins Erdgeschoss führende Treppe, wo alles mit schwungvoll ausgestopften Tieren und Vögel aus allen Ecken und Enden der Welt, einigermaßen logisch in schön gestalteten Dioramalandschaften gruppiert, weitergeht. Wenn man dann endlich in die erste und oberste Etage gelangt, wo die See-Elefanten gleich hinter den fossilen Überresten eines seit langem ausgestorbenen Elefanten mit abwärts gerichteten Stoßzähnen ihre Szene aufführen, ist man ziemlich ermattet und damit empfänglich für freie Gedanken, oder vielleicht eher so erschöpft, dass man diese nicht für sich behalten kann.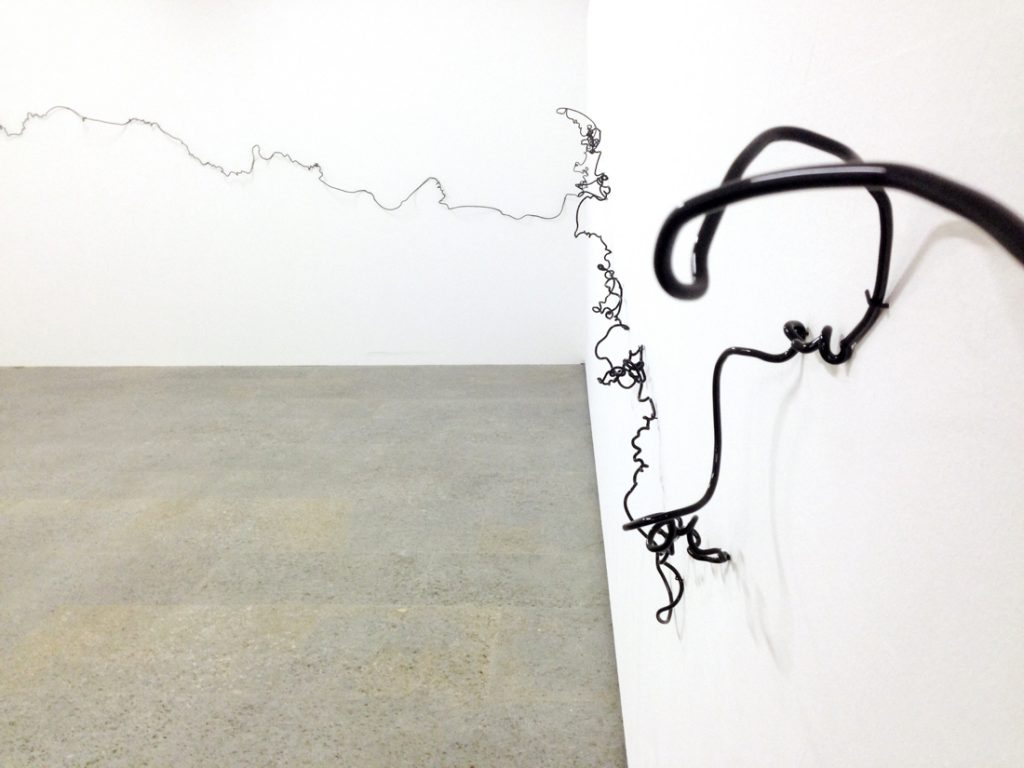 Hinzu kommt, dass der Besucher zunächst, kurz vor den See-Elefanten, an den Pygmäen vorbeimuss, was untrüglich den letzten Rest rationalen naturwissenschaftlichen Denkens zersetzt. Oh ja, sie stehen dort in einem eigenen Diorama, eine kleine Familie, genau wie, in ihrer jeweiligen Nische, die Aborigines, die nordamerikanischen Indianer, die Samojeden und so weiter, natürlich nicht ausgestopft, sondern als Wachsfiguren, aber trotzdem; eine Reihe von Urvölkern der Erde wird hier als Bindeglied zwischen den Tieren und den richtigen Menschen präsentiert, will sagen den besuchenden Europäern, denn im Naturhistorischen Museum in Bukarest fühlt man sich sehr der Tradition verpflichtet. In Schweden, oder eigentlich überall sonst, hätte kein Museumschef mit einer solchen Pädagogik viele Stunden überlebt, doch hier ist das anscheinend kein Problem. Weniger geglückt natürlich, vor allem, wenn man bedenkt, dass ein solches Museum hauptsächlich von Schulkindern besucht wird, aber wir wollen uns jetzt nicht darüber beklagen. Entscheidend sind, wie gesagt, die See-Elefanten, und meine Freundin, die Dichterin.
Sie blieb, augenscheinlich amüsiert, vor ihnen stehen und begann augenblicklich von einer Anzahl Männer zu erzählen, die sie im Laufe der Jahre gekannt hatte. Später behauptete sie, es sei der Blick des See-Elefantenbullen gewesen, der diese Erinnerungskaskade ausgelöst habe, was zutreffen mag; einige der Geschichten kannte ich schon, weshalb ich nicht so genau hinhörte (außerdem lärmen rumänische Kinder auch nicht weniger als andere), aber ihr Enthusiasmus war ansteckend, so dass ich schon bald mitspielte und ehe wir zu dem beklagenswerten Dodoskelett nahe des Ausgangs gelangten, hatte ich eine Reihe bedenkenswerter Neuigkeiten in dem normalerweise trostlosen Genre gehört, das um früheres Familienleben dysfunktionaler Art kreist. Und damit nicht genug. Wir hatten außerdem einen seinerzeit zunächst belächelten, aber schon bald sehr respektierten Artikel der Genusforscherin Hillevi Ganetz aus dem Gedächtnis heraufbeschworen, in dem sie die Darstellung von Geschlechterrollen und Sexualität bei Elchen und anderen Tieren in diversen Naturfilmen untersuchte. Der König des Waldes, und so weiter; Spiegel, vor denen man lacht, und weint. Sie wurde dann Professorin.
(Ein paar Wochen später, vor dem Frühstück, erklärte dieselbe Dichterin, der See-Elefant entzöge sich keineswegs jeder Beschreibung, wie ich hartnäckig behauptete, sein eindeutig geisteskranker Blick und seine im wahrsten Sinne des Wortes erstarrten Gesichtszüge, ganz zu schweigen von den resignierten Gedanken des Weibchens, erforderten vielmehr einen ganzen, sprachlich experimentellen Lyrikband, um wirklich eine Erklärung zu finden.)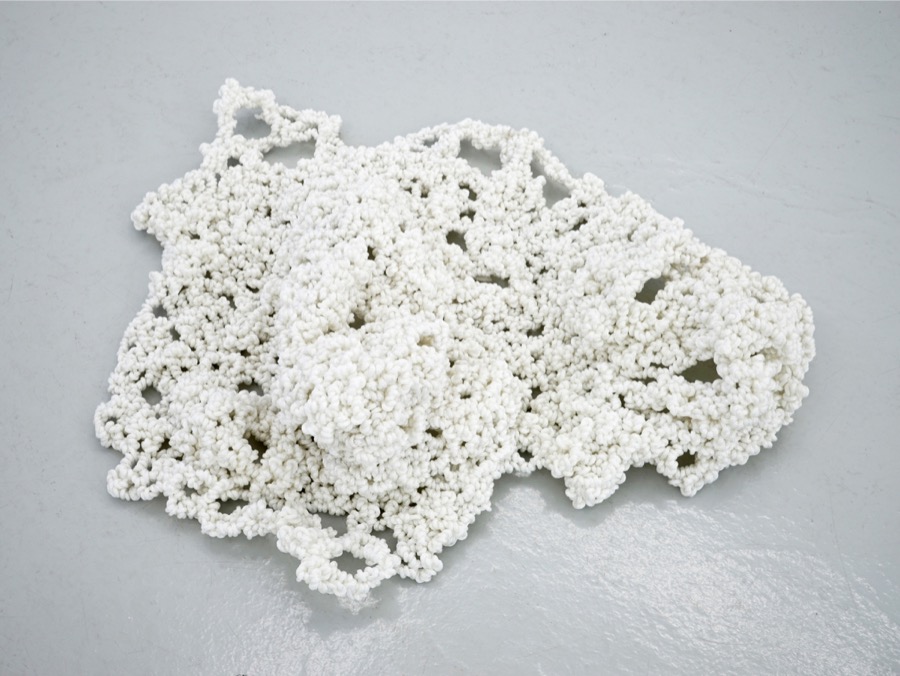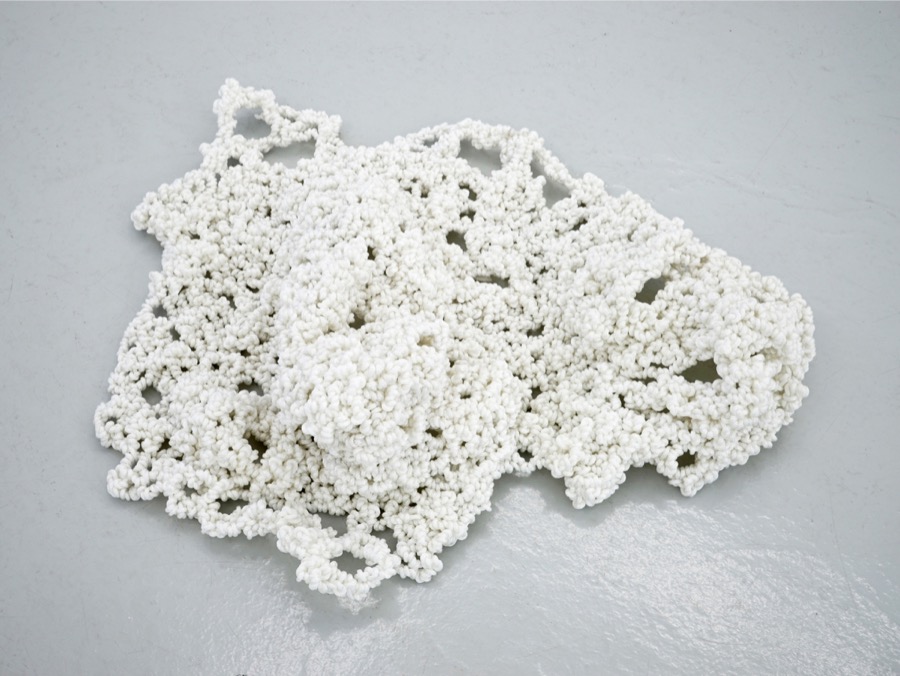 Damit hatte ich meinen Stammplatz gefunden. Tag für Tag. Es erstaunte mich, dass man tatsächlich in Bukarest geboren und aufgewachsen sein konnte, ohne jemals die Bekanntschaft des See-Elefanten im Museum gemacht zu haben, aber so war es, und die Geschichten fielen dementsprechend aus. Jemand erinnerte sich (natürlich, muss man wohl sagen) an Nicolae Ceausescu und seine Frau Elena, hingerichtet während der rumänischen Revolution im Dezember 1989, ein Ereignis, wie ich nun hörte, das gar keine Revolution, sondern ein Staatsstreich gewesen war, inszeniert von einer Gruppe raffinierter Machtspieler im engsten Umfeld des Diktators. Was in Timisoara passierte, wo alles begann, war nur ein spontaner Aufruhr des gemeinen Volks gewesen, ein schlichter Protest dagegen, dass die Behörden einen allzu freimütigen Pfarrer – er hieß Tökes – in ein gottverlassenes Pastorat irgendwo in der Einöde versetzen wollten, dann aber entwickelte dieser Aufstand ein Eigenleben, die Medien hakten nach und als in Bukarest die Menschen in Massen auf die Straße gingen, erkannte man im Machtapparat, dass eine Hinrichtung mit dem nachfolgenden Versprechen von Demokratie die beste Lösung für das Problem sein dürfte. Danach veränderte sich nicht sonderlich viel, was an dem Tag zu späterer Stunde glaubwürdige Erklärungen dafür lieferte, warum die Strommasten der Stadt aussehen wie Kunstwerke von Franziska Furter.
Ein paar der jüngeren rumänischen Dichter blieb zunächst vor den Insekten hängen, einem ganzen Raum in der Nähe der Pygmäen, gefüllt mit Schmetterlingen, Käfern und anderem Getier, säuberlich genadelt und nach allen Regeln der Kunst in diszipliniert schnurgeraden Reihen ausgestellt, die einen an die Reichsparteitage in Nürnberg erinnerten, und weil ich in einem gewissen Ruf stand, ein breites Wissen hierüber zu besitzen, musste ich zahlreiche Fragen zu den Freuden des Sammelns und zur unermesslichen Tiefe der entomologischen Wissenschaft beantworten. Mich trieb ein wenig die Sorge um, dass sie ihre kreative Energie bereits dort verpulvern könnten, aber nein; beim Anblick des See-Elefanten öffneten sich auch ihre Erinnerungsschleusen.
Und so kamen mir ein paar Geschichten über Konfliktbewältigung zu Ohren, genauer gesagt über missglückte Konfliktbewältigung, die sich zumindest teilweise aus einer Genusperspektive begreifen ließen. Männlich und weiblich. Wie das über die Veganer. Ja, auch in Rumänien haben die Denkrichtungen der Gegenwart Wurzeln geschlagen, und vor allem für Jugendliche hatte die neugewonnene Freiheit um die Jahrtausendwende (ob Chimäre oder nicht spielt keine Rolle) den Weg für eine radikalere Beziehung zu Essen geebnet. Die Kids wollten schlicht Veganer sein, was auch ganz ausgezeichnet funktionierte bis zu dem Tag, an dem einige jüngere Männer innerhalb der veganen Subkultur eine Fraktion bildeten, die es okay fand, auch Tiere zu verspeisen, allerdings unter der Voraussetzung, dass diese von selbst gestorben waren. Die sogenannten Kadaverianer konnten anfänglich gewisse Erfolge verbuchen, was bedeutet, dass auch einige jüngere, in ethischer Hinsicht orthodoxe Frauen zu ihrem Flügel hinübergelockt werden konnten, was wie üblich eine Voraussetzung dafür war, dass sie durchhielten.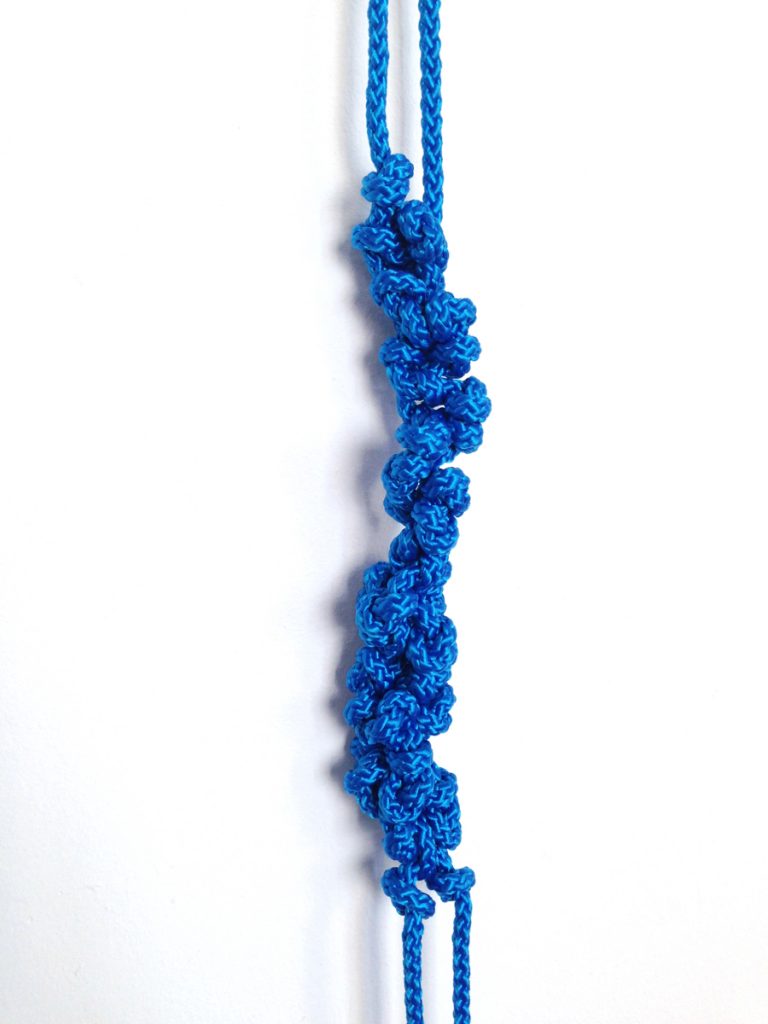 So weit, so gut. Veganer und Kadaverianer lebten ziemlich einträchtig zusammen, aber dann schlich sich erneut die männliche Rivalität ein, diesmal in Gestalt der wirklich unbezahlbaren Idee, dass man auch im Straßenverkehr getötete Tiere essen dürfe. Dachse und anderes. Doch da war Schluss. Der Straßenverkehr galt als prinzipiell böse und das Töten entsprechend als in gewissem Sinne absichtlich, wodurch diese neue Fraktion nur eine kleine Zahl von Proselyten anlockte, alles Männer, wahrscheinlich (überlegte ich) mit der gleichen existentiellen Grundhaltung und dem gleichen beschränkten Antrieb wie der ausgestopfte See-Elefant. Die Geschichte erinnerte eindeutig an das, was ich einmal über die Fraktionsbildung unter den Pilzkennern im heimischen Schweden gehört hatte, als sich die Freunde der Porlinge aus dem Mycelischen Verein abspalteten, um später durch interne Streitigkeiten zerstört zu werden. Die Sache ging so weit, dass der Mann, der bei den Freunden der Porlinge Vorsitzender war, aus seinem eigenen Verein ausgeschlossen wurde, woraufhin er eine weitere Splittergruppe gründete, die den Namen Schwedische Porlingsgesellschaft trug (später wurde er auch dort ausgeschlossen). Ach ja.
Und der Satanist! Auch diese Geschichte begann vor dem Diorama mit den See-Elefanten, ganz ohne einen direkten Verweis auf das, was wir vor Augen hatten. Eine andere Subkultur also, männlich kodiert, wie es der Hardrock immer gewesen ist, so wie der Veganismus und das Interesse für parasitäre Pilze über die Landesgrenzen hinweg recht ähnlich aussieht. Bei dieser Erzählung ging es letzten Endes ums Älterwerden; um die krampfhaften Versuche des unerbittlich alternden Mannes, die Ideale und virile Kraft seiner Jugend aufrechtzuerhalten. Er hieß Steinherz, erfuhr ich, und gehörte in den neunziger Jahren zu einer Gang orthodoxer Hardrocker mit einem Hang zum Satanismus. Allerdings nicht von der völlig fanatischen Sorte, die Grabsteine umkippt und Holzkirchen in Brand setzt, sondern eher Mainstream, wir können es Hobbysatanismus nennen. Und bei ihm ging es also darum, dass er älter wurde; er heiratete eine Frau mit dem gleichen stumpfen Musikgeschmack und ein paar Jahre später bekamen sie Kinder und zogen aufs Land. Vielleicht auch in einen Vorort. Jedenfalls hatten sie einen Garten.
Die Jahre vergingen und der fröhliche Satanismus der Jugend verblasste und wurde von den zahllosen alltäglichen Aktivitäten ersetzt, die er einst so intensiv verachtet hatte. Doch er gab niemals auf, nicht ganz. Es kam zwar so weit, dass er anfing, ein gewisses Vergnügen am Vogelgesang zu finden, woraufhin er in seinem Garten eine Reihe von Nistkästen montierte, aber der Punkt war, dass er (halb Bukarest, hieß es, kenne das Gerücht) die Nistkästen auf dem Kopf aufhängte. Um zu zeigen, wer das Sagen hatte. Darüber lachten wir herzlich bis auf die Straße hinaus, und ich wusste in meiner Eigenschaft als routinierter Biologe zu berichten, dass sich die Blaumeisen und Trauerschnäpper wahrscheinlich trotzdem gut zurechtfanden.
Verstehen Sie mich nicht falsch. Es war alles ein Zufall. Wenn ich mich länger in Bukarest aufgehalten hätte, wäre ich möglicherweise zum städtischen Klärwerk gefahren, um den Geschichten zu lauschen, die es dort gab, oder hätte Nägel mit Köpfen gemacht und mich den Elektrikern genähert. Meine Wahl fiel willkürlich auf das Museum und den See-Elefanten. Gerade Kläranlagen sind im Übrigen ganz wunderbare Orte, die ich jedem nur wärmstens empfehlen kann, der eine Stadt (oder sich selbst) verstehen möchte. Die Menschen, die dort arbeiten, sind begnadete Erzähler, und die Anlagen an sich mögen trostlos verwirrend wirken, aber am Ende zeigt sich dennoch, dass sie etwas Kleines, was auch immer, von bestehendem Wert abwerfen. Geschichten. Fragmente. Ob der Elektrikerverband überhaupt Weihnachtsfeiern abhält, weiß ich nicht, aber ich begriff, dass das Chaos von dem zentral gefassten Beschluss verschlimmert worden war (die Freundschaft des alten Regimes zu Nordkorea ist noch spürbar), schneller als eigentlich möglich das Glasfasernetz auszubauen. Und ich weiß, dass die Kunst auf die gleiche Art funktioniert. Das Werk, egal ob Bild oder Text, ist anfangs nur verwirrend, doch auf dem Weg hinaus, wenn man am Mammutskelett vorbeikommt, sieht man an glücklichen Tagen das Detail, durch das alles aufgeschlossen werden kann (Hand in Hand).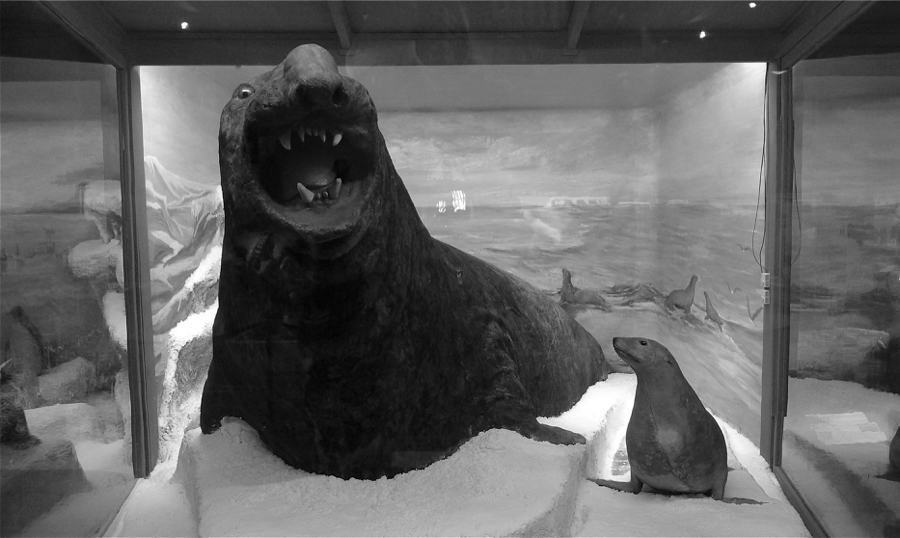 Published May 24, 2019
© Fredrik Sjöberg
© Specimen 2019
Other
Languages
Swedish
English
German
My friend Anja Lutz from 'The Greenbox' in Berlin had the idea to ask Fredrik Sjöberg to write a text for my monographic book after I told her about my fascination with his writing. I thought his way of writing has similarities to how I make art. It is a kind of visualisation of thinking and having associations which lead from one thing to another and another and it's about spending time. His book' The Fly Trap inspired me for several works. I asked him to write a text for my book without any conditions. In the end we had the text in three languages: the original text is written in Swedish, my mother tongue is German, and the language to reach a lot of people is English.
Special thanks go to Anja Lutz, Fredrik Sjöberg, Karine Tissot, Benoît Chevallier, Timo Nasseri, Vanni Bianconi and Specimen.
– Franziska Furter
Your
Tools
Close Language
Close Language
Add Bookmark