Kyiv: A War Diary
Written in German by Yevgenia Belorusets and translated into English by ISOLARII
THURSDAY, FEBRUARY 24 (DAY 1): THE BEGINNING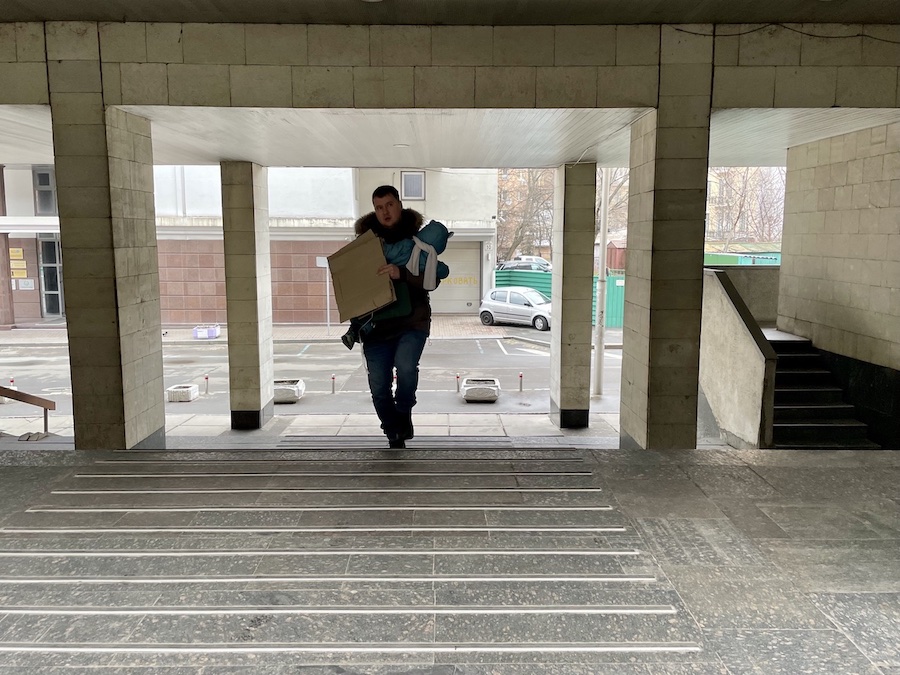 A man carries his child on his way to the shelter. [photo: Yevgenia Belorusets]
–
Today I woke up early in the morning to see eight unanswered calls on my cell phone. It was my parents and some friends. At first I thought something had happened to my family and that my friends were trying to reach me because for some reason my parents had alerted them first. Then my imagination went in another direction and I thought of an accident, a dangerous situation in the center of Kyiv, something to warn your friends about. I felt a cold uneasiness. I called my cousin, because her beautiful voice always has a calming effect on me, brave and rational. She just said: Kyiv has been shelled. A war has broken out.
Many things have a beginning. When I think about the beginning, I imagine a line drawn very clearly through a white space. The eye observes the simplicity of this trail of movement—one that is sure to begin somewhere and end somewhere. But I have never been able to imagine the beginning of a war. Strange. I was in the Donbas when war with Russia broke out in 2014. But I had entered the war then, entered into a foggy, unclear zone of violence. I still remember the intense guilt I felt about being a guest in a catastrophe, a guest who was allowed to leave at will because I lived somewhere else.
The war was already there, an intruder, something strange, foreign and insane, which had no justification to happen in that place and at that time. Back then, I kept asking people in the Donbas how all this could start, and always got different answers.
I think that the beginning of this war in the Donbas was one of the most mythologized moments for the people of Kyiv, precisely because it remained incomprehensible how such an event is born. At that time, in 2014, people in Kyiv said, "People from Donbas, those Ukrainian Putin-sympathizers, invited the war to our country." This alleged "invitation" has for some time been considered an explanation for how the absolutely impossible—war with Russia—suddenly became possible after all.
After I finished the phone call with my cousin, I paced around my apartment for a while. My head was absolutely blank, I had no idea what to do now. Then my phone rang again. One call followed the next, friends came forward with plans to escape, some called to make sure we were still alive. I quickly grew tired. I talked a lot, constantly repeating the words "the war." In between, I would look out the window and listen to see if the explosions were approaching. The view from the window was ordinary, but the sounds of the city were strangely muffled—no children yelling, no voices in the air.
Later, I went out and discovered an entirely new environment, an emptiness that I had never seen here, even on the most dangerous days of the Maidan protests.
Sometime later I heard that two children died from shelling in Kherson Oblast, in the south of the country, and that a total of 57 people died in the war today. The numbers turned into something very concrete, as if I had already lost someone myself. I felt angry at the whole world. I thought, this has been allowed to happen, it is a crime against everything human, against a great common space where we live and hope for a future.
I'm staying with my parents tonight. I've visited a bunker next to the house, so I know where we'll all go when the shelling comes later.
The war has begun. It is after midnight. I will hardly be able to fall asleep, and there is no point in enumerating what has changed forever.
FRIDAY, FEBRUARY 25 (DAY 2): AIR ALERT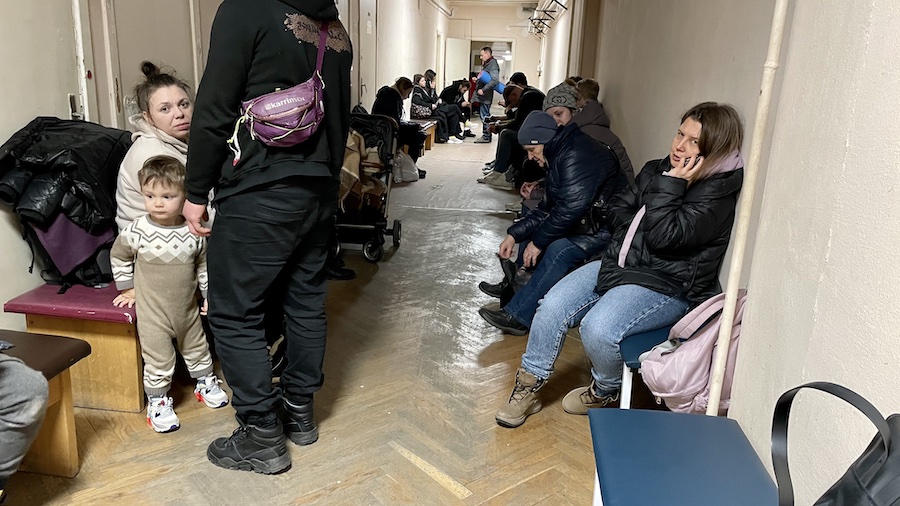 Men, women, and children in a shelter in Kyiv. [photo: Yevgenia Belorusets]
–
I wake up at seven in the morning to the sirens warning of air raids. My mother is convinced that Russia will not dare to shell the thousand-year-old St. Sophia Cathedral in the city. She believes that our house, which is in the immediate vicinity of the cathedral, is safe. That's why she decides not to go to the shelters. My father is sleeping.
I think if a UNESCO monument would actually stop the Russian army from shelling, this war wouldn't have started in the first place. My head is throbbing with thoughts: Kyiv under fire, abandoned by the whole world, which is just ready to sacrifice Ukraine in the hope that it will feed and satiate the aggressor for some time.
Kyiv is being shelled, for the first time after the Second World War.
I am struggling with myself. I know slowly the world is waking up and starting to see that it's not just about Kyiv and Ukraine after all. It's about every house, every door, it's about every life in Europe that is threatened as of today.
FRIDAY, FEBRUARY 25 (DAY 2), NIGHT: TENSE SILENCE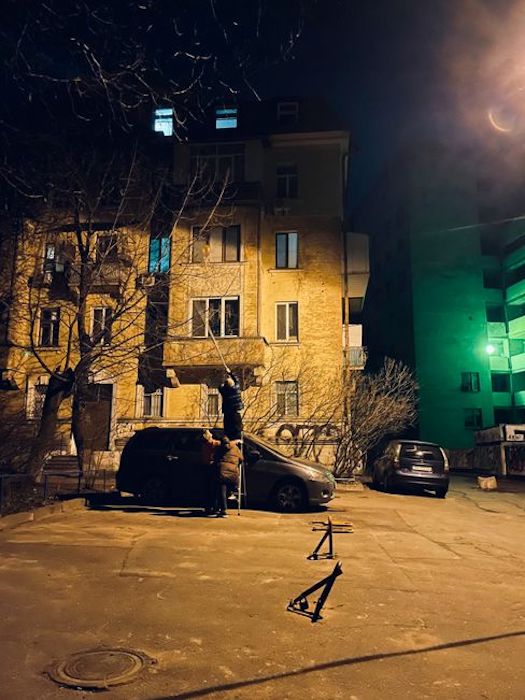 Everyone in Kyiv is trying to stay alert and do whatever they can to protect themselves and others. Here, our neighbors get a pink balloon from a tree. [photo: Yevgenia Belorusets]
–
The night has suddenly become silent. Just an hour ago, around midnight, sirens could be heard, then distant thunder, perhaps rocket or artillery hits. And now—a tense silence.
We should be in the shelter by now, but I've already been there twice today. My parents are tired and I'm staying in the apartment with them for the night. The idea was that you can rest up here, if only a little bit. We are ready to leave the apartment on a minute's notice and take shelter in the basement of the house.
I find it difficult to collect my thoughts. Different experiences of today crumble into the sensation of many days, more or less the same, standing grey one next to the other. The space in the city is changing. The walk from my house to the nearest grocery store, which usually took no more than ten minutes, stretches out, the distance becoming a longer trek.
The fact that the store was open at all was a miracle. I bought apples, vegetables, and buckwheat—but when I returned to the area an hour later, I saw the disappointed faces of two women now standing in front of a closed door. Someone said there was another grocery store 500 meters away, down the same street. But it wasn't good news for the two women—500 meters on foot? The sirens are wailing, and fewer and fewer people are in the streets.
Time is also changing. On the way back from the grocery store, I found out that a kindergarten near the city of Sumy, in the north-east of the country, was shelled today. A kindergarten and a shelter. 17 children injured, two seriously. I stopped and leaned against a wall of a house. The day suddenly became infinitely long. Can this war be endured one more minute? Why doesn't the world put an end to this happening?
It was a spring day, the sunspots played on the walls of the houses and the white walls of the St. Sophia Cathedral. The sirens wailed again—the signal to go to the bunker. A good friend of mine, the artist Nikita Kadan, had lost his credit card and the two of us walked the streets to find a working ATM.
One journalist had a backpack with him, with everything he might need in the coming days. We saw some passers-by and reporters standing in front of one of the big hotels with their cameras, reporting. The second day of the war, as it turns out, is a step already taken in a repeating sequence.
In the evening I learned that a town in the Luhansk region had been 80 percent destroyed by the Russian army, a beautiful little town that was in Ukrainian-controlled territory. It was called Shchastye, meaning "Happiness." The husband of a friend, who was already safe, managed to escape. He left town without a toothbrush, socks, or suitcase.
A car picked him up on the road. He told my friend that as he drove along, he saw the corpses of people lying next to their houses, doors, and the small cellars where many Ukrainians store potatoes for the winter. So these were "the people of the Donbas" that Putin claimed he was saving from "genocide."
Happiness no longer exists. I was there a few years ago and photographed streets, also admiring a hill that dominates the landscape. In the city people spoke Russian and Ukrainian—I wrote about them and about their strange and funny homemade playgrounds.
Then I fall asleep in this black night after all.
SATURDAY, FEBRUARY 26 (DAY 3)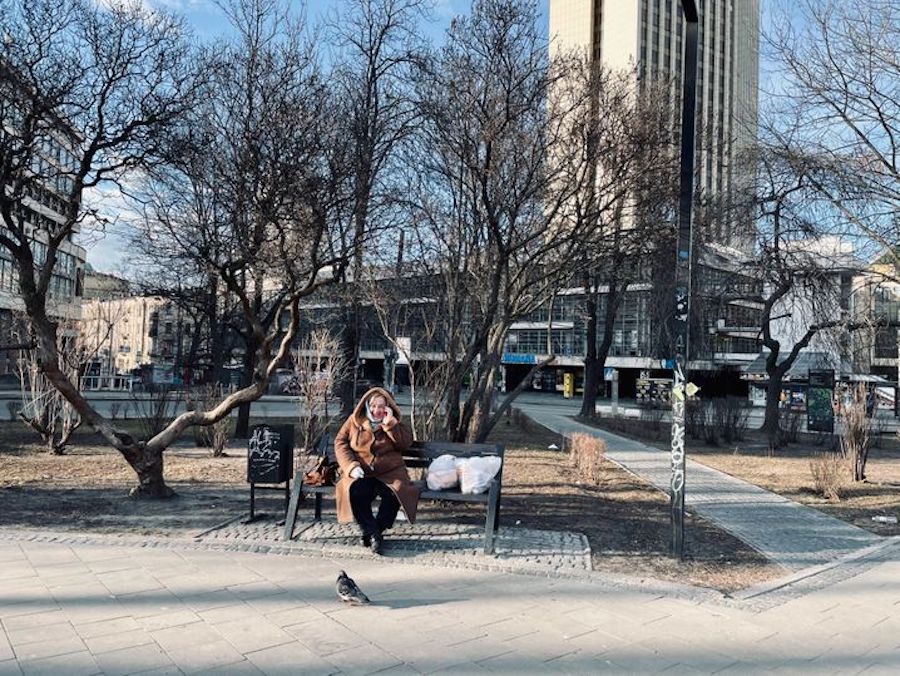 The smiling woman with the shopping bags in the park said: "We will win." [photo: Yevgenia Belorusets]
–
My first night in the bomb shelter. The Telegram channels of the Kyiv government warn that it will be a heavy night and that the Russian military will attack the city. But here in the shelter it's pretty much empty. Many are trying to stay at home, in hope that nothing will happen. As of Saturday night, there is an almost 30-hour curfew in the city. It probably won't be possible to leave the room on Sunday.
Our small shelter is located in the center of Kyiv, not far from the Golden Gate. It is one and a half floors deep underground, to be precise—a network of corridors and corridors. They are clean, comfortable, and warm. I like this place because it provides shelter for more than 100 people. There is drinking water, everyone brings something, there is also enough food. Everyone who can't stand the sirens and the thunder of the artillery and rocket fire is allowed to come here. There are also some families who are here most of the time.
At the dark entrance to our basement, I see the silhouettes of residents scurrying past each other. You can overhear their occasional, petty arguments.
Two older shadows pass by two younger ones:
"Good evening!" "But the evening is not good!" the younger ones protest. "We wish you a good evening anyway," the older ones say in a triumphant tone, "because we mean well. And we will continue to wish it, to you and to the others!" The shadows disappear into the depths of the cellar.
I orient myself in the present because the days offer little structure. At some point I visited my parents, both of them are not ready to leave Kyiv. They want to stay here until the moment of "our victory," as they say.
My father is a translator, he translates German poetry into Russian. Thanks to his translations of Paul Celan, I fell in love with this poet when I was still a student. For years, since the Maidan Revolution, he has published his translations almost exclusively in Ukraine.
He took part in protests back then, I remember calling him from Berlin and finding out that he was standing with the demonstrators at the parliament building. Then I heard an explosion; luckily he wasn't hurt. Now he is in Kyiv. He feels quite weak after a long cold and cannot go to the shelter. Maybe he doesn't want to either. Every day I see how he continues to work on his translations. Despite the rocket attacks, despite the danger, or maybe because of it.
As I write, it occurs to me that during the day I saw many smiling people. For example, a woman who was sitting in the park on a bench next to two big shopping bags. She spoke to me in an absurdly happy voice, saying that she was waiting for her nephew to help her carry the bags home. "I'm so happy to have you standing next to me now, talking to me. When there are two of us, I'm less afraid of the artillery."
She used to work as a museum guide at St. Sophia Cathedral, she said, now she's a pensioner. She is convinced, she said, that Ukraine will defeat the Russian invaders. "When I think about the frescoes of St. Sophia, I believe that Ukraine will be protected by the whole world." She smiled, tears standing in her eyes. "We will be victorious," she said. I didn't know if she was crying more or laughing more, but I felt her courage and admired her.
Is today only the third day of the war? Mariupol: 58 civilians wounded. Kyiv: 35 people, including 2 children. This is far from a complete list. It feels strange to find myself in this broad, unarmed, almost delicate category: "civilians." For war, a category of people is created who live "outside the game." They are shelled, they have to endure the shelling, they are injured, but they do not seem to be able to give an adequate response to it.
I don't believe this to be the case. There is something hidden in the smiles that I saw several times today. A secret weapon, a sinister one. I must try to sleep at last and reach my apartment in the morning. Having breakfast in your own kitchen—that would be an enormous pleasure!
SUNDAY, FEBRUARY 27 (DAY 4): AN EXTINGUISHED CITY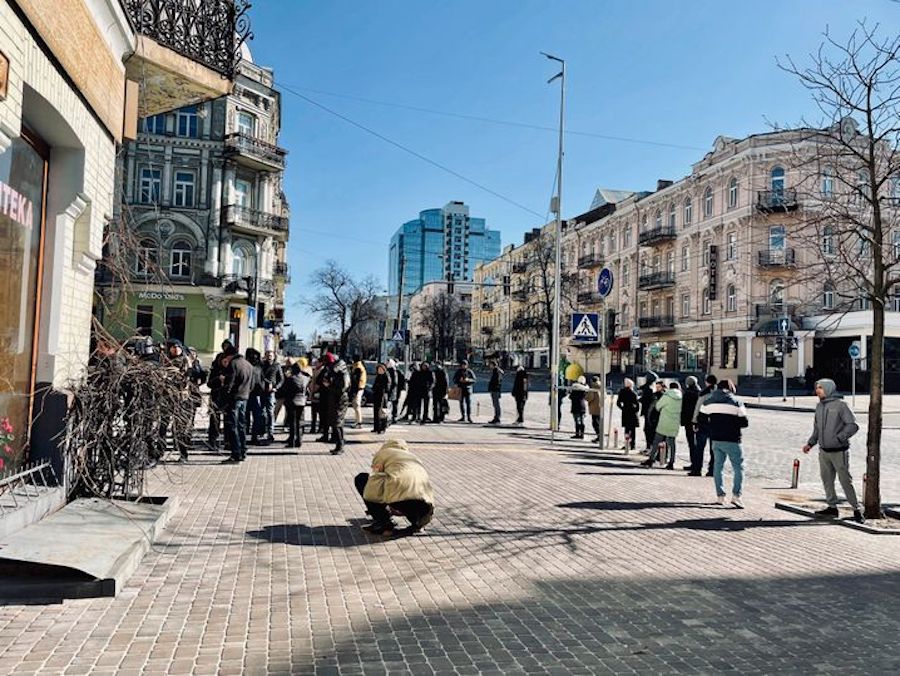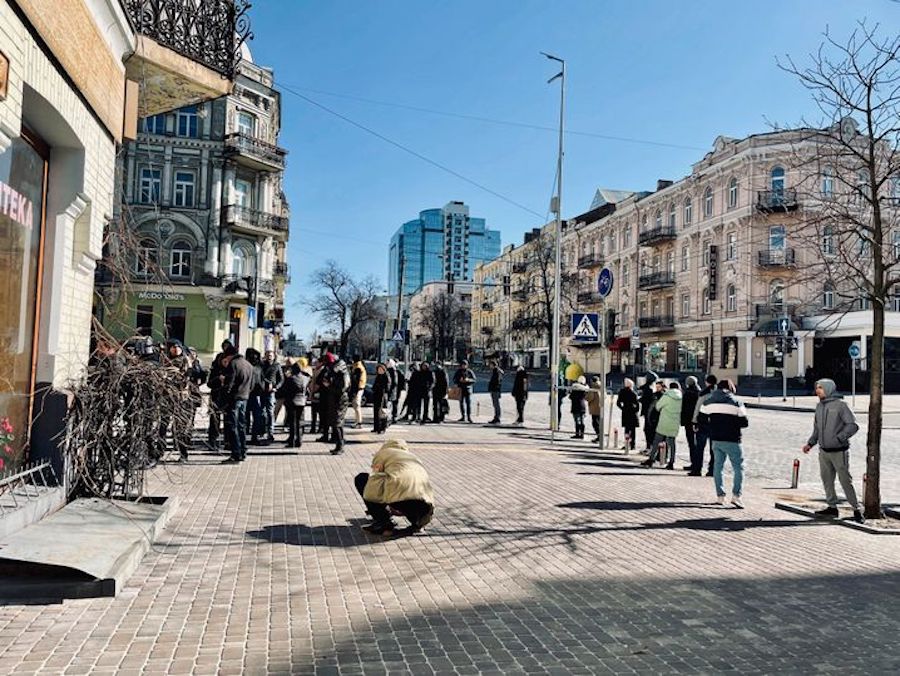 I see fewer and fewer journalists in the city. Here, someone is filming a line of people in front of a pharmacy that was closed for almost two days. Only a few pharmacies are still open. [photo: Yevgenia Belorusets]
–
Normally, the many brightly lit windows in Kyiv warm the city's cold February days. The lights have something secret, private, but at the same time cozy about them. But now the city has gone out. People are afraid of Russian missiles and artillery fire. I have taped my windows shut in case of shelling, so that they won't shatter. I go out on the balcony to check if my apartment is dark enough. I put only one lamp in each room—they hardly give any light and are on the floor. It is difficult for me to find my way around the apartment, but I try to discover a new form of coziness.
The sirens that warn of air strikes wail with a long signal, somewhat reminiscent of the playful sounds that elephants use to communicate. In Kyiv, the wailing of sirens is also a form of communication, but the message is always the same: hide, hide well!
When dawn came, for some reason I decided to clean my apartment. I thought: right now you have to stick to the plans, to the usual routines. From the outside, my apartment is almost black, with its empty, dark windows greeting all the other apartments in the city, which are also empty and dark.
The darkness is frightening, but at the same time I sense that the city has decided to defend itself. On official Telegram channels, I read about so-called "diversionary groups," Russian units moving into Kyiv as a vanguard. Like terrorists. Their goal is to destabilize the city, carry out attacks on politicians, and ultimately take Kyiv. One such group appears to have shot at the car of two women who had decided to flee the city with their children this morning. The women and their children died.
My thoughts become as dark as the windows of my apartment. While cleaning, I thought that when I write this diary, I should make a joke about housekeeping during war. My tip would be: "Cleanliness is a must in a dark room with taped windows—if you were going to do it earlier and are almost crying now, go ahead and mop your apartment anyway. True, you will not see anything. And the apartment may not get much cleaner, but following procedures and implementing plans is more important."
The fourth day of the war is over. Half the city is fighting against the normalization of violence that is knocking on every door. War also tests us to see if we have even a touch of compassion for those sent here to murder. Since the war began, 16 children have been killed across the country. In my town, nine "civilians" (I hate that word more and more) have died so far and 47 have been injured, including three children.
The destruction of the small town of Shchastye, "Happiness," in northeastern Ukraine began with an electrical station being shelled. At some point it was destroyed, the light went out, the water, the heating. In distress, people, especially elderly residents, went outside to get water or food. Then the soldiers attacked, with artillery and rockets. A bus with fleeing people was fired upon. No journalists work in this area at the moment, no one counts the injured, the dead. Who will describe what Putin has done to the Donbas since the beginning of the war, since his operation to "Protect of the People of Donbas from Ukrainian Fascists"?
By occupying these territories and waging information warfare, Putin has managed to isolate this region from the world. Human rights organizations have not been able to freely operate there since 2014, and now the Russian army is once again showing how little it values the lives of its people.
From the news I learn that in the settlement of Ivankiv in Kyiv Oblast, the Regional History Museum was destroyed. In it were the works of Maria Primachenko, one of the most famous twentieth century artists in Ukraine. A joint exhibition of my photography and her painting had been planned for the fall, which is a great honor for me. I am sure that, somehow, somewhere, this exhibition will take place.
MONDAY, FEBRUARY 28 (DAY 5): THE NEW VULNERABILITY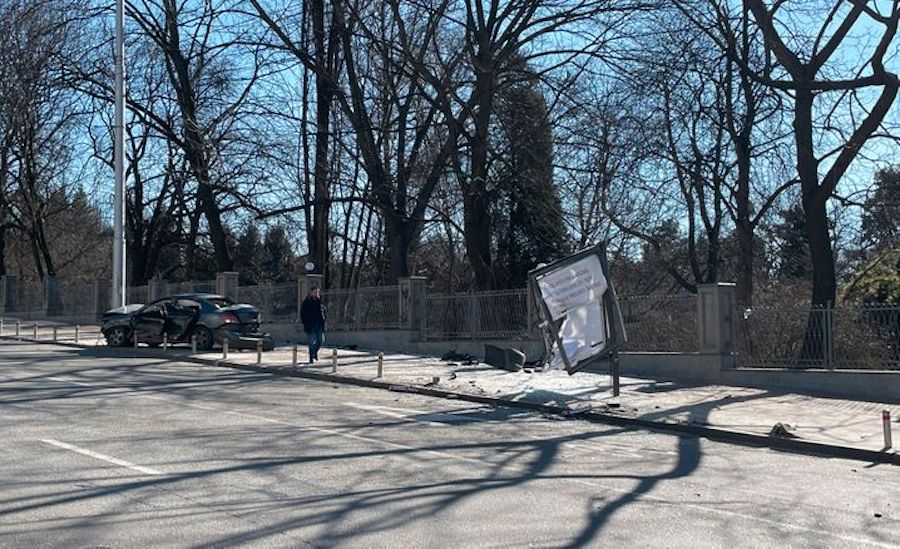 A wrecked car near the botanical garden: the unbearable realization that this war, this unimaginable, illogical, criminal war, is still going on after all.
[photo: Yevgenia Belorusets]
It's a sunny spring day that, like the last three, ends in darkness. I sit in the darkened apartment. Some lights burn, but those lights are dim and hidden. I read the news that Mariupol is bravely resisting Russian troops, but is also largely in darkness. Russia is attacking infrastructure as planned, putting people in the city under artillery fire, without electricity. Fighting around Kyiv continues.
But my thoughts are with Kharkiv. I see the images of apartment blocks destroyed by rockets and mortar shells and know that today Putin's army murdered nine people, including three children, in this Russian-speaking city that is resisting occupation. Thirty-seven people are injured, eighty-seven apartment buildings ruined. I live in Kyiv in a similar building—a vulnerable refuge, my own apartment, where I always feel so good. Even now! Even now!
This war is demonstrating a new level of vulnerability to the world. Almost all pharmacies are closed. Electricity, water, and heating are under constant threat of failure. The wounds are getting bigger. But there is a whisper constantly repeating in my ear, even if it is sometimes almost silent: they keep fighting, we keep fighting—then the wounds heal faster.
The public spaces, squares, streets in the city are empty. The horizon is suddenly closer, the Kyiv hills, the asphalt, the courtyards of the buildings, everything seems to be invited and involved in the war.
At noon I decided to go for a walk: on the fifth day of the war, when the curfew lifted, I accompanied a German friend, who could not stay in Kyiv, to the railway depot. We were going to take the subway first. Inspired and almost drunk by the idea that the subway in Kyiv was working again, we walked to the "Golden Gate" station. Then, at the entrance, we learned that this station could only be used as a shelter.
(As I write this, sirens shatter the silence. It is 2:30 in the night and I decide to stay where I am and finish this diary entry).
So we had to walk to the railway depot. A journey of twenty-five minutes, which for me was a walk into another vast reality. Since the beginning of the war, I have not visited Shevchenko Boulevard, a wide street leading down to the depot. We walked along the street and every house, every intersection carried something new, a new language, a new narrative about our shared reality. The city looked peaceful, the sun's rays made this image even more jarring. We quickly said goodbye, and I strolled back alone.
I wanted to cross the street, so I could overlook the old botanical garden. Suddenly I saw a pile of metal on the side of the road—a shot up, deformed car—then a second one nearby, plus a broken advertising sign—shattered glass, metal, and plastic on the ground. The botanical garden was wiped from my mind. What remained was the unbearable realization that this war, this unimaginable, illogical, criminal war, was still going on after all.
At about the same time, peaceful residents of the city of Berdyansk in the south of the country gathered in front of their local government building, which was occupied by Putin's army and guarded by armed soldiers. The women shouted at the soldiers in Russian, "How can you look your mothers in the face? You brought war and slaughter to our land! Shame on you!" Old people were also in the crowd, they were not afraid. The soldiers looked demoralized, they replied: "We came to protect you!"
The women resisted, they continued to protest, "We were never in danger here. There was no threat to us here before you came. Now, with you, because of you, we are in the greatest danger." Then came cursed insults, which have a very great richness in the Ukrainian and Russian languages.
This ability of the residents of Berdyansk to fight on and on, to approach the soldiers unarmed and shout the truth in their faces, even when the city has almost fallen into Putin's hands, promises a lot. It is hope itself.
. . .
Yevgenia Belorusets' diary provides news from a different vantage.
Updates are published by ISOLARII at 4:00 PM EDT each day.
Published March 22, 2022
© Yevgenia Belorusets 2022
© ISOLARII 2022
Ημερολόγιο από το Κίεβο
Written in German by Yevgenia Belorusets and translated into English by ISOLARII
Translated into Greek by Alexandros Kypriotis
Πέμπτη, 24 Φεβρουαρίου / Η αρχή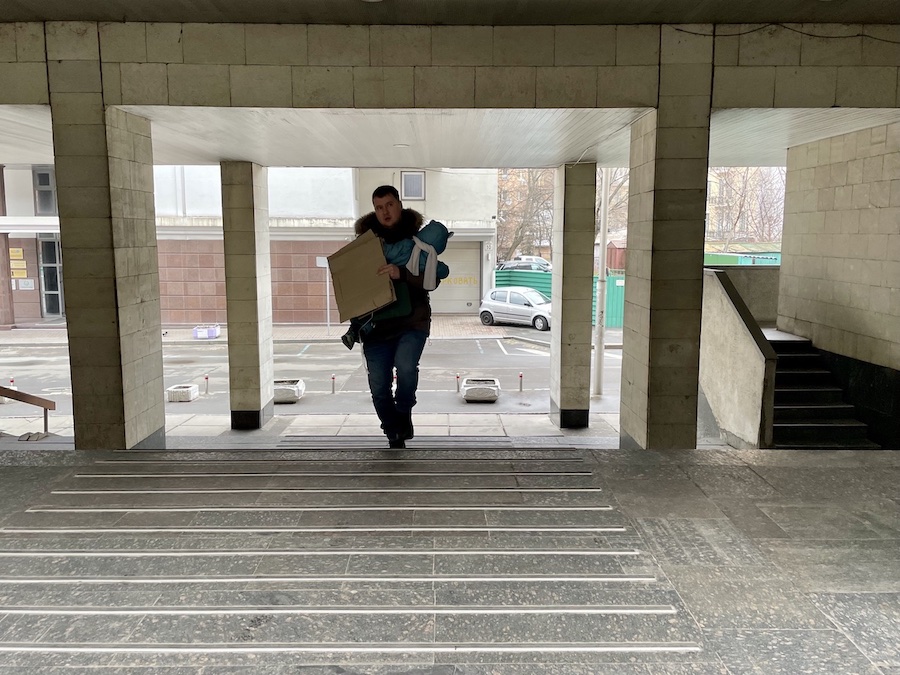 Ένας άντρας κουβαλά το παιδί του στον δρόμο για το καταφύγιο. Foto: Yevgenia Belorusets
_
Σήμερα ξύπνησα νωρίς το πρωί και είδα οκτώ αναπάντητες κλήσεις στο κινητό μου. Ήταν οι γονείς μου και κάποιοι φίλοι. Στην αρχή σκέφτηκα ότι κάτι συνέβη με την οικογένειά μου και ότι οι φίλοι μου προσπαθούσαν να επικοινωνήσουν μαζί μου, γιατί οι γονείς μου για κάποιον λόγο είχαν ειδοποιήσει τους φίλους μου. Μετά η φαντασία μου πήρε άλλη κατεύθυνση και φαντάστηκα κάποιο ατύχημα, κάποια κατάσταση κινδύνου στο κέντρο του Κιέβου, κάτι για το οποίο προειδοποιείς τους φίλους σου. Ένιωσα μια ανησυχία να με παγώνει. Πήρα τηλέφωνο την ξαδέλφη μου, γιατί η ωραία φωνή της πάντα με ηρεμεί, μου δίνει θάρρος και με λογικεύει. Είπε μόνο: Χτύπησαν το Κίεβο. Κηρύχτηκε πόλεμος.
Πολλά πράγματα έχουν μια αρχή. Όταν σκέφτομαι την αρχή, φαντάζομαι μια γραμμή που τραβιέται πολύ καθαρά σε μια άσπρη επιφάνεια. Το μάτι παρατηρεί την απλότητα που έχει το χνάρι μιας κίνησης, η οποία σίγουρα κάπου αρχίζει και κάπου επίσης θα τελειώσει πάλι. Ποτέ όμως ως τώρα δεν μπορούσα να φανταστώ την αρχή ενός πολέμου. Παράξενο. Ήμουν στο Ντονμπάς, όταν κηρύχτηκε ο πόλεμος με τη Ρωσία το 2014. Αλλά τότε είχα ταξιδέψει να φτάσω στον πόλεμο, σε μια ομιχλώδη, συγκεχυμένη ζώνη βίας. Θυμάμαι ακόμα τις τύψεις που είχα, να είμαι επισκέπτρια σε μια καταστροφή και να μπορώ να φύγω από την καταστροφή κατά βούληση πάλι, επειδή ζούσα κάπου άλλου.
Ο πόλεμος ήταν ήδη εδώ, ένας εισβολέας, κάτι παράξενο, ξένο και παρανοϊκό, που δεν είχε καμία δικαιολογία να συμβαίνει σ' αυτόν τον τόπο αυτή τη δεδομένη χρονική στιγμή. Τότε ρωτούσα συνέχεια τους ανθρώπους στο Ντονμπάς πώς έγινε κι άρχισαν όλα αυτά και πάντα έπαιρνα διαφορετικές απαντήσεις.
Σκέφτομαι ότι η αρχή εκείνου του πολέμου στο Ντονμπάς ήταν για τους ανθρώπους στο Κίεβο μια από τις πιο μυθοποιημένες στιγμές του πολέμου μόνο και μόνο επειδή κανένας δεν μπορούσε να φανταστεί με ποιον τρόπο γεννιέται ένα τέτοιο γεγονός. Τότε, το 2014, ο κόσμος στο Κίεβο έλεγε: «Οι άνθρωποι από το Ντονμπάς, οι Ουκρανοί που καταλαβαίνουν τον Πούτιν, κάλεσαν τον πόλεμο στη χώρα μας». Εκείνο το υποτιθέμενο «κάλεσμα» αποτελεί εδώ και κάποιο καιρό εξήγηση για το γιατί το απολύτως αδύνατο, ο πόλεμος με τη Ρωσία, έγινε ξαφνικά όντως δυνατό.
Αφού τελείωσα το τηλεφώνημα με την ξαδέλφη μου, άρχισα να πηγαίνω πέρα δώθε μες στο σπίτι μου για κάποια ώρα. Στο κεφάλι μου επικρατούσε το απόλυτο κενό, δεν είχα ιδέα τι έπρεπε να γίνει τώρα. Μετά χτύπησε πάλι το τηλέφωνό μου. Η μια κλήση ακολουθούσε την άλλη, φίλοι με ειδοποιούσαν με σχέδια διαφυγής, κάποιοι τηλεφωνούσαν, για να πειστούν ότι ήμασταν ακόμα ζωντανοί. Γρήγορα κουράστηκα. Μιλούσα πολύ και επαναλάμβανα διαρκώς τις λέξεις «ο πόλεμος». Εν τω μεταξύ κοιτούσα απ' το παράθυρο και προσπαθούσα ν' ακούσω αν πλησίαζαν οι εκρήξεις. Η θέα από το παράθυρο ήταν συνηθισμένη, οι θόρυβοι της πόλης όμως παράξενα υπόκωφοι, καμία παιδική φωνή, καμία φωνή στον αέρα.
Αργότερα βγήκα έξω και ανακάλυψα ένα απολύτως νέο περιβάλλον, τόσο άδειο, που δεν το 'χες ξαναδεί, ούτε καν στις πιο επικίνδυνες μέρες των διαδηλώσεων του '13.
Κάποια στιγμή αργότερα έμαθα ότι πέθαναν δυο παιδιά από τα πυρά στη Χερσώνα, στα νότια της χώρας, και ότι συνολικά 57 άνθρωποι έχασαν σήμερα τη ζωή τους στον πόλεμο. Οι αριθμοί μεταμορφώνονταν σε κάτι πολύ συγκεκριμένο, λες κι είχα ήδη χάσει κάποιον η ίδια. Ένιωσα μια οργή για όλον τον κόσμο. Σκεφτόμουν ότι το άφησαν να γίνει, ότι είναι έγκλημα κατά παντός ανθρώπινου, κατά ενός μεγάλου κοινού χώρου, στον οποίο ζούμε και ελπίζουμε για ένα μέλλον.
Σήμερα πέρασα τη νύχτα στο σπίτι των γονιών μου, δίπλα στο σπίτι έψαξα και βρήκα ένα καταφύγιο και ξέρω πού θα πάμε όλοι αν αρχίσουν τη νύχτα τα πυρά.
Ο πόλεμος άρχισε. Είναι περασμένα μεσάνυχτα. Μάλλον δεν θα μπορέσει να με πάρει καθόλου ο ύπνος και δεν έχει κανένα νόημα ν' αρχίσω να μετράω τι άλλαξε για πάντα.
Παρασκευή, 25 Φεβρουαρίου / Αντιαεροπορικός συναγερμός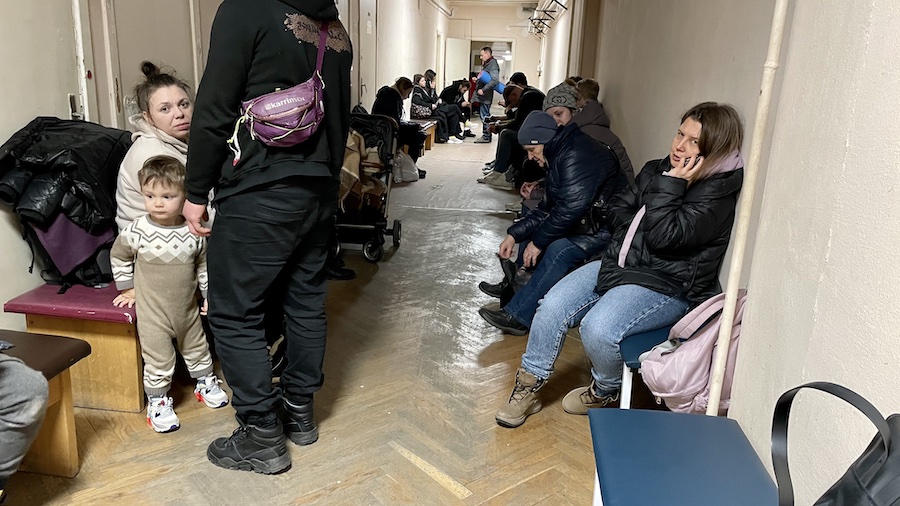 Άντρες, γυναίκες και παιδιά σε καταφύγιο στο Κίεβο. Foto: Yevgenia Belorusets
_
Ξυπνάω το πρωί στις επτά με τις σειρήνες που προειδοποιούν για αεροπορικές επιδρομές. Η μητέρα μου είναι πεπεισμένη ότι η Ρωσία δεν θα τολμήσει να χτυπήσει τον χιλίων χρόνων καθεδρικό της Αγίας Σοφίας στην πόλη, πιστεύει ότι το σπίτι μας, που είναι πολύ κοντά στον καθεδρικό, είναι ασφαλές. Γι' αυτό αποφασίζει να μην πάει στο καταφύγιο. Ο πατέρας μου κοιμάται.
Σκέφτομαι ότι αν ένα μνημείο της Ουνέσκο απέτρεπε τον ρωσικό στρατό απ' το να το χτυπήσει, αυτός ο πόλεμος δεν θα είχε καν αρχίσει. Στο μυαλό μου στριφογυρίζουν οι σκέψεις: χτυπάνε το Κίεβο, εγκαταλειμμένο απ' όλο τον κόσμο, που είναι πρόθυμος να θυσιάσει την Ουκρανία με την ελπίδα ότι θα ταΐσει για κάποιο χρόνο τον επιτιθέμενο και θα τον χορτάσει. Διαφορετικά δεν θα μπορούσαν να συμβούν όλα αυτά.
Χτυπάνε το Κίεβο, για πρώτη φορά μετά τον Δεύτερο Παγκόσμιο πόλεμο.
Παλεύω με τον εαυτό μου. Ξέρω, σιγά σιγά θα ξυπνήσει ο κόσμος και θα αρχίσει να βλέπει ότι δεν πρόκειται μόνο για το Κίεβο και την Ουκρανία. Πρόκειται για κάθε σπίτι, κάθε πόρτα, πρόκειται για κάθε ζωή στην Ευρώπη, που από σήμερα απειλείται.
 Παρασκευή, 25 Φεβρουαρίου νύχτα / Τεταμένη σιγή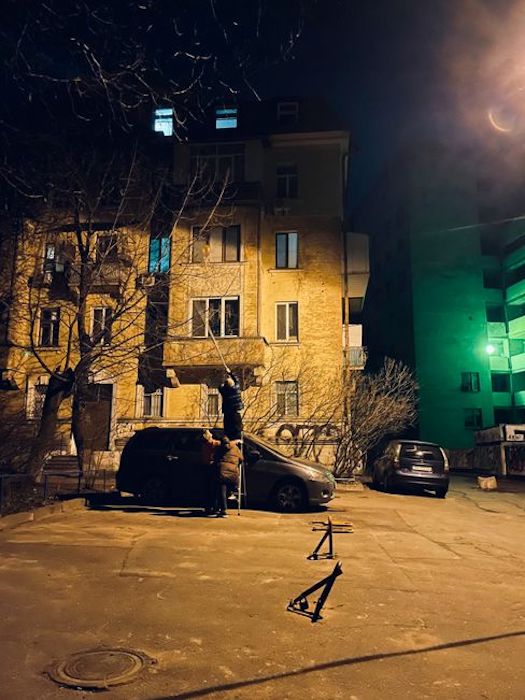 Όλοι στο Κίεβο προσπαθούν να προσέχουν και να κάνουν τα πάντα, για να προστατέψουν τον εαυτό τους και τους άλλους. Εδώ οι γείτονές μας κατεβάζουν ένα ροζ μπαλόνι από ένα δέντρο. Foto: Yevgenia Belorusets
_
Τη νύχτα έπεσε ξαφνικά σιγή. Πριν από καμιά ώρα ακόμα, κατά τα μεσάνυχτα, ακούγονταν οι σειρήνες, μετά ένα μακρινό μπουμπουνητό, ίσως εκρήξεις πυραύλων ή βολές του πυροβολικού. Και τώρα – μια τεταμένη απουσία κάθε ήχου.
Έπρεπε να ήμαστε προ πολλού στο καταφύγιο, αλλά εγώ πήγα ήδη δυο φορές σήμερα εκεί, οι γονείς μου είναι κουρασμένοι και θα μείνω μαζί τους στο σπίτι αυτή τη νύχτα. Η ιδέα ήταν ότι εδώ επάνω μπορούμε, έστω και λίγο, να ξεκουραστούμε. Ανά πάσα στιγμή είμαστε έτοιμοι να φύγουμε απ' το σπίτι και να αναζητήσουμε καταφύγιο στο υπόγειο της πολυκατοικίας.
[…]
Και ο χρόνος αλλάζει. Στον δρόμο της επιστροφής από το μπακάλικο έμαθα ότι σήμερα χτύπησαν ένα νηπιαγωγείο κοντά στην πόλη Σούμι, στα βορειοανατολικά της χώρας. Ένα νηπιαγωγείο κι ένα καταφύγιο. 17 παιδιά τραυματίστηκαν, τα δύο σοβαρά. Κοντοστάθηκα και έγειρα στον τοίχο μιας πολυκατοικίας. Η ημέρα έγινε ξαφνικά ατελείωτη. Αντέχεται αυτός ο πόλεμος άλλο ένα λεπτό; Γιατί δεν βάζει ένα τέλος ο κόσμος σ' αυτά που γίνονται;
[…]
Το βράδυ έμαθα ότι μια πόλη στην περιφέρεια του Λουχάνσκ καταστράφηκε από τον ρωσικό στρατό κατά ένα 80 τοις εκατό, μια υπέροχη μικρή πόλη που βρισκόταν στην περιοχή που ελέγχεται από την Ουκρανία. Λεγόταν Σχάστια, Ευτυχία. Ο άντρας μιας φίλης, η οποία ήταν ήδη ασφαλής, μπόρεσε να φύγει. Εγκατέλειψε την πόλη χωρίς οδοντόβουρτσα, κάλτσες και βαλίτσα.
Στον δρόμο τον πήρε ένα αυτοκίνητο. Έλεγε στη φίλη μου ότι περνώντας είδε τα πτώματα ανθρώπων που κείτονταν δίπλα στα σπίτια τους, στις εισόδους και στα μικρά υπόγεια, όπου πολλοί Ουκρανοί φυλάνε πατάτες για τον χειμώνα. Αυτοί λοιπόν ήταν «οι άνθρωποι από το Ντονμπάς», που ο Πούτιν έλεγε ότι ήθελε να τους σώσει από μια «γενοκτονία».
[…]
Σάββατο, 26 Φεβρουαρίου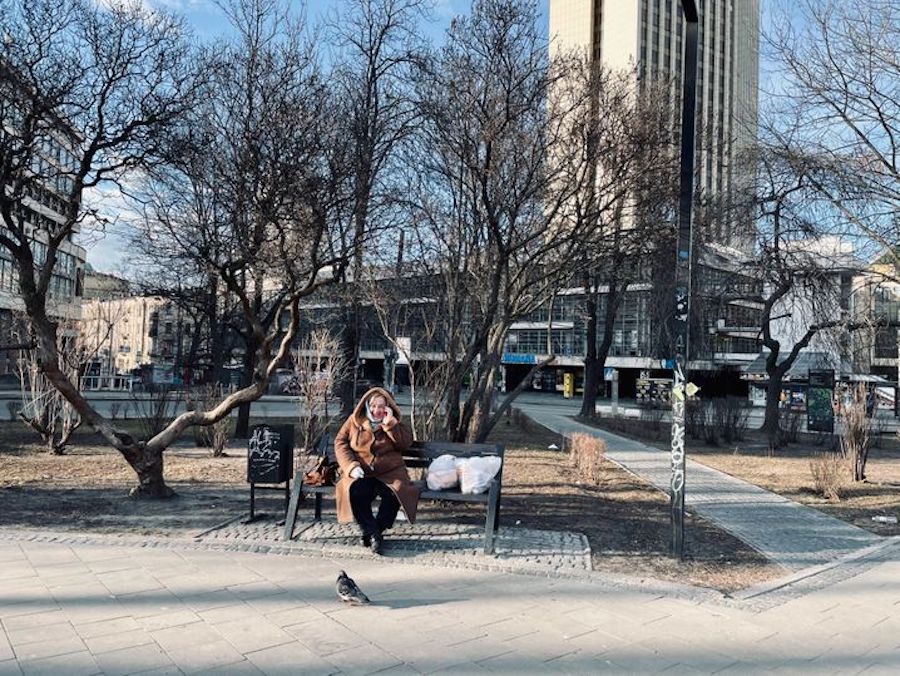 Η χαμογελαστή γυναίκα με τις σακούλες με τα ψώνια στο πάρκο είπε: «Θα νικήσουμε» Foto: Yevgenia Belorusets
_
Η πρώτη μου νύχτα στο καταφύγιο. Το κανάλια του Telegram της κυβέρνησης του Κιέβου προειδοποιούν ότι θα είναι δύσκολη νύχτα και ότι ο ρωσικός στρατός θα επιτεθεί στην πόλη. Εδώ όμως το καταφύγιο είναι σχετικά άδειο. Πολλοί προσπαθούν να μείνουν στο σπίτι τους και ελπίζουν ότι δεν θα συμβεί τίποτα. Από το Σάββατο το βράδυ ισχύει στην πόλη απαγόρευση κυκλοφορίας σχεδόν 30 ωρών. Πιθανότατα δεν θα είναι δυνατόν να βγούμε την Κυριακή.
[…]
Ο πατέρας μου είναι μεταφραστής, μεταφράζει γερμανική ποίηση στα ρωσικά. Χάρη στις δικές του μεταφράσεις του Πάουλ Τσέλαν άρχισα ν' αγαπώ αυτόν τον ποιητή, όταν ήμουν μαθήτρια ακόμα. Εδώ και χρόνια, από την επανάσταση στην πλατεία της Ανεξαρτησίας, δημοσιεύει τις μεταφράσεις του μόνο στην Ουκρανία σχεδόν.
[…]
Ενώ γράφω, μου έρχεται στον νου ότι μες στην ημέρα είδα πολλούς ανθρώπους να γελάνε. Για παράδειγμα τη γυναίκα που καθόταν σ' ένα παγκάκι στο πάρκο δίπλα σε δυο μεγάλες σακούλες με ψώνια. Μου μίλησε με παράλογα ευτυχισμένη φωνή και είπε ότι περιμένει τον ανιψιό της, που θα τη βοηθούσε να κουβαλήσει τις σακούλες στο σπίτι της. «Χαίρομαι πολύ που είστε δίπλα μου τώρα και μου μιλάτε. Όταν είμαστε δυο άτομα, φοβάμαι λιγότερο το πυροβολικό».
[…]
Σήμερα είναι μόλις η τρίτη ημέρα του πολέμου; Μαριούπολη: 58 άμαχοι τραυματίστηκαν. Κίεβο: 35 άνθρωποι, ανάμεσά τους 2 παιδιά. Με τίποτα δεν είναι πλήρης ο κατάλογος αυτός. Μου φαίνεται παράξενο ν' ανακαλύπτω τον εαυτό μου σ' αυτή την πλατιά, άοπλη, σχεδόν τρυφερή κατηγορία – «άμαχος πληθυσμός». Για τον πόλεμο δημιουργείται μια κατηγορία ανθρώπων που ζει «εκτός παιχνιδιού». Τους πυροβολούν, πρέπει να αντέχουν τα χτυπήματα, τραυματίζονται, αλλά φαίνονται να μην μπορούν να δώσουν καμιά κατάλληλη απάντηση γι' αυτό.
[…]
Κυριακή, 27 Φεβρουαρίου / Μια σβησμένη πόλη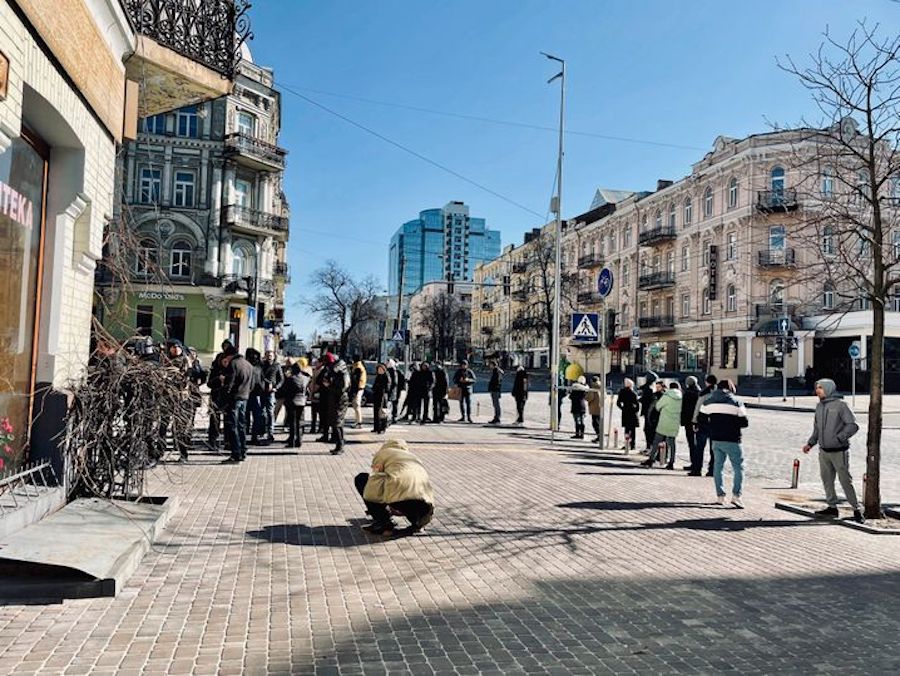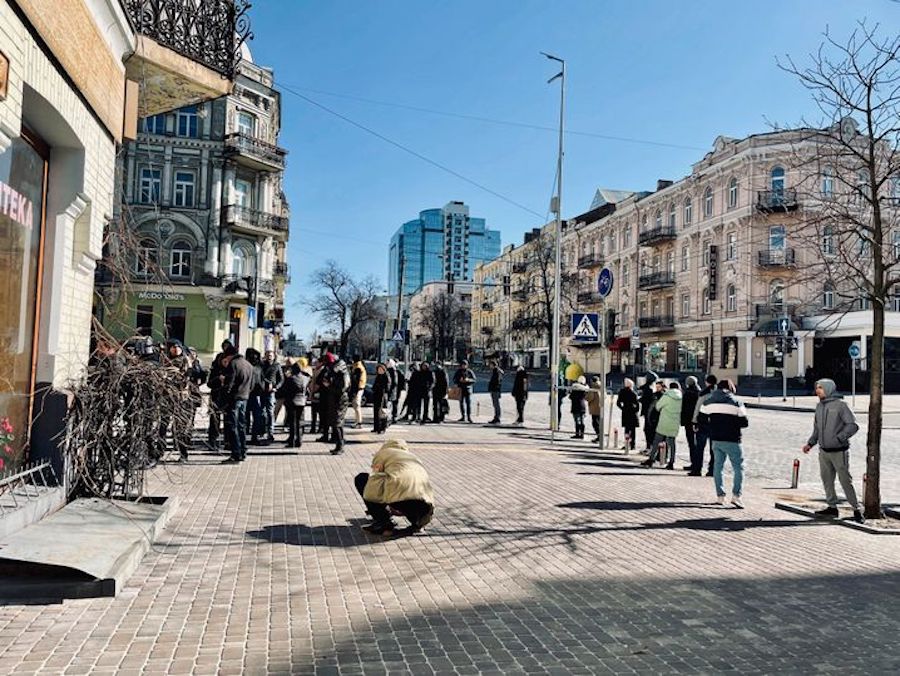 Στην πόλη βλέπω όλο και λιγότερους δημοσιογράφους. Εδώ κάποιος κινηματογραφεί μια ουρά έξω από ένα φαρμακείο, που ήταν κλειστό δυο μέρες σχεδόν. Λίγα φαρμακεία μόνο είναι ακόμα ανοιχτά. Foto: Yevgenia Belorusets
[…]
Υπό φυσιολογικές συνθήκες τα πολλά φωταγωγημένα παράθυρα στο Κίεβο ζεσταίνουν τις κρύες ημέρες του Φεβρουαρίου στην πόλη. Τα φώτα έχουν κάτι μυστικό, ιδιωτικό, αλλά συγχρόνως και μια θαλπωρή. Τώρα όμως η πόλη είναι σβησμένη. Οι άνθρωποι φοβούνται τους ρωσικούς πυραύλους και τις βολές του πυροβολικού. Τα παράθυρά μου τα κόλλησα με κολλητική ταινία, για να μη διαλυθούν με τις βολές. Βγαίνω στο μπαλκόνι και κοιτάζω να δω αν το διαμέρισμά μου είναι αρκετά σκοτεινό.
[…]
Οι σκέψεις μου γίνονται τόσο σκοτεινές όσο τα παράθυρα του σπιτιού μου. Όταν καθάριζα σκεφτόμουν ότι, όταν θα γράψω το ημερολόγιο, θα έκανα ένα αστείο για τις προτάσεις νοικοκυριού στον πόλεμο. Η συμβουλή μου θα ήταν: «Σε ένα σκοτεινό δωμάτιο με κολλημένες ταινίες στα παράθυρα πρέπει οπωσδήποτε να φροντίζετε για την καθαριότητα – αν θέλατε να το κάνετε πριν και τώρα σχεδόν κλαίτε, συνεχίστε παρ' όλ' αυτά και καθαρίστε το σπίτι σας. Δεν θα βλέπετε βέβαια τίποτα. Και το σπίτι ίσως δεν γίνει και πολύ πιο καθαρό, αλλά το να τηρείτε ένα πρόγραμμα και να πραγματοποιείτε τα σχέδιά σας είναι πιο σημαντικά».
Από τις ειδήσεις μαθαίνω ότι στον συνοικισμό Ιβανκίβ στην περιφέρεια του Κιέβου καταστράφηκε το Ιστορικό και Τοπογραφικό Μουσείο. Εκεί βρίσκονταν τα έργα της Μαρία Πριματσένκο, μιας από τις πιο γνωστές καλλιτέχνιδες του 20ου αιώνα στην Ουκρανία. Για το φθινόπωρο είχε προγραμματιστεί μια κοινή μας έκθεση, κάτι που ήταν μεγάλη τιμή για μένα. Είμαι σίγουρη ότι η έκθεση αυτή κάπως, κάπου θα γίνει.
Δευτέρα, 28 Φεβρουαρίου / Η νέα τρωτότητα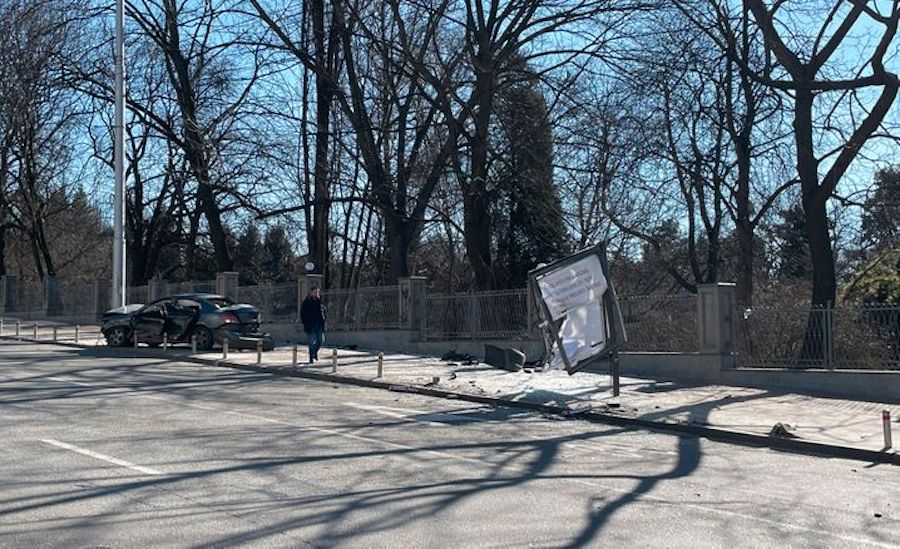 Ένα κατεστραμμένο αυτοκίνητο κοντά στον Βοτανικό Κήπο: Έμεινε η ανυπόφορη επίγνωση ότι αυτός ο πόλεμος, ο αδιανόητος, ο κάθε άλλο παρά λογικός, ο εγκληματικός όντως ακόμα συνεχίζεται. Foto: Yevgenia Belorusets
[…]
Αυτός ο πόλεμος δείχνει στον κόσμο έναν νέο βαθμό τρωτότητας. Σχεδόν όλα τα φαρμακεία είναι κλειστά, το ρεύμα, το νερό, η θέρμανση κινδυνεύουν διαρκώς να κοπούν. Οι πληγές μεγαλώνουν. Αλλά καμιά φορά είναι μόνο μια ήρεμη φωνή που μου ψιθυρίζει στ' αυτί και διαρκώς επαναλαμβάνει: Συνεχίζουν να πολεμάνε, συνεχίζουμε να πολεμάμε – μετά αρχίζουν να γιατρεύονται κι οι πληγές πιο γρήγορα.
[…]
Το μεσημέρι αποφάσισα να πάω έναν περίπατο. Την πέμπτη ημέρα του πολέμου, η απαγόρευση κυκλοφορίας είχε τελειώσει, συνόδεψα έναν Γερμανό φίλο, που δεν μπορούσε να μείνει άλλο στο Κίεβο, μέχρι τον σταθμό. Λέγαμε αρχικά να πάμε με το μετρό. Εμπνευσμένοι και σχεδόν μεθυσμένοι από την ιδέα ότι το μετρό στο Κίεβο λειτουργεί και πάλι, πήγαμε με τα πόδια μέχρι τον σταθμό «Χρυσή πύλη». Μετά μάθαμε στην είσοδο ότι αυτός ο σταθμός χρησιμοποιείται μόνο ως καταφύγιο.
(Ενώ γράφω, σκίζουν οι σειρήνες την ησυχία. Είναι 2.30 η ώρα τη νύχτα και αποφασίζω να μείνω εδώ που είμαι και να τελειώσω αυτή την ημερολογιακή καταγραφή.)
Έπρεπε επομένως να πάμε με τα πόδια στον σταθμό. Ένας δρόμος 25 λεπτών, που για μένα ήταν σαν πεζοπορία σε μια άλλη μακρινή πραγματικότητα. Από την αρχή του πολέμου είχα να πάω στη Λεωφόρο Σεβτσένκο, έναν φαρδύ δρόμο που κατεβαίνει στον σταθμό. Περπατούσαμε στον δρόμο και κάθε πολυκατοικία, κάθε διασταύρωση είχε κάτι νέο, μια νέα γλώσσα, μια νέα ιστορία για την κοινή μας πραγματικότητα. Η πόλη ήταν ειρηνική, οι ακτίνες του ήλιου έδιναν σ' αυτή την εικόνα μια ακόμα μεγαλύτερη αντίθεση. Αποχαιρετιστήκαμε γρήγορα, μόνη μου γύρισα πίσω.
Είπα να πάω στην απέναντι πλευρά του δρόμου, για να περάσω και να δω τον παλιό Βοτανικό Κήπο. Ξαφνικά είδα έναν μεταλλικό σωρό στην άκρη του δρόμου, ένα κατεστραμμένο από πυρά, παραμορφωμένο αυτοκίνητο, μετά ένα δεύτερο εκεί κοντά, επιπλέον μια σπασμένη διαφημιστική πινακίδα, σπασμένα γυαλιά, μέταλλα, πλαστικά στο έδαφος. Ο Βοτανικός Κήπος εξαφανίστηκε απ' το μυαλό μου. Έμεινε η ανυπόφορη επίγνωση ότι αυτός ο πόλεμος, ο αδιανόητος, ο κάθε άλλο παρά λογικός, ο εγκληματικός όντως ακόμα συνεχίζεται.
[…]
. . .
Yevgenia Belorusets' diary provides news from a different vantage.
Updates are published daily in English by ISOLARII, in Greek by Valitsa
Published March 22, 2022
© Yevgenia Belorusets 2022
© Valitsa 2022
Kyiv: un diario di guerra
Written in German by Yevgenia Belorusets and translated into English by ISOLARII
Translated into Italian by Nausikaa Angelotti
GIOVEDÌ 24 FEBBRAIO (GIORNO 1): L'INIZIO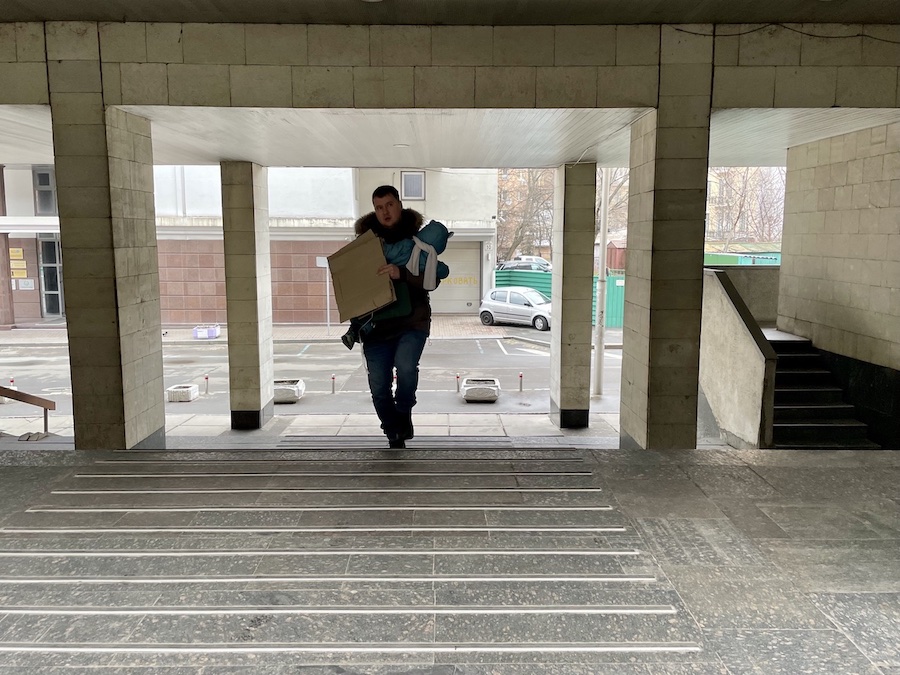 Un uomo porta il figlio in un rifugio. [Foto: Yevgenia Belorusets]
_
Oggi mi sono svegliata presto e ho trovato otto chiamate senza risposta sul cellulare. Erano i miei genitori e alcuni amici. All'inizio ho pensato che fosse successo qualcosa alla mia famiglia e che gli amici cercassero di contattarmi perché, per qualche ignoto motivo, i miei avevano avvertito prima loro. Poi i pensieri hanno preso un'altra direzione e ho immaginato un incidente, una situazione pericolosa in centro a Kyiv, qualcosa da cui bisogna mettere in guardia gli amici. Un'ansia fredda mi ha pervasa. Ho chiamato mia cugina, poiché la sua voce meravigliosa ha sempre un effetto calmante su di me, è coraggiosa e razionale. Mi ha detto soltanto: "Hanno bombardato Kyiv. È scoppiata la guerra".
Sono molte le cose che hanno un inizio. Quando penso all'inizio, mi immagino una linea disegnata con esattezza in uno spazio bianco. L'occhio osserva la semplicità della traccia lasciata da questo movimento, traccia che senza dubbio comincia e finisce in un punto preciso. Ma non sono mai riuscita a immaginare l'inizio di una guerra. Strano. Mi trovavo nel Donbas quando nel 2014 è scoppiata la guerra con la Russia. Ma in quel caso ero io a essere entrata nella guerra, a essere entrata in una zona confusa e oscura di violenza. Mi ricordo ancora il forte senso di colpa che provavo per essere ospite di una catastrofe, ero un ospite e potevo andarmene quando volevo perché vivevo altrove.
La guerra era già lì, una creatura intrusa, avulsa, straniera e folle, priva di qualunque motivo di esistere in quel luogo e in quel momento. All'epoca, continuavo a chiedere alla gente del Donbas come fosse iniziato tutto e ricevevo risposte sempre diverse.
Credo che l'inizio della guerra nel Donbas sia uno dei momenti più mitizzati dagli abitanti di Kyiv, proprio perché nessuno si spiega da cosa possa scaturire un evento del genere. All'epoca, nel 2014, a Kyiv si diceva: "Quelli del Donbas, gli ucraini simpatizzanti di Putin, hanno fatto entrare la guerra nel nostro Paese". Per un certo periodo si è usato questo presunto "invito" per spiegare come mai ciò che sembrava assolutamente impossibile, la guerra con la Russia, d'un tratto fosse invece diventato possibile.
Al termine della telefonata con mia cugina, ho preso a fare su e giù per la casa. Avevo la testa completamente vuota, nessuna idea di come muovermi. Poi il cellulare ha squillato di nuovo. Una chiamata dopo l'altra, gli amici si facevano avanti con piani di fuga, alcuni per sapere se eravamo ancora vivi. Nel giro di poco ero stanca. Parlavo tanto, ripetendo di continuo la parola "guerra". Ogni tanto guardavo fuori e provavo a sentire se le esplosioni si stavano avvicinando. La vista dalla finestra era quella di sempre, ma i suoni della città erano stranamente attutiti: niente schiamazzi di bambini per strada, nessuna voce nell'aria.
Più tardi sono uscita e ho scoperto un ambiente totalmente nuovo, un vuoto che qui non ho mai visto, nemmeno nelle giornate più pericolose delle proteste del Maidan.
Poco dopo mi hanno detto che due bambini erano morti nel bombardamento dell'oblast di Kherson, nel sud del Paese, e che oggi per questa guerra sono morte cinquantasette persone. I numeri si sono trasformati in qualcosa di molto concreto, come se avessi già perso io qualcuno di caro. Ho provato una grande rabbia verso il mondo. Ho pensato: "Hanno lasciato che succedesse, è un crimine contro tutto ciò che è umano, contro il grande spazio che condividiamo, dove viviamo sperando nel futuro".
Stasera dormo dai miei genitori. Sono andata a vedere un rifugio antiaereo accanto alla casa, così so dove possiamo andare a nasconderci quando arriveranno le bombe.
È iniziata la guerra. È passata da poco la mezzanotte. Sarà pressoché impossibile dormire ed è inutile mettersi a contare tutto ciò che è cambiato per sempre.
VENERDÌ 25 FEBBRAIO (GIORNO 2): ALLARME AEREO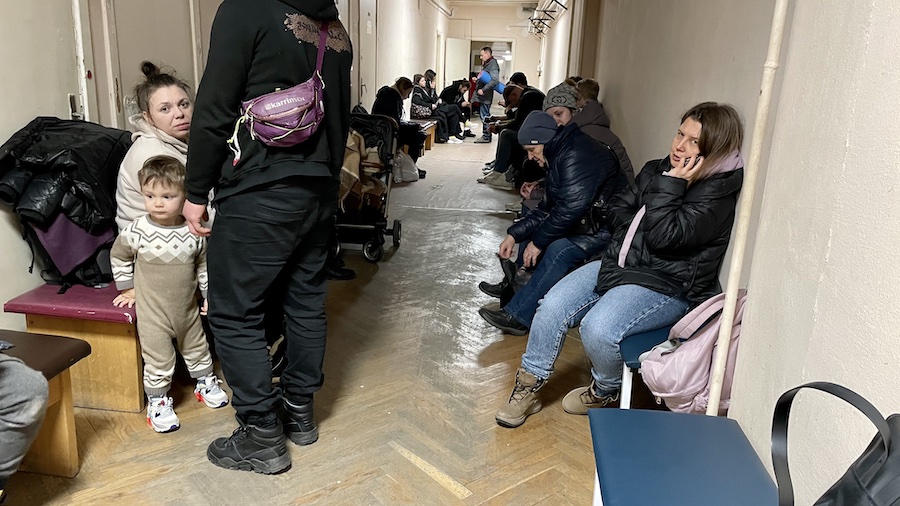 Uomini, donne e bambini in un rifugio a Kyiv. [Foto: Yevgenia Belorusets]
_
Mi sveglio alle sette del mattino al suono delle sirene antiaeree. Mia madre è convinta che la Russia non oserà bombardare la millenaria cattedrale di Santa Sofia in città. Secondo lei casa nostra, che si trova nelle immediate vicinanze della cattedrale, è al sicuro, così decide di non scendere nel rifugio. Mio padre dorme.
Se un monumento patrimonio dell'UNESCO fosse davvero in grado di impedire all'esercito russo di bombardare, penso che allora la guerra non sarebbe mai nemmeno scoppiata. La testa mi esplode dai pensieri: Kyiv sotto attacco, abbandonata dal mondo pronto a sacrificare l'Ucraina nella speranza di sfamare e saziare l'aggressore per un po'.
Kyiv è sotto le bombe, per la prima volta dalla Seconda guerra mondiale.
Lotto contro me stessa. So che il mondo si sta a poco a poco svegliando e comincia a capire che non si tratta solo di Kyiv e dell'Ucraina ma che oggi è ogni singola casa, porta, vita in Europa a essere minacciata.
VENERDÌ 25 FEBBRAIO (GIORNO 2) NOTTE: SILENZIO INQUIETO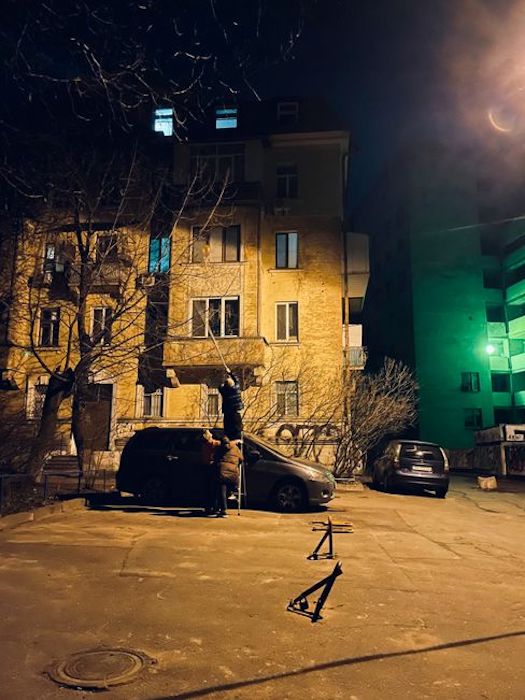 Tutti a Kyiv cercano di stare attenti e di fare quanto in loro potere per proteggere se stessi e gli altri. I nostri vicini recuperano un palloncino rosa da un albero. [Foto: Yevgenia Belorusets]
_
La notte si è fatta di colpo silenziosa. Appena un'ora fa, attorno a mezzanotte, si sentivano le sirene, poi tuoni lontani, missili forse o colpi di artiglieria. Ora c'è un silenzio inquieto.
Dovremmo essere nel rifugio, ma ci sono andata già due volte oggi. I miei genitori sono stanchi e stanotte resto in casa con loro. L'idea era che si può salire a riposare, anche solo per un po'. Siamo pronti a uscire all'istante e rifugiarci nello scantinato del palazzo.
Raccogliere i pensieri è difficile. Le diverse esperienze di oggi si sbriciolano nella sensazione di tanti giorni, più o meno uguali, grigi, uno dietro l'altro. Lo spazio in città sta cambiando. Il tragitto da casa mia all'alimentari più vicino, che in genere faccio in dieci minuti, si allunga, la distanza si dilata.
Il fatto stesso che la bottega fosse aperta è un miracolo. Ho comprato mele, verdura e grano saraceno, ma quando un'ora dopo sono tornata da quelle parti, ho visto la faccia sconsolata di due donne davanti al negozio chiuso. Qualcuno ha detto che ce n'era un altro, cinquecento metri più avanti sulla stessa strada. Ma non era una buona notizia per le due donne; cinquecento metri a piedi? Le sirene suonano e in strada c'è sempre meno gente.
Anche il tempo sta cambiando. Al rientro dall'alimentari, ho scoperto che oggi hanno bombardato un asilo accanto alla città di Sumy, a nord-est. Un asilo e un rifugio. Diciassette bambini feriti, due in gravi condizioni. Mi sono fermata per appoggiarmi contro il muro di una casa. Di colpo il giorno è diventato di una lunghezza infinita. Possiamo sopportare ancora questa guerra, anche solo per un altro minuto? Perché il mondo non la fa smettere?
Oggi era una giornata primaverile, il sole creava giochi di luce sui muri delle case e sulle pareti bianche della cattedrale di Santa Sofia. Hanno suonato ancora le sirene, l'allarme per entrare nei rifugi. Un mio caro amico, l'artista Nikita Kadan, aveva perso la carta di credito e a piedi siamo andati a cercare un Bancomat funzionante.
Un giornalista aveva uno zaino in spalla, con tutto l'occorrente per i prossimi giorni. Abbiamo visto gente per strada e, davanti a uno dei grossi hotel, dei reporter che filmavano tutto. Il secondo giorno di guerra, a quanto pare, è il passo già mosso di una sequenza che si ripete.
La sera ho saputo che una città nella regione di Luhansk è stata distrutta all'ottanta percento dall'esercito russo, una meravigliosa cittadina nel territorio controllato dall'Ucraina. Si chiamava Shchastye, che vuol dire "felicità". Il marito di un'amica, lei era già al sicuro, è riuscito a fuggire. Ha lasciato la città senza prendersi né spazzolino, né calzini, né una valigia.
Lungo la strada qualcuno gli ha offerto un passaggio. Ha raccontato alla mia amica che, dall'auto, ha visto i cadaveri delle persone cadute accanto alle loro case, alle porte e alle piccole cantine che gli ucraini usano per conservare le patate d'inverno. Erano "la gente del Donbas", quella che Putin sostiene di voler salvare dal "genocidio".
"Felicità" non esiste più. Ci ero stata alcuni anni fa, avevo fatto molte fotografie alle strade, avevo ammirato la collina che domina il paesaggio. In città la gente parlava russo e ucraino. Ne avevo scritto, di loro e dei loro bizzarri parchi giochi fatti in casa.
Infine, mi sono addormentata in questa notte nera.
SABATO 26 FEBBRAIO (GIORNO 3)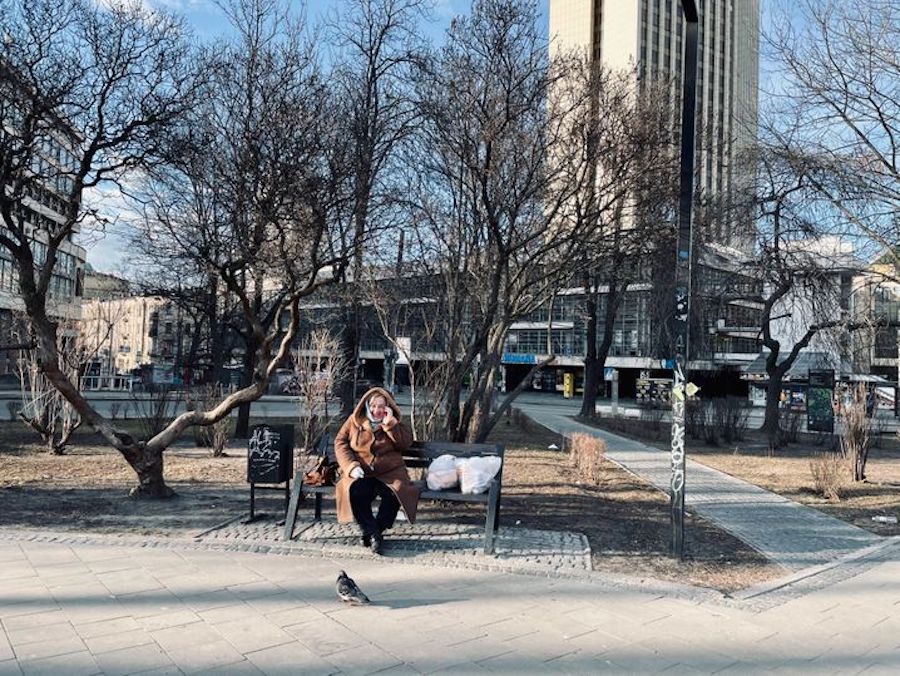 Al parco, la donna sorridente con le borse della spesa mi ha detto: "Vinceremo". [Foto: Yevgenia Belorusets]
_
La mia prima notte in un rifugio antiaereo. I canali Telegram della città di Kyiv avvertono che sarà una nottata dura e che i militari russi attaccheranno la città. Ma qui il rifugio è quasi vuoto. Molti cercano di stare in casa, con la speranza che non accada nulla. Da sabato sera in città è scattato un coprifuoco di quasi trenta ore. Probabilmente domenica non si potrà uscire.
Il nostro piccolo bunker si trova nel centro di Kyiv, non lontano dalla Porta d'oro. È una rete di cunicoli e corridoi, un piano e mezzo sottoterra, per essere precisi. Pulito, comodo e caldo. Mi piace questo posto perché offre rifugio a più di cento persone. C'è acqua potabile, tutti portano qualcosa, il cibo non manca. Chi non sopporta le sirene, i colpi d'artiglieria e il fuoco dei missili può venire qui. Alcune famiglie in pratica ci vivono.
Davanti all'ingresso buio della cantina vedo passare in fretta le sagome dei residenti. Si scambiano qualche frase.
Due ombre di anziani passano accanto a due ombre di giovani: "Buona sera!". 
"Ma non è una buona sera!" protestano i giovani. 
"Ve la auguriamo comunque" ribattono i vecchi con voce trionfante, "perché vogliamo pensare bene. Perciò ve l'auguriamo, a voi e a tutti gli altri!". Le ombre scompaiono nella profondità della cantina.
Mi oriento nel presente perché le giornate mancano di struttura. A un certo punto sono andata a trovare i miei genitori. Nessuno dei due è pronto per lasciare Kyiv. Vogliono restare qui fino al momento della "nostra vittoria", come dicono loro.
Mio padre è traduttore, traduce poesia tedesca in russo. Grazie alle sue traduzioni di Paul Celan, mi sono innamorata di questo poeta quando ancora studiavo. Sono anni, dalla rivoluzione del Maidan, che pubblica le sue traduzioni quasi esclusivamente in Ucraina.
All'epoca prese parte alla rivolta; ricordo di averlo chiamato da Berlino e di avere scoperto che si era unito alle proteste davanti al palazzo del parlamento. Poi sentii un'esplosione; per fortuna non si era fatto nulla. Ora è a Kyiv. Si sente molto debole, dopo una lunga influenza, e non riesce a scendere nel rifugio. E forse nemmeno vuole. Continua a tradurre ogni giorno. Nonostante i missili, nonostante il pericolo, o forse proprio per quello.
Mentre scrivo mi rendo conto che ho visto molte persone sorridenti oggi. Per esempio, al parco c'era una donna seduta su una panchina accanto a due grosse borse della spesa. Si è rivolta a me con voce esageratamente allegra, per dirmi che aspettava suo nipote per farsi aiutare a portare a casa la spesa. "Sono felicissima che tu sia qui a parlare con me adesso. Se siamo in due, ho meno paura degli spari."
Faceva la guida turistica alla cattedrale di Santa Sofia, mi ha raccontato, e ora è in pensione. È sicura che l'Ucraina sconfiggerà l'invasore russo. "Se penso agli affreschi di Santa Sofia, credo che l'Ucraina sarà protetta da tutto il mondo." Ha sorriso, con le lacrime agli occhi. "Vinceremo" mi ha detto. Non capivo se fossero lacrime di dolore o gioia, ma mi ha trasmesso il suo coraggio e per questo l'ho ammirata.
Siamo solo al terzo giorno di guerra? Mariupol: cinquantotto civili feriti. Kyiv: trentacinque, di cui due bambini. Non è certo una lista completa. È strano far parte di questa grande categoria disarmata, quasi delicata: "i civili". La guerra crea una categoria di persone che vivono "fuori dai giochi". Sono bombardate, sono loro a dover sopportare le bombe, a essere ferite, ma non sembrano in grado di fornire una risposta adeguata.
Non è questo il caso, però. Qualcosa si nasconde dietro ai molti sorrisi che ho visto oggi. Un'arma segreta, sinistra. Devo provare a dormire e domattina a raggiungere casa mia. Fare colazione nella propria cucina, quello sì che è un piacere enorme!
DOMENICA 27 FEBBRAIO (GIORNO 4): UNA CITTÀ DISTRUTTA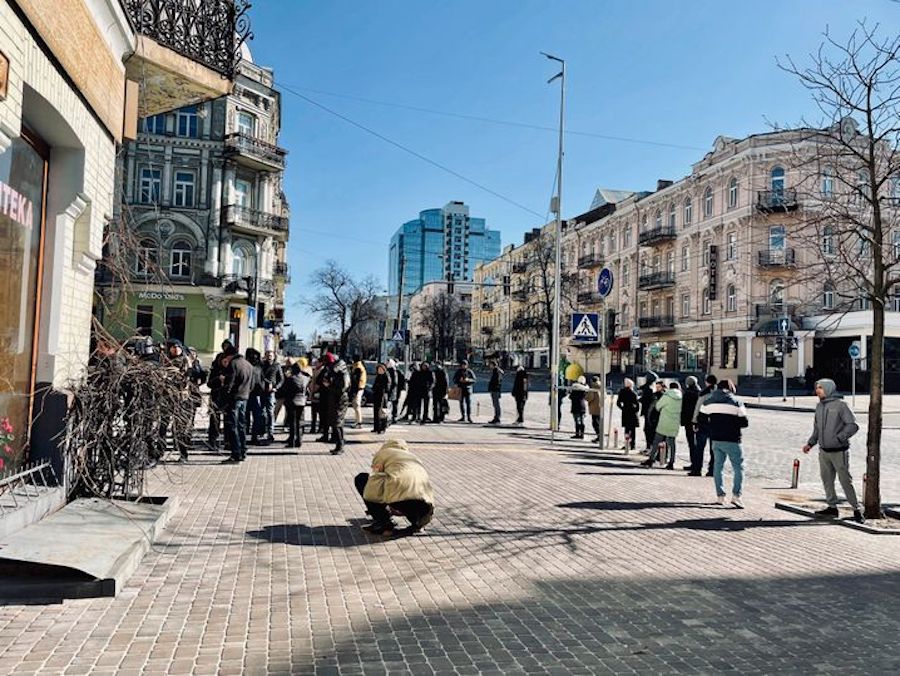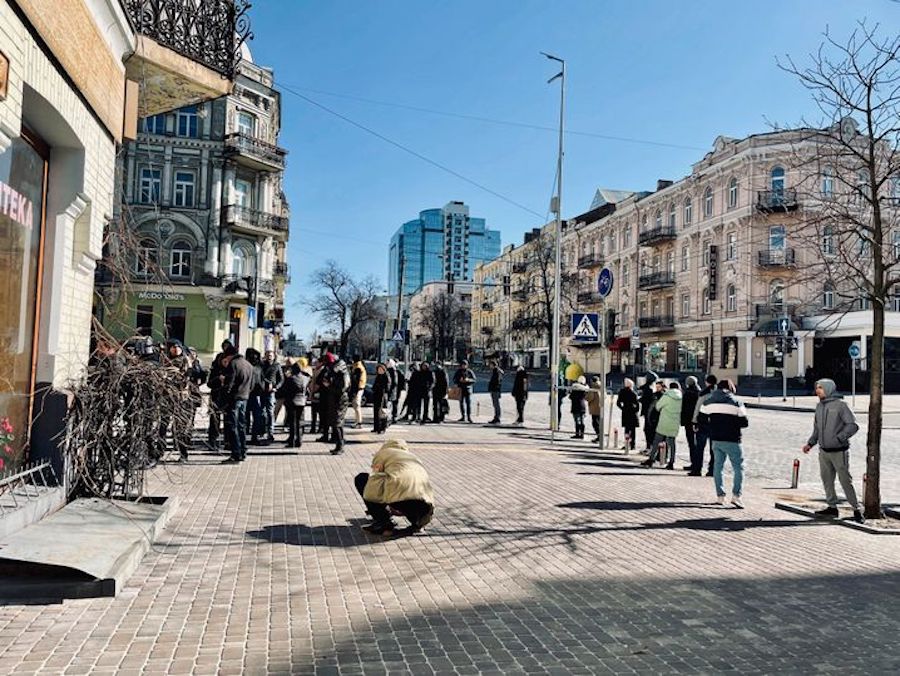 Vedo sempre meno giornalisti in città. Qui, qualcuno riprende una fila di persone in coda davanti a una farmacia chiusa da due giorni. Sono poche quelle ancora aperte. [Foto: Yevgenia Belorusets]
_
A cose normali, le tante finestre illuminate di Kyiv scaldano le fredde giornate di febbraio. Le luci hanno un che di segreto, di privato, ma allo stesso tempo di accogliente. Ora però la città è spenta. La gente ha paura dei missili e del fuoco dell'artiglieria russa. Ho ricoperto le finestre di nastro adesivo, così che i vetri non esplodano in caso di bombardamento. Esco sul balcone per vedere se da fuori la casa è abbastanza buia. Ho messo una sola lampadina per stanza: fanno una luce fioca e sono tutte sul pavimento. Fatico a orientarmi tra le stanze, ma cerco di scoprire una nuova forma di intimità.
Le sirene che annunciano gli attacchi aerei emettono un segnale lungo: alla lontana ricorda i versi giocosi che gli elefanti usano per comunicare tra loro. Anche a Kyiv le sirene comunicano qualcosa, ma il messaggio è sempre lo stesso: "Nascondetevi, nascondetevi bene!".
All'alba ho deciso, non si sa come, di pulire casa. Ho pensato: "Attieniti ai programmi, alla solita routine". Da fuori, è scura, le finestre vuote e buie salutano gli altri appartamenti della città, pure vuoti e bui.
L'oscurità fa paura, ma allo stesso tempo capisco che la città ha deciso di difendersi. Sui canali Telegram ufficiali ho letto dei cosiddetti "gruppi diversivi", unità tattiche russe di avanscoperta in arrivo a Kyiv. Terroristi. Hanno lo scopo di destabilizzare la città, attaccare i politici e quindi prendere Kyiv. Sembra che stamattina uno di questi gruppi abbia sparato all'auto di due donne che stavano fuggendo assieme ai loro figli. Sono tutti morti, donne e bambini.
Ho pensieri cupi come le finestre di casa mia. Mentre pulivo, pensavo che scrivendo il diario avrei dovuto fare una battuta sulle faccende domestiche in tempo di guerra. Il mio consiglio: "Pulire è un must in una casa buia con lo scotch alle finestre; se volevi farlo prima e adesso ti viene da piangere, continua e passa lo straccio comunque. Non vedrai nulla, è vero, e la casa non sarà molto più pulita, ma attenersi alle procedure e ai programmi è la cosa più importante."
È finito il quarto giorno di guerra. Mezza città lotta contro la normalizzazione della violenza che sta bussando a ogni portone. Inoltre, la guerra ci mette alla prova per capire se abbiamo almeno un briciolo di compassione nei confronti di chi è stato spedito qui per uccidere. Dall'inizio del conflitto, nel Paese sono stati ammazzati sedici bambini. Nella mia città nove "civili" (è una parola che odio sempre di più) sono morti e quarantasette sono rimasti feriti, di cui tre bambini.
La distruzione della cittadina di Shchastye, "felicità", nell'Ucraina nord-orientale, è partita dal bombardamento di una centrale elettrica. L'hanno distrutta, è andata via la luce, poi l'acqua e il riscaldamento. Gli abitanti in preda all'angoscia, specie i più anziani, sono usciti alla ricerca di acqua e cibo. A quel punto i soldati hanno attaccato con artiglieria e missili. Hanno sparato contro un autobus pieno di gente in fuga. Nell'area al momento non ci sono giornalisti, nessuno a contare i morti e i feriti. Chi descriverà ciò che Putin ha fatto al Donbas dall'inizio della guerra, da quando ha dato il via alla sua operazione mirata a "proteggere il popolo del Donbas dai fascisti ucraini"?
Occupando questi territori e scatenando una guerra d'informazione, Putin è riuscito a isolare la regione dal resto del mondo. Dal 2014 le organizzazioni umanitarie non riescono a operare liberamente nella zona e oggi l'esercito russo sta dimostrando ancora una volta quanto poco valore attribuisca alla vita della sua stessa gente.
Dicono le notizie che a Ivankiv, nell'oblast di Kyiv, è stato distrutto il Museo di storia regionale. Ospitava le opere di Maria Primachenko, una delle artiste ucraine più note del Ventesimo secolo. In autunno era prevista una mostra congiunta di mie fotografie e suoi dipinti, un grande onore per me. Sono certa che da qualche parte, in qualche modo, questa mostra si farà.
LUNEDI 28 FEBBRAIO (GIORNO 5): LA NUOVA VULNERABILITÀ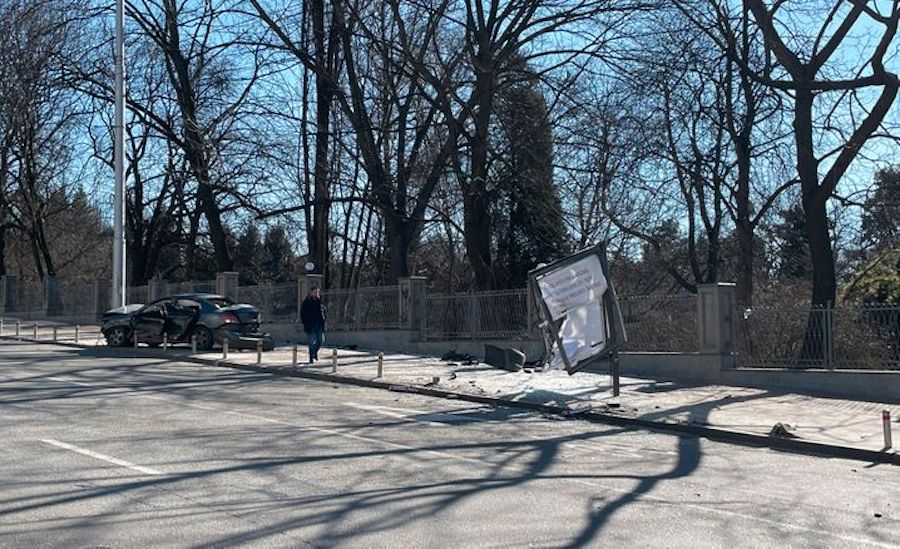 Un'auto distrutta accanto all'orto botanico: l'insopportabile presa di coscienza che questa guerra, inimmaginabile, illogica, criminale continua. [Foto: Yevgenia Belorusets]
_
È una primaverile giornata di sole che, come le ultime tre, finisce nel buio. Siedo nel mio appartamento oscurato. Qualche luce è accesa, ma flebile e nascosta. Leggo sui giornali che Mariupol resiste coraggiosa alle truppe russe, ma che è perlopiù senza elettricità. La Russia attacca le infrastrutture come programmato e scarica sulla città al buio il fuoco dell'artiglieria. I combattimenti attorno a Kyiv continuano.
I miei pensieri, però, sono rivolti a Kharkiv. Vedo le immagini dei caseggiati colpiti dai missili e dalle bombe e so che oggi l'esercito di Putin ha ucciso nove persone, di cui tre bambini, in questa città che parla russo e resiste all'occupazione. Trentasette feriti, ottantasette condomini distrutti. Condomini come quello in cui abito io a Kyiv: un rifugio vulnerabile, il mio appartamento, dove sto sempre così bene. Anche ora! Anche ora!
Questa guerra svela al mondo un nuovo livello di vulnerabilità. Quasi tutte le farmacie sono chiuse. Elettricità, acqua e riscaldamento sono sotto la costante minaccia di sparire. Le ferite si allargano. Ma una voce mi sussurra di continuo all'orecchio, a volte quasi impercettibile: "Loro continuano a lottare, noi continuiamo a lottare" e così le ferite guariscono prima.
Gli spazi pubblici, le piazze, le strade della città sono vuoti. Di colpo l'orizzonte è più vicino, le colline di Kyiv, l'asfalto, i cortili degli edifici, tutto sembra essere stato convocato e coinvolto dalla guerra.
A mezzogiorno ho deciso di uscire: il quinto giorno di guerra, quando il coprifuoco è stato sospeso, ho accompagnato alla stazione un amico tedesco che non poteva restare a Kyiv. Dovevamo prendere la metropolitana. Esaltati e quasi ebbri all'idea che la metro di Kyiv avesse ripreso a funzionare, abbiamo raggiunto a piedi la fermata della Porta d'oro. All'ingresso, però, abbiamo scoperto che la stazione funziona solo come rifugio.
(Mentre scrivo, le sirene rompono il silenzio. Sono le 2:30 del mattino e ho deciso di stare dove sono e finire questa voce del diario.)
Perciò siamo dovuti andare a piedi. Una camminata di venticinque minuti, che per me è stata come attraversare un'altra vastità. Era dall'inizio della guerra che non mi trovavo sullo Shevchenko Boulevard, un vialone che conduce alla stazione ferroviaria. Lungo la strada ogni casa, ogni incrocio presentava qualcosa di nuovo, una nuova lingua, la nuova narrazione di una realtà condivisa. La città sembrava tranquilla, i raggi del sole rendevano il contrasto ancora più lancinante. Ci siamo salutati in fretta e sono rientrata da sola.
Volevo attraversare e affacciarmi al vecchio orto botanico. Ho visto delle lamiere su un lato della strada, un'auto distrutta, sfasciata, e poco più avanti un'altra, poi un'insegna pubblicitaria spaccata, a terra pezzi di vetro, metallo e plastica. Il pensiero dell'orto botanico è svanito lasciando spazio all'insopportabile presa di coscienza che questa guerra, inimmaginabile, illogica e criminale, dopo tutto andava avanti.
All'incirca nello stesso momento, pacifici residenti della città di Berdyansk a sud del Paese si radunavano davanti al palazzo del governo locale, occupato dall'esercito di Putin e protetto da soldati armati. Le donne urlavano ai soldati in russo: "Come fate a guardare in faccia le vostre madri? Avete portato guerra e sterminio nella nostra terra! Vergogna!". C'erano anche dei vecchi, e non avevano paura. I soldati sembravano demoralizzati, hanno risposto: "Siamo qui per proteggervi!".
Le donne resistevano, continuavano a protestare: "Non siamo mai stati in pericolo qui. Prima che arrivaste voi, non eravamo minacciati. Ma ora siamo in grave pericolo e solo per causa vostra". Poi sono seguiti gli insulti, di cui le lingue russa e ucraina abbondano.
La capacità dei residenti di Berdyansk di continuare a lottare, di affrontare i soldati senza armi e urlare loro in faccia la verità, quando la città sta per cadere nelle mani di Putin, è promettente. È speranza.
. . .
Yevgenia Belorusets' diary provides news from a different vantage.
Updates are published by ISOLARII at 4:00 PM EDT each day.
Published March 22, 2022
© Yevgenia Belorusets 2022
© ISOLARII 2022
© Nausikaa Angelotti 2022
Other
Languages
English
Greek
Italian
Yevgenia Belorusets is a Ukrainian writer, journalist, artist, and photographer who lives between Kyiv and Berlin. Her photographic work calls attention to the more vulnerable sections of Ukrainian society—queer families, out-of-work coal miners, the Roma, people living in the war zone in the East—and was shown in the Ukrainian pavilion at the 56th Venice Biennale. Lucky Breaks, her first work of fiction, was given a 2020 HKW International Literature Award in Germany.
Her diary provides the news from a different vantage.
Updates are published by ISOLARII at 4:00 PM EDT each day
Η Ουκρανή Γεβγκένια Μπελορούσετς (γεν. 1980) είναι φωτογράφος, καλλιτέχνις, συγγραφέας και μεταφράστρια. Ζει στο Κίεβο και το Βερολίνο. Από τις 24 Φεβρουαρίου 2022 γράφει το «Ημερολόγιο από το Κίεβο», που δημοσιεύεται στον ιστότοπο του γερμανικού περιοδικού Der Spiegel.
Η δημοσίευση των ελληνικών μεταφράσεων εδώ άρχισε με την ημερολογιακή καταγραφή της 4ης Μαρτίου και θα γίνει προσπάθεια να μεταφραστούν και να δημοσιευτούν οι προηγούμενες και οι επόμενες καταγραφές.
Yevgenia Belorusets è una scrittrice, giornalista, artista e fotografa ucraina che vive tra Kyiv e Berlino. La sua opera fotografica mette in luce gli strati più vulnerabili della società ucraina, famiglie queer, minatori disoccupati, Rom, persone che vivono nella zone di guerra dell'East ucraino, ed è stata esibita al padiglione ucraino della 56° Biennale di Venezia. Il suo primo libro, Lucky Breaks, è stato premiato in Germania nel 2020 con l'HKW International Literature Award.
Il suo diario informa da un punto di vista privilegiato.
Gli aggiornamenti sono pubblicati quotidianamente su ISOLARII alle 16:00 (EST).
Your
Tools
Close Language
Close Language
Add Bookmark