Punti d'inchiostro da La Terra e il suo satellite
Written in Italian by Matteo Terzaghi
Quando scriviamo una pagina di diario, una riflessione o una storia, ci sdoppiamo in un io e in un tu: il primo regge la penna, il secondo valuta quello che viene fuori. Ma nel raccoglimento che la scrittura esige, si raggiunge a volte una dimensione impersonale, che sta per così dire al di sopra, o al di fuori, dell'io e del tu intesi come posizioni o prospettive particolari. Lo si vede bene, ad esempio, nei quaderni che mio fratello riempiva di una scrittura costituita di soli punti. Immaginatevi qualcuno che passi intere giornate alla scrivania, la penna in mano, a riempire di puntini le pagine di un quaderno, quadretto per quadretto, riga per riga, procedendo da sinistra a destra, o dall'alto al basso, comunque sempre in modo metodico, e che quelle siano tra le ore più serene e forse felici della sua vita. Immaginatevi una scrittura spogliata di tutta la grammatica, alleggerita di ogni significato, fattasi impronunciabile: che scrittura sarebbe? Qui – come nei foglietti e i ritagli di carta che per un certo periodo Robert Walser soleva ricoprire con la sua microcalligrafia, improvvisando racconti e divagazioni che si esaurivano nel momento stesso in cui lo spazio per appuntarli risultava esaurito –, appare con la massima evidenza come la scrittura possa essere, tra le altre cose, anche l'esecuzione di una formula rituale per produrre un incantamento.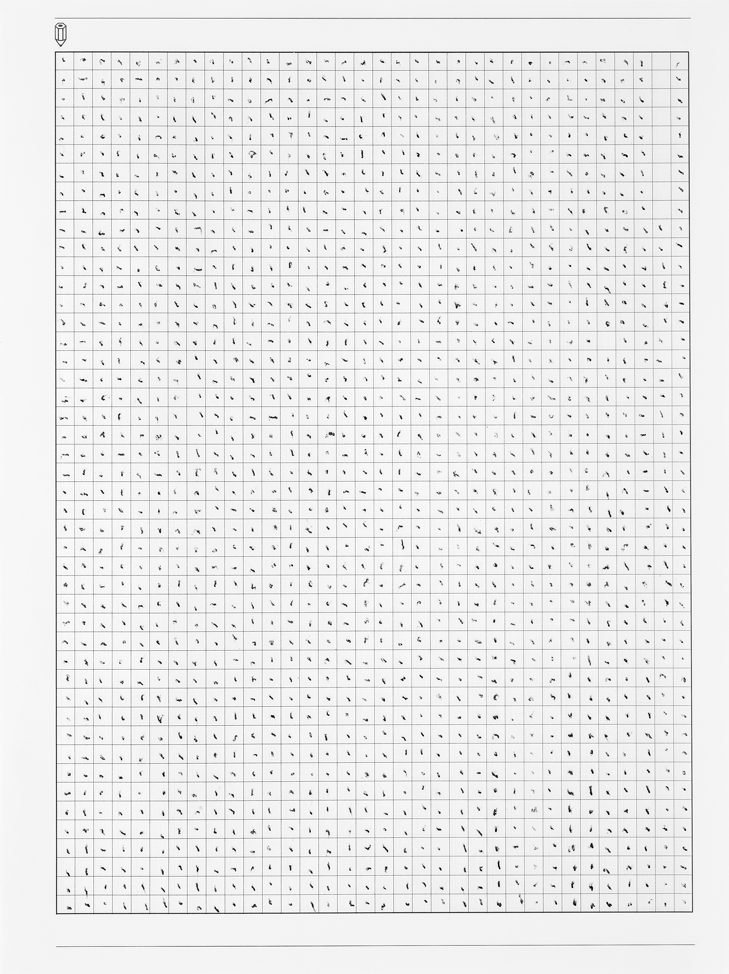 Published September 11, 2019
Excerpted from Matteo Terzaghi, La Terra e il suo satellite, Quodlibet, Macerata 2019
© Edizioni Quodlibet
Tintepunkte from Die Erde und ihr Trabant
Written in Italian by Matteo Terzaghi
Translated into German by Barbara Sauser
Wenn wir einen Tagebucheintrag, einen Gedanken oder eine Geschichte schreiben, spalten wir uns in ein Ich und in ein Du auf: Das eine hält den Füller, das andere bewertet, was herauskommt. Die zum Schreiben notwendige innere Sammlung versetzt einen bisweilen jedoch auch in eine unpersönliche, sozusagen ober- oder ausserhalb der Perspektiven Ich und Du angesiedelte Dimension. Gut zu erkennen ist dies beispielsweise an den Heften, die mein Bruder mit einer nur aus Punkten bestehenden Schrift füllte. Stellt euch einen Menschen vor, der ganze Tage am Schreibtisch verbringt und, einen Füller in der Hand, die Seiten eines Hefts mit Punkten füllt, Feld um Feld, Zeile um Zeile, schön von links nach rechts oder von oben nach unten, jedenfalls immer methodisch. Stellt euch auch vor, dass diese Stunden zu den heitersten und vielleicht glücklichsten seines Lebens gehören. Stellt euch eine von jeder Grammatik befreite, jeder Bedeutung entledigte und daher nicht aussprechbare Schrift vor: Wie wäre diese Schrift? Wie bei den Zetteln und Papierfetzen, die Robert Walser in mikroskopisch kleiner Schrift mit improvisierten, von der Länge her genau dem verfügbaren Platz entsprechenden Erzählungen und Abschweifungen vollschrieb, tritt hier deutlich zutage, dass Schreiben unter anderem auch die Ausübung einer rituellen Formel sein kann, die zur Entrückung führt.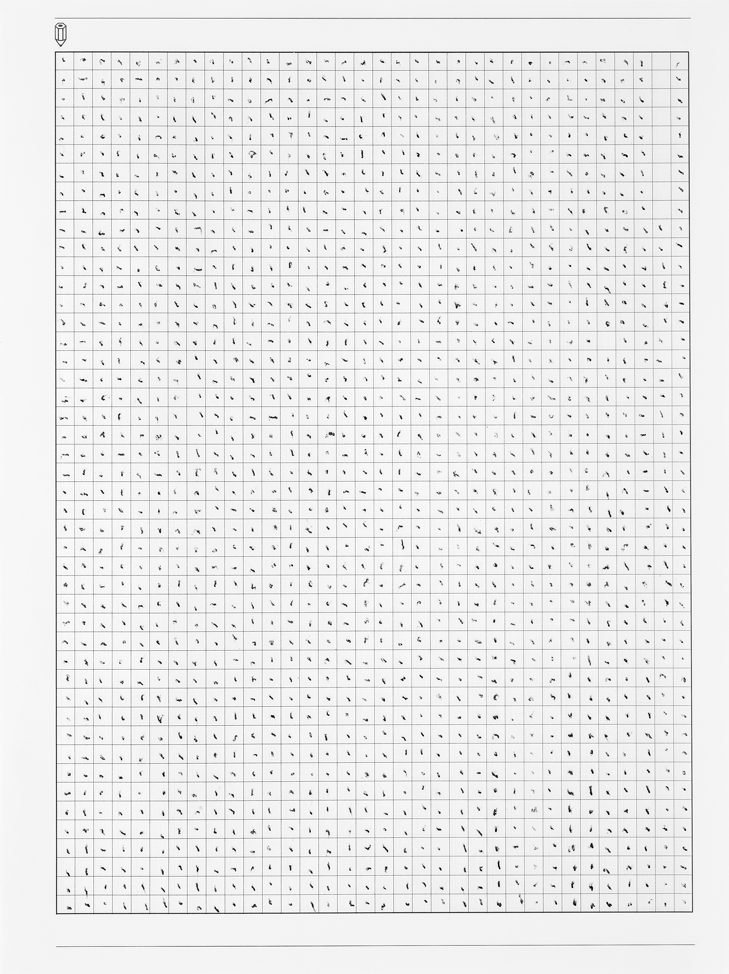 Published September 11, 2019
Excerpted from Matteo Terzaghi, Die Erde und ihr Trabant, Die Brotsuppe, Biel 2019
© Verlag Die Brotsuppe
Quand nous écrivons une page de journal, une pensée ou une histoire, nous nous dédoublons en un je et un tu : le premier tient la plume, le second juge ce qui en sort. Mais dans le recueillement qu'exige l'écriture s'ajoute parfois une dimension impersonnelle, qui se trouve pour ainsi dire au-dessus, ou au-delà, des perspectives particulières du je et du tu. Elle se révèle, par exemple, dans ces cahiers que mon frère remplissait d'une écriture composée uniquement de points. Imaginez quelqu'un qui passerait des journées entières à son bureau, le stylo à la main, remplissant de petits points les pages quadrillées d'un carnet, carré par carré, ligne par ligne, de gauche à droite ou du haut vers le bas, mais de façon toujours méthodique, et que ces heures fassent partie des plus heureuses, ou du moins des plus sereines, de sa vie. Imaginez une écriture libre de toute grammaire, délestée de toute signification, et imprononçable : que serait cette écriture ? Ce qui apparaît clairement ici — comme dans les feuillets et les bouts de papier que Robert Walser couvrait de sa microcalligraphie, improvisant récits et divagations qui s'achevaient au moment même où s'épuisait l'espace disponible —, c'est que l'écriture peut aussi être l'exercice d'une incantation muette, le rituel d'un envoûtement.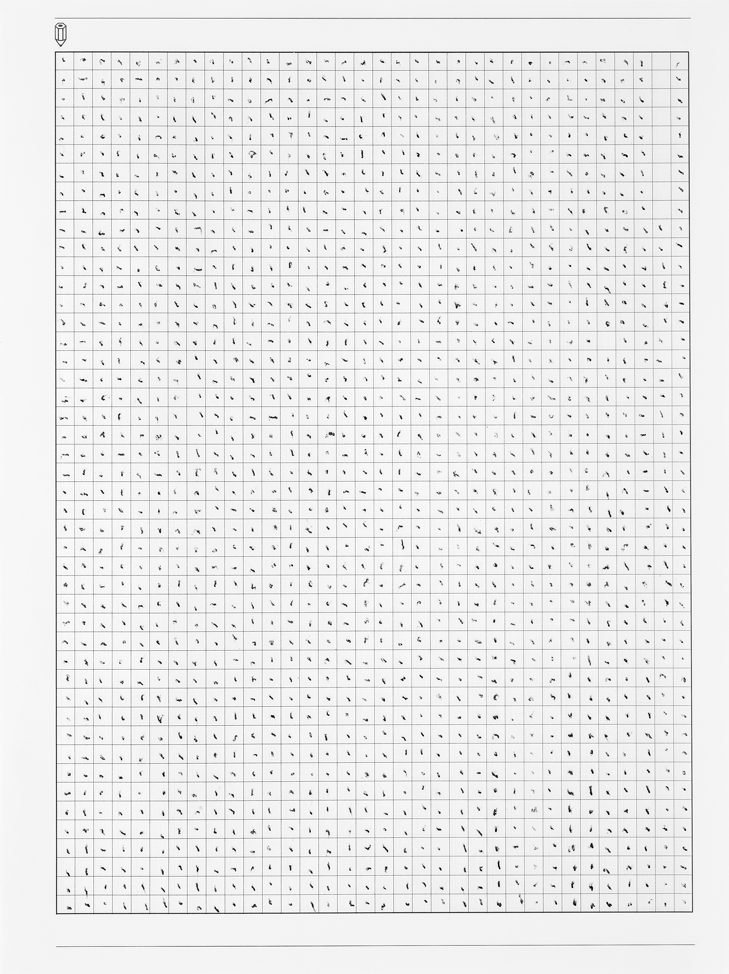 Published October 3, 2019
© Specimen 2019
When we write a diary page, a reflection or a story, we're split into a me and a you: the former holds the pen, the latter evaluates what comes out. But in the concentration that writing requires, sometimes we're cast into a more impersonal realm, above or beyond the me and you understood as particular positions or perspectives. This can be seen, for instance, in the notebooks my brother used to fill with a kind of writing that consisted solely of dots. Just imagine someone spending entire days at their desk, pen in hand, filling up the graph-paper pages of a notebook with dots, square by square, line by line, going from left to right, or top to bottom—methodically, in any case—and that those are among the most serene and perhaps even happiest hours of their life. Imagine a kind of writing stripped of all grammar, freed of all meaning, that has become unpronounceable: what kind of writing would that be? Here—just as in the little sheets and scraps of paper Robert Walser covered in his microscripts, improvising tales and digressions that reached their end just as the space to jot them down came to its end—it appears clearly that writing can also be, among all the other things it can be, the act of carrying out a ritualistic formula to cast a spell.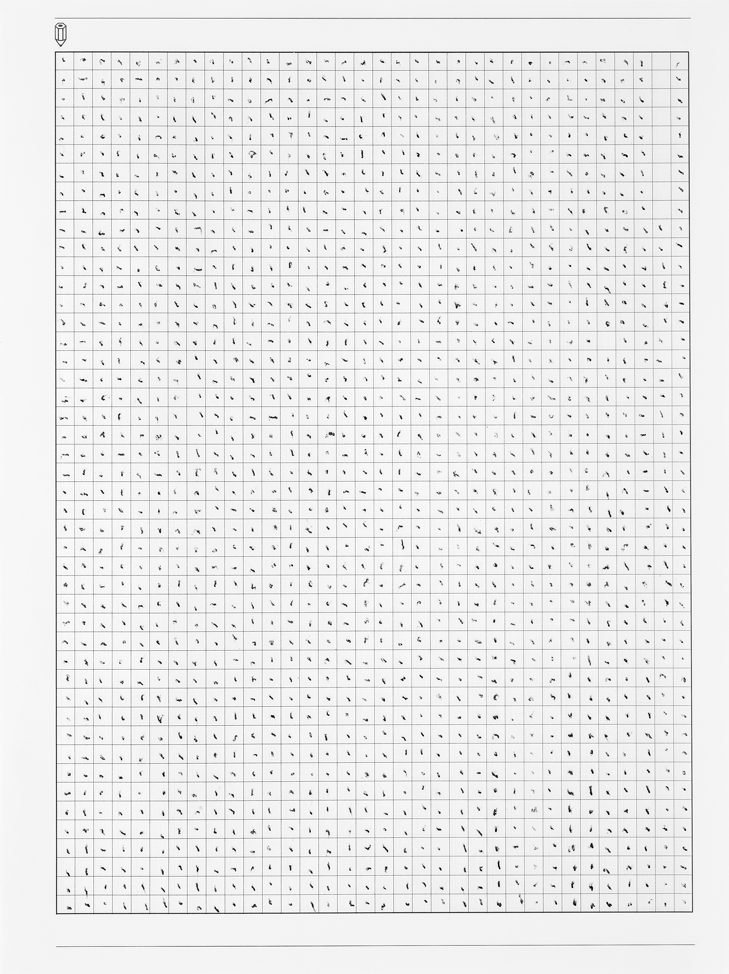 Published August 6, 2020
© Alta L. Price 2020
© Specimen 2020
Other
Languages
Italian
German
French
English
Your
Tools
Close Language
Close Language
Add Bookmark